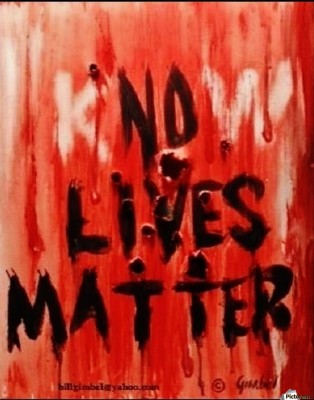 When Vero Beach multi-media artist Bill Gimbel created a small painting entitled KnoW Lives Matter, he was motivated by "disgust and outrage with the current conditions of our society." He didn't realize that the work would provoke a similar emotional reaction, at least not until he was told to remove it from his display in a small gallery space leased from a Vero Beach downtown association.
As reported in the local paper Treasure Coast Palm (TC Palm) on January 11, two members of the public who visited the gallery complained about the painting to the owner, Main Street Vero Beach. According to a video statement by Gimbel, he received an email from the owner telling him the patrons found the painting "offensive" and instructing him to remove it "because they didn't want to be involved in any kind of a controversy, political correctness or whatever."
Main Street Vero Beach Executive Director Elaine Jones told TC Palm that the "small gallery inside the Main Street office is meant to be a welcome center—not a place for what could be controversial art."
The visceral and seemingly bullet-perforated canvas is a departure from Gimbel's usual work: innocuous images incorporating marine life found objects and nature scenes on painted household doors. In a statement of his intent posted to his Facebook page, Gimbel explained:
The painting says "NO LIVES MATTER," and that is true with people being behead, burned alive, tortured beyond belief, cops being executed, blacks killing blacks, white killing whites, suspects being shot in the back, sickening chants, babies being pulled apart and their body parts sold, innocent people murdered in church and movie theaters, drive-by shootings, people driven from their homelands only to find rejection—the list goes on and on.

But the painting has another message if you look close enough: "KNOW LIVES MATTER." Good, decent, kind people make this happen. They pray, march in peace and love one another regardless of skin color, religious, lifestyle and so forth.
Gimbel's on-camera comments suggest that he produced KnoW Lives Matter in part in response to the Black Lives Matter movement—"They do matter, no matter what color you are: blue, green, purple"—and he now sees "political correctness" crossing a line.
An art space that responds to every offense is built on shifting sand.
The mission of Main Street Vero Beach is "to revitalize, preserve and create a vibrant, historic downtown community in which to live, work, shop and play." While Main Street Vero Beach legally is a private 501(c)3 non-profit association of local property owners, business, and citizens, it maintains prominent ties to the public sector. Its board of directors includes city and county officials and it is affiliated with the Florida Main Street Program, an initiative of the Florida Department of State.
Although it is not a government entity violating constitutionally protected speech, as an important ambassador of the city and a cultivator of a "vibrant" public space, Main Street Vero Beach has a special civic responsibility to support artistic freedom, represent the intellectual diversity of the community, and stimulate dialogue on matters of public concern. By acquiescing to the objections of a few, it only opens itself to the no less valid objections of others, and in Gimbel's case, the loss of at least one paying tenant.
An art space that responds to every offense is built on shifting sand.