"Our sense of history is segregated, our social identity is fractured and our vocabularies for discussing race, symbols and respect are bare." – John Sims
In late October in front of the E.W. Scripps Amphitheater at Ohio University in Athens, Ohio, Detroit native and multi-media artist John Sims hung a Confederate flag from a noose before a crowd of several hundred people. The performance, "Confederate Flag: A Public Hanging", is the consummation of a long process for Sims, who has been forced to adapt and present the performance/installation in a variety of abridged forms since it was first displayed in September 2004 at the Schmucker Gallery at Gettysburg College, Pennsylvania, where it met with considerable backlash. On that occasion, the flag was to be hung outdoors in front of the gallery. But when community members, including Sons of Confederate Veterans and the Gettysburg Battlefield Preservation Association objected, the college insisted he move the work indoors. Despite the artist's objections and intervention by NCAC, the flag was hung from a beam in a corner of the gallery; Sims boycotted the show.
Sims' performance/installation has since been presented in various forms—sequestered and minimized—in exhibitions in university galleries and museums across the country.
On March 25, 2015, to further the mission of the compromised Gettysburg show, and in honor of the 150th anniversary of the end of the Civil War, Sims organized a 13-state funeral for the Confederate flag (#13flagfunerals), three weeks ahead of the shootings at the Emanuel African Methodist Episcopal Church in Charleston, South Carolina.
Sims's flag project has since directly inspired a national political art burning ritual. The following year, Take 'Em Down NOLA, the Confederate monument take-down movement in New Orleans, was formed, and Sims initiated his annual Confederate flag Memorial Day, 'Burn and Bury'.
Finally, on October 26, 2017 at Ohio University, Sims's concept came full circle. "Confederate Flag: A Public Hanging" took place as originally conceived by the artist, with community participation including music, speeches and readings. Against this backdrop, the flag was ritually hung from a 13-foot gallows in a symbolic act of judgment against the history of white supremacy, the Jim Crow era and our contemporary condition of racially motivated violence.
The performance was sponsored by the off-campus community groups Black Life Action Coalition, Appalachia Resist, Showing Up for Racial Justice, Radical Action for Mountains' and People's Survival, Athens Girls Rock Camp, United Campus Ministry, Appalachian Peace and Justice Network and Shagbark Seed and Mill.
Following the events at Scripps Amphitheater, the flag was brought to the Kennedy Museum of Art and installed as "The Proper Way to Hang a Confederate Flag," in the exhibition "Expression and Repression: Contemporary Art Censorship in America" featuring Kara Walker, Sue Coe and David Wojnarowicz. The show is on view through December 22, 2017.
Sims states, "As Confederate flags and monuments come down all across the country, it is the time more than ever to bring the Confederacy, its history, symbols and icons to justice."
Photos of "Confederate Flag: A Public Hanging"courtesy of the artist: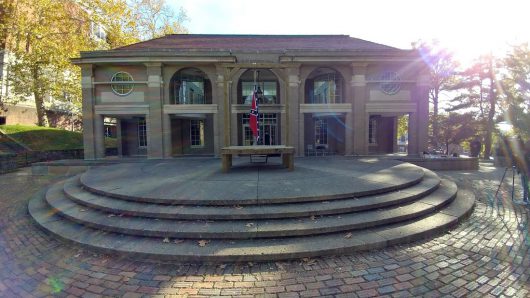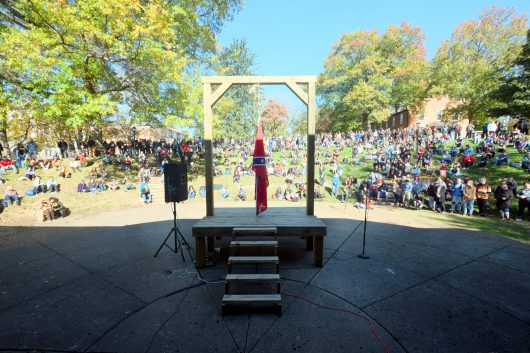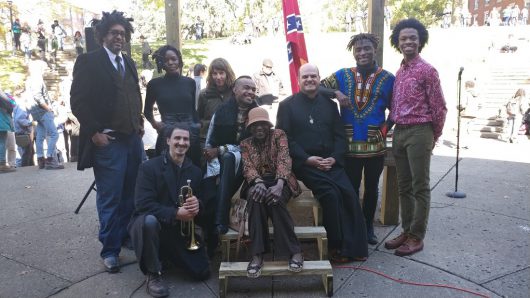 John Sims: "The Proper Way to Hang a Confederate Flag", Kennedy Museum of Art, 2017:
Photos taken by WOUB's Nickolas Oatley:
Video of the performance: