Maggie Budzyna, a 17-year-old from Massachusetts, generously shared her debut film, Censored, with us. The week following national youth-led protests against gun violence, I spoke with the aspiring filmmaker about her film and why it's especially important for young people to exercise their freedom of speech. 
To Maggie, the most important thing young people can do to combat censorship is stay informed and speak out against injustice when it happens.  With so many stories competing for media attention, the speaking out part is especially important for social issues that young people care about.
"Words are incredibly important. They are our greatest tool in combatting any injustice," Maggie said. "The March For Our Lives is a great example of that – combatting violence with words, speaking out but not stooping to that level of trying to silence the voices of others."
Which is why when news broke in December 2017 of a banned words list at the Centers for Disease Control and Prevention (CDC), which threatened to eliminate terms like "diversity," "fetus" and "transgender" from government agency reporting, Maggie decided to speak out.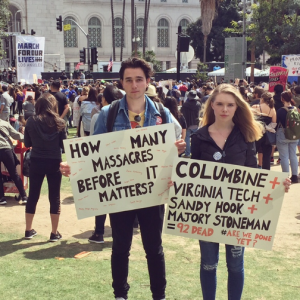 "[It] troubled me deeply because I realized that if they can ask the CDC to do that, what's to stop them from trying to censor other parts of our society?"
Her short film, Censored, is a sharp critique of the policy and of the growing social movement to censor language in books to promote special interests. The film laments the loss of words in a dystopian America in which libraries are paved to make way for "exciting new infrastructure" like shopping malls.
"I'm noticing fewer of my friends have library cards. People spend more time at the mall and we invest more in materialistic parts of society. I started to picture what our country would start to become if journalists, books, and the general public were all being censored, and it was scary."
Though she'd never produced a film before, Maggie teamed up with friends to capture her fears on camera and start a dialogue about censorship. We at NCAC applaud her work and determination and look forward to watching her career develop.
For other young filmmakers, the 2018 Youth Free Expression Film Contest deadline is May 15th and this year's theme is PROTEST. See this page for more details on how to enter.