"A LIFE LIVED IN SILENCE IS NOT A LIFE." – Ai Weiwei
NCAC cordially invites you to a special screening of a new documentary about the Chinese dissident artist Ai Weiwei. On Monday, May 19th, 7pm at the IFC Center in Manhattan, NCAC Director of Programs Svetlana Mintcheva will introduce the film by Andreas Johnsen, which explores the Chinese government's attempt to silence Ai Weiwei and prevent him from any further activism through his art.
By making an online contribution to NCAC between now and May 16th, you have the chance to win two free tickets to this special presentation.
Ai's case is emblematic of the global threats to artistic freedom by oppressive governments today (see Pussy Riot). To advance the rights of artists worldwide, NCAC takes a leadership role in ARTSFEX, the first international civil society network that seeks to monitor and analyze censorship in the arts, expose the persecution and censorship of artists, and hold governments accountable to their obligations under the relevant international conventions and national laws.
A synopsis of THE FAKE CASE:
After 81 days of solitary detention world famous Chinese artist Ai Weiwei is put under house arrest. He suffers from sleeping disorder and memory loss, 18 cameras are monitoring his studio and home, police agents follow his every move, and heavy restrictions from the Kafkaesque Chinese authorities weigh him down. Picking up where Alison Klayman's Ai Weiwei: Never Sorry left off, AI WEIWEI THE FAKE CASE is more explicitly political, reflecting Ai's battle against the gigantic lawsuit thrust upon him by the Chinese government in an effort to silence him. Ai Weiwei is shaken, but during his year on probation he steadily finds new ways to provoke and challenge the mighty powers of the Chinese authorities in his fight for human rights and free expression. The film also features the creation of S.A.C.R.E.D., a new work depicting Ai's time in prison, which premiered during the Venice Biennale and is now on view at the Brooklyn Museum.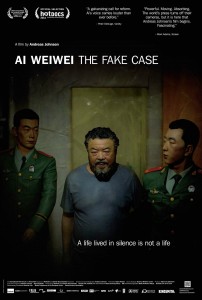 View the Trailer