Don't hold your breath for nipple reveals or cock shows – while artistic representations of nudes remain a regular target of censorship, the most compelling and controversial artwork in 2014 came from artists challenging social norms and exposing cultural fissures. There was the occasional use of female anatomy or children as subjects, but what each painting, photo, or mural on this list has in common is their capacity to inspire critical thought, impassioned emotion, and waves of offense.
NCAC's Arts Advocacy Project is pleased to bring you 24 censored works – 12 from the U.S. and 12 from abroad – that sparked dialogue this year, from a graffiti-blasted mural in New Jersey to a deflated holiday phallus in Paris. We'll leave it up to you to decide their artistic merit.

24. "Mike Brown Mural" by SAGE Artists
If you protest alleged racism today, the police may feel uncomfortable
A mural featuring a portrait of Michael Brown, the teen killed by a Ferguson, Missouri police officer, with the legend, "Sagging pants is not probable cause" was graffiti-blasted after local Trenton, New Jersey police expressed concern that it sent the wrong message. Following a double shooting in the area, Christian Martin of the Trenton Downtown Association, who authorized the whitewash, said, "I think it is the right message, just at the wrong location." The mural was sponsored by SAGE, a local coalition of visual artists, fabricators, musicians, and teachers who create inner-city beautification projects.
23. "Portrait of Ms. Ruby May, Standing" by Leena McCall
Protecting the children from wisps of pubic hair
Leena McCall's painting of a woman with her trousers lowered to reveal pubic hair was removed from the 153rd annual Society of Women Artists exhibit in London by the Mall Galleries. In a statement, the Mall Gallery said: "As an educational arts charity, the federation has a responsibility to its trustees and to the children and vulnerable adults who use its galleries and learning centre. After a number of complaints regarding the depiction of the subject and taking account of its location en route for children to our learning centre, we requested the painting was removed." Vulnerable adults who would be disturbed by a wisp or two of public hair, really?
22. "School Days" by Linda Cunningham
Reminding people of disturbing events is too discomforting, better think of nicer things!
The Board of the EmeraldArtCenter, an artists organization of which the artist was a member, found Linda Cunningham's assemblage "School Days" "too controversial" and "inappropriate" for the members' show. The work shows "Dick and Jane" cutouts of elementary school children running off into a pale blue sky. The bottom of the frame contains scattered bullet casings. The text next to the children is directing them to "Run". The artist wanted to bring attention to gun violence in schools in the wake of the Sandy Hook Elementary shooting, as well as to the lack of action on the issue. But apparently the Center found that reminding the audience of the school shooting in an art work was too disturbing (but aren't the school shooting themselves, unavoidable in the news, far more disturbing than a piece of artwork on the subject?)
21. "Everything is F–ed" by Paul Yore
Child pornography or a critique of the "commercialization of teen sexuality"?
Child pornography charges against Australian artist Paul Yore involving his large-scale installation, Everything is F—ed, were finally dismissed this year. The installation, which was shown at St. Kilda's council-owned Linden Centre for Contemporary Arts, included a collage featuring children's faces superimposed on images of male bodies performing sex acts. Max Delany, the National Gallery of Victoria's senior curator, contemporary art, told the court during an earlier hearing that Mr. Yore's work was "characterized by an interest and exploration of sexual identity and cultural politics, the excesses of consumer culture and the influence of capitalism on subjectivity". He described the installation as "metaphoric, allegorical, rhetorical and hyperbolic. They operate in the realm of surreal or fantastical, rather than in relation to reality …" What's more fantastical than Justin Bieber's head plastered above a squirting dildo?
20. "Home Sweet Home" by Aime Sell
Beware of offending the sponsors of any exhibition by criticizing their business practices
Amie Sell's site-specific piece Home Sweet Home was removed from the Milwaukee Avenue Arts Festival in Chicago, which showcases local artists in spaces along its namesake street, because the work was critical of M. Fishman & Co., the property management firm that runs the building where it was to be displayed. Home Sweet Home consists of four fleece blankets printed with enlarged photos of Fishman properties accompanied by text (e.g., "A combination of confusion and fear are being used to spook current residents into leaving"), a chair with its back cushion cross-stitched "Home Sweet Home" in five different languages (a nod to the community's immigrants), and a collage of photos and acrylic paint on vellum. Mark Fishman had threatened to close the space if Sell's installation stayed, which would have meant that the group show wouldn't be seen either.
19. "Sewol Owel" by Hong-Seong-dam
It's Korea…

The government of the city of Gwangju, which sponsors the Gwangju Biennale, asked that the artist Hong Seong-dam change a satirical mural because it was considered offending. The mural portrays South Korea President Park Geun-hye as a maniacal scarecrow facing off against angered parents of children who died in the sinking of the MV Sewol ferry in April – a national tragedy with huge political repercussions, which resulted in the deaths of some 300 people, mostly high school students. Lee Yong-woo, cofounder and long-time president of The Gwangju Biennale, resigned in protest over the censorship.
18. "Fun Home" by Alison Bechdel
The very existence of homosexuality is offensive to some South Carolina legislators, let alone graphic novels that show it without disgust
The South Carolina Legislature penalized the College of Charleston for assigning Alison Bechdel's graphic memoir Fun Home to freshmen students. The memoir documents Bechdel's growing up in rural Pennsylvania with her closeted gay father and her own coming out. What incensed legislators? The book addressed homosexuality. Bechdel became the first female cartoonist to win the "genius" grant when the MacArthur Foundation bestowed the honor in September.
17. "Little Matchbox" by the Mujeres Públicas Collective 
Burning church fails to illuminate Christian groups
The Spanish Association of Christian Lawyers filed a lawsuit against the director of Madrid's Museo Reina Sofía, Manuel Borja-Villel after the museum displayed the artwork Cajita de fósforos (Little Matchbox, 2005) by the collective Mujeres Públicas. The controversial piece is a matchbox with the sentence "The only church that illuminates is the one that burns" written on it; a petition was created stating that the piece was "in reality a succession of offences and insults directed at an important sector of the public". The lawsuit filed by the Association of Christian Lawyers demands the removal of the work and Borja-Villel's resignation. Mujeres Públicas is among 36 artists and collectives represented in the Really Useful Knowledge exhibition, including such diverse practitioners as Ariella Azoulay, Trevor Paglen, Chto Delat?, and D. A. Pennebaker. The show, organized by Croatian curatorial collective What, How & for Whom (WHW) opened October 29 and continues through February 9, 2015. The "knowledge" that the title refers to invokes the label applied by workers' organizations in the early 19th century to the bodies of knowledge not directly related to productive labor, like politics, economics, and philosophy.
16. Untitled Mural by Mike Alewitz
Being too friendly to labor and its movements may offend business owners
A few years ago the governor of Maine removed a mural about the history of labor from the Department of Labor because it's pro-labor "bias" may be offensive to business; this year the Museum of the City of New York refused to display a commissioned mural on the history and struggles of organized labor in its gallery of social activism for reasons that were not specified but, very likely, similar. The Puffin Foundation had commissioned artist Mike Alewitz to create the mural for the new MCNY gallery of social activism sponsored by the Foundation. However, the politics of the mural – which features a panel condemning capitalism and another one celebrating a "bread and roses" future – appeared to make it inacceptable for the Museum. The Museum administration did not respond to NCAC's suggestion to discuss a compromise solution: to display the piece as a temporary installation, which would then feature other political art work and call on viewers to respond to the various political statements made by artists.
15. "Wings of the City" by Jorge Marin
Nude (humans) always seem to unsettle some viewers whose hormones may be a tad overactive
The bronze sculptures in Jorge Marin's "Wings of the City" exhibition at Houston's Discovery Green Park were called "porn" by some particularly offended citizens, others were concerned about the presence of children (so what, we all have bodies). The works of art show a man wearing wings and a beak, but he isn't always wearing clothes. Park authorities stood in support of artistic freedom and the Wings will soar over Houston until February.
14. "The Virgin Mother" by Damian Hirst
Nudes are problematic enough, a nude with its guts exposed was just too much for Old Westbury
Damian Hirst's The Virgin Mother was previously displayed (there are several casts) at Lever House in Manhattan, outside London's Royal Academy, and on Fontvieille Harbour, Monaco. But when it landed in posh Old Westbury, New York, on the art-filled estate of developer Aby Rosen, neighbors got up in arms and poised to adopt new height regulations for structures on private lawns. The reason was not really the height but the fact that residents found the nude pregnant woman is too graphic and too offensive. In a compromise solution, the sculpture remained but on the condition that it is shielded from public view by trees and bushes and that it faces away from neighbors.
13. "Flying Spaghetti Monster" by South Bank Atheist Society
 "Religious sensibilities trumping all other rights…"
A poster featuring an image of Michelangelo's famous 'Creation of Adam' fresco and the satirical deity the Flying Spaghetti Monster, he of the Church of the Flying Spaghetti Monster, was put up at London South Bank University by students from the South Bank Atheist Society, only for it to be removed by student union officials for being "religiously offensive". Choe Ansari, 21, president of the South Bank Atheist Society, which put up the posters, said "This incident is just one of a catalogue of attempts to censor our society. I never expected to face such blatant censorship and fragile sensibilities at university, I thought this would be an institution where I could challenge beliefs and in turn be challenged." Ms. Ansari, a second-year English student, added that during her time at the university she has seen "religious sensibilities trumping all other rights with no space for argument, challenge or reasoned debate."
12. "Christmas Tree" by Paul McCarthy
American artist's ambiguous butt plug outrages Paris
Images of Paul McCarthy's "Christmas Tree" started circulating in right-wing social media circles soon after its installation. "Place Vendôme vandalised! Paris humiliated!" read one viral message from a hard-right leader. Eventually the sculpture was physically attacked and deflated. First the attackers unhooked the sculpture from its air source; while a security guard was reattaching it, the vandals severed the work's support cables.
11. Untitled Mural by Jérôme Galvin
Urinating aristocrat is offensive, monkey defecating into bird's mouth is okay
Jérôme Galvin was commissioned to create the site-specific mural for the reopening of the ceramic museum in Moustiers Sainte-Marie. When the recently elected mayor, Patricia Burn, saw the images she called them "insanities, vices, and pornography." Galvin reached an initial compromise with the mayor's office, agreeing to put fig leaves on six of the contested images. Nevertheless the Mayor had the mural covered with drywall. The controversial mural spanned 5 meters, the length of an entire wall. The artist said the pieces were inspired by ceramics in the museum representing "grotesque and burlesque" figures "rich and well known"…"I portrayed, in a more contemporary manner, small figures, some of them nude, in ridiculous positions. One was a urinating aristocrat." The artist was perplexed by the singling out of his piece: "I put little fig leaves on the six contested figures. But what will the mayor do about the historic piece in the museum's collection that shows a monkey defecating into a bird's mouth?"
10. "Sleepwalker" by Tony Matelli
Guy in underpants triggers trauma flashbacks in college students
Hundreds of outraged Wellesley students signed a petition asking administrators to remove Tony Matelli's Sleepwalker from the college campus. "[T]his highly lifelike sculpture has, within just a few hours of its outdoor installation, become a source of apprehension, fear, and triggering thoughts regarding sexual assault for many members of our campus community," says the petition. "While it may appear humorous, or thought-provoking to some, it has already become a source of undue stress for many Wellesley College students." The sculpture was kept, but the discourse of "triggering" is proliferating.
9. "Dolphin Rape Cave" by Nathaniel Shannon
Memes involving cetacean mammal love are vulnerable
Soon after Matelli's sculpture was attacket at Welseley, an image depicting men in dolphin costumes assaulting women in underwear – a riff on the popular dolphin rape meme – was put on display at the School of Visual Art in New York and prompted a student-led petition calling for the administration to remove the photograph. "This is supposed to be an art installation. RAPE IS NOT ART, RAPE IS A CRIME," the petition continues, calling for the photo's removal "as soon as possible as to ensure safety in this building." At least one student didn't wait for the administration to have a change of heart, tearing down the photo during its second week of display. A new print was quickly posted.
8. The Vagina Canoe by Rokudenashiko
Boating in your own genitalia looks fun!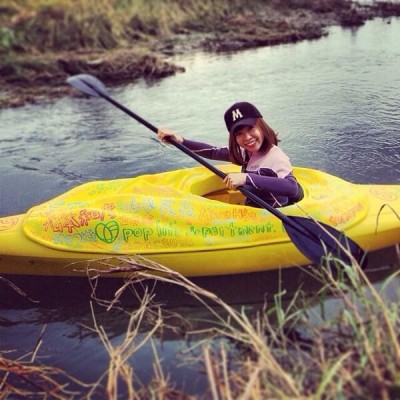 Japanese artist Megumi Igarashi who works under the pseudonym Rokudenashiko, meaning "good-for-nothing girl," was arrested after e-mailing data to some 30 people who responded to a crowd-funding campaign to finance her kayak created from a 3-D print of her own vagina. The data would allow others to print her genitalia in the same way. That, apparently, violated Japanese obscenity laws by "distributing data that could create an obscene shape through a 3D printer." The artist's work aims to breakdown taboos about female genitalia in Japan and raise discussion on suppressed artistic expression in her country. Tokyo police arrested the "vagina canoe artist" again this month for displaying vagina figurines in the adult goods store where she works.
7. "A Walk in the Valley" by Ruth Stanford
Dare not bring back the ugly ghosts of a racist past, even if your purpose is to criticize them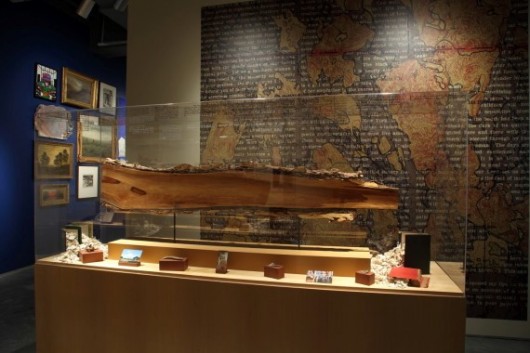 Ruth Stanford's  "A Walk in the Valley" a commissioned work about Georgia author Corra Harris' homestead, was taken down shortly before the formal opening of the new Bernard A. Zuckerman Museum of Art at Kennesaw State University (Atlanta, GA) upon orders by the University administration. The reason was the inclusion in the piece of a historical relic: an article about lynching, written and published in 1899 by Harris. The article, virulently racist, could cause offense, though in this day and age it would be most likely to reflect badly on its creator. But so does the very fact of lynchings– would that be a reason to delete mention of them?
6. "Exhibit B" by Brett Bailey
Threats of violence make censorship too easy for institutions 
In September, 200 protesters blockaded the entrance and road leading to Brett Bailey's Exhibit B at the Barbican in south London. The installation critiques the 'human zoos' and ethnographic displays that showed Africans as objects of scientific curiosity through the 19th and early 20th centuries, translated into twelve tableaux, each featuring motionless performers placed in settings drawn from real life. The protesters argued that Exhibit B is nothing but a replication of the human zoos from the 19th-20th century hiding behind freedom of art. They considered it racist. A petition against Exhibit B and collected over 20.000 signatures. The Barbican claimed it had no choice but to cancel all performances of the piece to ensure the safety of the performers and to end the demonstrations.
5. "Mother and Daughter II" by Diane Ducruet
Cuddle portrait prompts thoughts of incest instead of intimacy
A photograph of a mother and her young daughter embracing has been removed from a gallery exhibition in Paris after seven anonymous letters prompted the gallerist and the director of the Maison Européenne de la Photographie (MEP) to censor the work. The photograph in question, titled "Mother and Daughter II" (2014), is a composite of four images showing the artist, Diane Ducruet, cuddling with her daughter. Both of them are nude.
4. Utility Box Art by Tony Pedraza
Transforming public space through art has to be tightly regulated lest it disturb the monotony of advertisements
Tony Pedraza, a young muralist and painter from Santa Ana, CA, painted the gunmetal gray caja after noticing other utility boxes in the city's downtown were being decorated through a city-commissioned art beautification program. For this, Pedraza was arrested and charged with defacement of property and possession of materials with intent to vandalize. The DA and Superior Court judge have cleared Pedraza of any vandalism charges, but Pedraza will still be responsible for paying restitution for the costs of painting over the utility box. Though he painted without a permit and thus illegally, Pedraza's case raises the question – once again – of the relationship between art and public space. Regulations limiting art in public space seem to always be tighter than regulations of advertising (just look around you next time you are out in the street).

3. "Birthing Machine" by Demin
Excessive caution toward erotic art
City officials claimed two works at the 13th edition of the Festival International d'Art Singulier in Aubagne (the South of France) were "pornographic" and should not be put on display. One of the works, by Marie Morel, is a large-scale erotic painting titled L'Amour (Love). The other one is a sculpture by Demin: a kinetic work of a woman giving birth, complete with red-colored water, titled Machine à Accoucher (Birthing Machine). In response, the organizers of the festival cancelled it completely. Danielle Jacqui, the festival director, stepped down because of the controversy.
2.Untitled Mural by the En Masse Collective
Chicago community prefers murals with positive message over "harsh" images and "gang symbols" 
A mural commissioned by Theaster Gates' Arts and Public Life initiative in Chicago was whitewashed by the commissioning organization at the request of WashingtonPark residents. The reason: "Several complaints were made that the mural was offensive, containing negative images and gang symbols." The mural was the result of a 12-artist collaboration organized by En Masse, muralists from Montreal who were flown in to paint with students and local street artists, including Zero.
1. Clacton-on-Sea Mural by Banksy
How dare artists mimic reality and portray its injustices!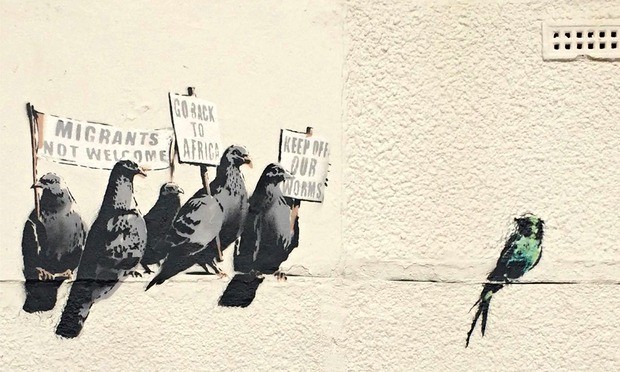 We end with a graffiti artist whose material, often containing political commentary, sells for millions and can bait a city of 8 million into a month-long scavenger hunt. So it came as a surprise this October when a mural by Banksy was painted overnight in Clacton-on-Sea in the U.K. The district council said it had received a complaint that "offensive and racist remarks" had been painted on a seafront building. A suspicious misinterpretation of a work that criticizes xenophobia and anti-immigrant and racist attitudes, but not entirely unpredictable when satirical art hits too close to the truth.