"Yes, that is my flag. I burned it. If they let that happen to Meredith, we don't need an American flag."
Sidney Street's reaction to the attempted assassination of civil rights leader James Meredith on a summer afternoon in 1965 led to his arrest, but in his actions and proclamation to police officers, Street put a spotlight on the very ideals of freedom and democracy that the flag purports to represent.
Many object to flag desecration on the grounds that it insults the soldiers who fought for the freedom it symbolizes. It certainly provokes passionate political debate and dialog, which is exactly why flag burning and other forms of flag flagellation should be legal.
Until the 60s, veneration for the flag was expected, if not required. State laws prohibited desecration, and only one flag burning incident came before the courts between 1900 and 1965. Then came Vietnam, the civil rights movement, and cultural clashes of all sorts. As the symbol representing core freedoms, the flag became a target for those who believed the United States was not living up to its ideals.
Following the Sidney Street incident, the Central Park flag bonfire of 1967 ignited a political protest movement and anti-war protests. In response, President Lyndon Johnson signed the first federal flag desecration law on July 4, 1968. Even baseball players got in on the action when Dodger Rick Monday saved the flag from an outfield burning in 1976. Doesn't his head-down stride just exude patriotism?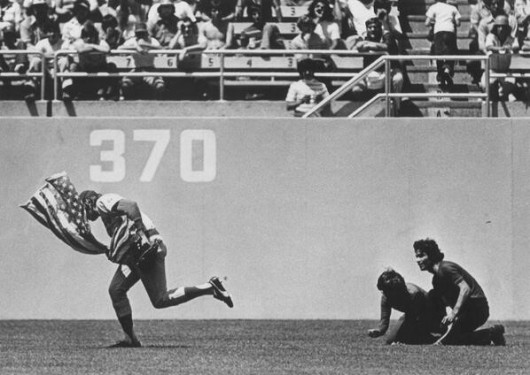 Four decades later, the flag continues to serve a symbolic purpose for Americans who are opposed to United States military action overseas, especially for those who swear to "defend the Constitution of the United States against all enemies." There's no mention of the flag in a soldier's oath.
Burning a flag is not the only way the flag has been used to express political dissent; artists have used it to make a political point or spark dialogue on what it means to be patriotic.  In 1970, Faith Ringgold, Jon Hendricks and other artists made their antiwar views known in The People's Flag Show at the Judson Memorial Church in New York City with works like the poster below, which stated in part "A flag which does not belong to the people to do with as they see fit should be burned and forgotten." The Attorney General busted Ringgold and two other artists – known as the Judson 3 – for flag desecration.
NCAC was founded during this volatile time and has gone on to uphold the right to symbolic speech in multiple incidents over our four decades, from flag art dipped in fat to students under attack for merely including a flag burning image in their school newspaper.
In 1989, Dread Scott's What is the Proper Way to Display the U.S. Flag, which invited viewers to choose to step on a flag so as to view an image and write in a response book, became the center of national controversy while on display at the School of the Art Institute of Chicago. Controversy followed Scott's exhibition for years, even after the Supreme Court set the flag free in Texas v. Johnson.
Just last year, NCAC protested when a school in Paducah, Kentucky cancelled an assignment in which students were asked to recreate works of art and chose Dread Scott's controversial 1989 piece.
A renewed flag reverence naturally flared after the terrorist attacks on September 11, 2001, and Congress has come perilously close to passing Flag Desecration Amendments numerous times, most recently in 2006, when the effort fell only one vote short. Flag desecrations are a form of symbolic speech that even makes Supreme Court justices uncomfortable: last week, Justice Anthony Kennedy revealed that in Texas v. Johnson "I wrote a very short concurring opinion because I knew it would be very unpopular. Eighty senators went to the floor to denounce the court. President (George H.W.) Bush visited flag factories for a week."
Despite federal law preserving the right to desecrate the flag as one sees fit, a majority of Americans still love their Red, White and Blue and want it protected. Just ask rapper Lil Wayne, who is certainly not a friend of censorship but felt compelled to apologize for his inadvertent step during a music video shoot:

This Fourth of July, as we eat our hot dogs on a stars and stripes paper plate and wipe our hands with flag emblazoned napkins, is a good time to ponder what the flag means, and whether it might legitimately mean different things to different people.
Happy Independence Day and congrats Team USA!