NCAC's Arts Advocacy Program, launched in 2000, is the only national project dedicated to working directly with individual artists and curators involved in censorship disputes. Its main goal is to protect artists' rights to participate in the democratic dialogue by defending public access to their work, and supporting their ability to freely express views that might be unpopular or controversial. The project resolves controversies through education and advocacy, avoiding the need for legal action. Working within a larger organization allows us to capitalize on the fact that controversial issues are not confined to one medium of expression or one social sphere. We work with different constituencies to mobilize a wide base of support, and produce policy documents and materials for educational programs. We also analyze censorship trends and train artists to become their own advocates and develop strategies to counter censorship in all its ever-changing forms.
Learn more:
CENSORED ARTISTS AND THEIR STORIES
ARTS ADVOCACY PODCAST
NCAC's Arts Advocacy Podcast gives artists a platform to talk about their censorship experiences. The inaugural podcast features artist/composer and 2017 Guggenheim Fellow Paul Rucker discussing his recent brush with censorship at York College of Pennsylvania. For the podcast's second installment, released in conjunction with National Women's History Month, we talked with photographer Savannah Spirit, whose online dissemination of nude self-portraiture incurs repeated account deletions and suspensions on social media.
REPORT CENSORSHIP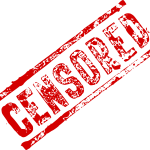 One of the best ways to fight censorship is to call it out as it happens. To report an incident, please follow this link and fill out the form, and an NCAC advocate will directly respond to you.
OUR RESOURCES
ARTIST RIGHTS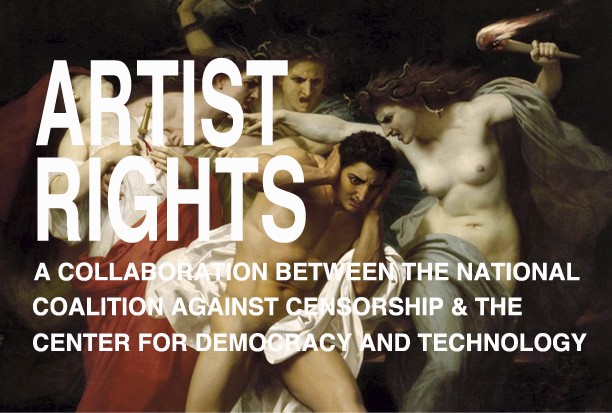 Artist Rights serves to answer questions frequently asked by artists, teachers, students, and reporters. It gives simple explanations of First Amendment protections for artworks. Read more about this resource in our interview on the Creative Capital blog, Know Your Rights: A Tool for Artists.
CENSORPEDIA
Censorpedia (www.wiki.ncac.org) is a participatory wiki of censorship incidents from the Iron Age to the 21st Century. The archive builds on the The File Room, an internationally renowned 1994 art project by Muntadas, and contains over 1000 censorship incidents from around the world, some dating back to the 5th c. BC, others documenting ongoing censorship battles. We hope Censorpedia will aid the fight for free expression by providing a living repository of censorship incidents, information about what materials are vulnerable to censorship, and a guide to strategies and tactics that have defeated past censorship attempts. (More information)
 ART & CULTURE CENSORSHIP TIMELINE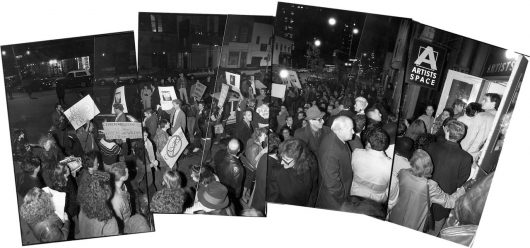 Art & Culture Censorship Timeline is a selective timeline of art censorship from 1989 to the present that is continuously updated.
(Image: Artists Space Protest, 1989)
A MANUAL FOR ART FREEDOM / A MANUAL FOR ART CENSORSHIP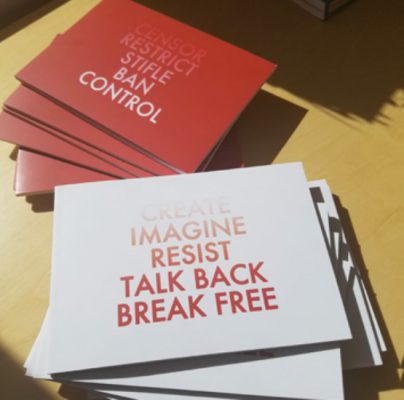 A Manual for Art Freedom is a flipbook that features tips for recognizing and navigating the many strategies used to silence creative expression. On its flip side and printed upside-down is A Manual for Art Censorship, a tongue-in-cheek guide that takes a look inside the mind of the censor while offering "how to" tips for banning and silencing "offensive" speech. For more information visit: A Manual for Art Freedom / A Manual for Art Censorship
MUSEUM BEST PRACTICES FOR MANAGING CONTROVERSY 
Museum Best Practices for Managing Controversy is designed to provide museums and other cultural institutions of any size or scope with guidelines that can help manage controversial content and transform controversy into a learning moment about the nature of diverse opinions and an institution's ability to address them. This non-binding document of best practices offers guidance to an institution concerned about or confronted with accusations of inappropriate, objectionable, or offensive content. Institutions caught in the frantic environment of controversy can refer to this set of strategies designed to calm the waters, open space for conversation and learning, and prevent or defuse a potentially volatile situation through deliberate steps to create meaningful dialogue.
RECENT MUSEUM CONTROVERSIES
L to R: 1) Early last year, the American University in Washington D.C. removed artist Rigo 23's sculpture of incarcerated Native American activist Leonard Peltier it had installed in front of the Katzen Arts Center after receiving violent threats from outside groups. 2) When the 2017 Whitney Biennial opened, a painting by Dana Schutz, based on an iconic photograph of the mutilated body of Emmett Till lying in his open casket, sparked protests, a petition, and a social media frenzy. 3) Minneapolis' Walker Art Center became the center of a heated controversy over Scaffold, a massive 2012 work by Los Angeles artist Sam Durant was met with a protest and demands that the work be dismantled.
L to R: 4) Also at the Walker Art Center, a traveling retrospective of artist Jimmie Durham rekindled a longstanding debate over the authenticity of Durham's Cherokee heritage. 5) The Guggenheim Museum removed several works from its China exhibition in response to threats of violence. 6) The Metropolitan Museum of Art refused to remove Thérèse Dreaming, a 1938 painting by Balthus, after than 10,000 people signed an online petition demanding its removal in response to "the current climate around sexual assault and allegations that become more public each day."
AMICUS BRIEFS
NCAC often leads or signs on to amicus briefs, "friend of the court" legal documents filed in appellate court cases by non-litigants that advise of relevant information or arguments that the court might wish to consider. Recently, NCAC signed an amicus brief arguing that the Congressional Art Competition violated First Amendment rights of a high school student when they removed his painting due to its allegorical depictions of police. In April 2018, NCAC joined PEN America and 31 other prominent arts organizations to jointly file an amicus brief urging the Supreme Court to strike down the third version of the Trump travel ban issued on September 27, 2017. NCAC and the College Art Association filed a brief opposing a law that would ban images of "animal cruelty" in a case that raised critical First Amendment questions that would affect a wide variety of valuable expression and undermine fundamental constitutional principles. And along with the ACLU and The National Youth Rights Association, NCAC submitted a friend of the court brief challenging a California law designed to prevent minors from purchasing "violent video games."
COMMENTARY
NCAC contributes commentary about a range of issues that touch on free expression. Recently, NCAC partnered with ArtsEverywhere to launch an online roundtable investigating the intersections of art, freedom and the politics of social justice. It has contributed articles and Op-Eds on far-ranging topics that include Net Neutrality, Copyright and Fair Use, cultural appropriation, historical trauma and cultural ownership, flag desecration, the Visual Artists Rights Act (VARA), blacklists and boycotts, censorship and tribalism, structures of power, how threats of violence chill our public sphere and whether you can separate an artist from their art.
NCAC SILENT ART AUCTIONS
2018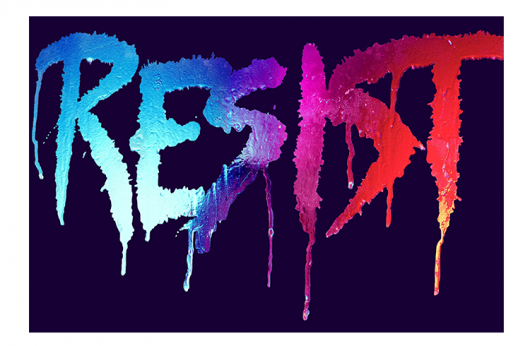 2016                                                          2017
Original artworks are generously donated by artists each year on the occasion of NCAC's Celebration of Free Speech & Its Defenders. All proceeds support NCAC's Arts Advocacy Program.
#