Selected Resources
This guide is intended to prepare you to talk about and respond to challenges aimed at materials by, for, or about lesbian, gay, bisexual, transgender, and queer/questioning youth.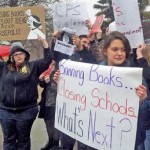 NCAC's guide to fighting book censorship is made for students, educators, and parents everywhere. Get tips on responding to book censorship, learn the typical objections to books, and the usual procedure for challenging book bans.
A rising grassroots movement is seeking to restrict how Islam is discussed in textbooks and other public school curricula. This resource provides some background on the pertinent Constitutional issues involved.
Most Recent Letter
Artist Gary Wynans, a Puerto-Rican-Italian, painted himself in the mural. Residents complained the image reinforced racial stereotypes.