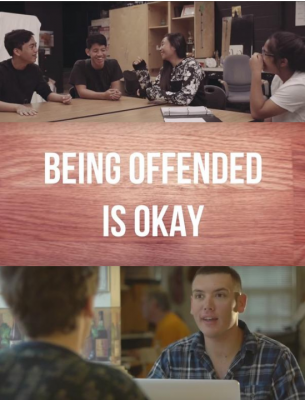 The votes are in, and we're happy to announce the winners of this year's Youth Free Expression Film Contest:
1st Place: Angelique Pineda – Ewa Beach, Hawaii

2nd Place: Aaron Field – Olympia, Washington

3rd Place: Matthew Moniuszko – Yorktown, Virginia

We'll be bringing the winners to New York City for a very special screening event in the fall.
The theme for the contest was That's Not Funny: Can Comedy Cross a Line?, and we were floored by the work that was submitted. You can view all of the semifinalists' films here.
Without further ado, here are the winners:
"Only If You Let It," by Angelique Pineda
Artist's Statement:
This short film was created to speak up about the topic of comedy, and whether or not it goes too far. In the video, a girl walks into her classroom and one of her classmates said a joke about her. She overreacts to the joke, and perceives everyone to be laughing at her. As she runs away her classmates chase her, like the joke chases her in her own head. At the end she comes back to reality and realizes that what he said was just a joke, and decides to laugh with them. Comedy is all subjective. It's all about how you distinguish it. Like my slogan at the end says, "Comedy only crosses the line if you let it."
I found out about this contest when my film teacher told our club about it. In a week we came up with a concept for this video, shot, and edited everything. I was determined to create a phenomenal short film while addressing this controversy.
In the society that we live in, people get easily offended by jokes, and take it the wrong way. But I believe that we can work towards just making light of some things people say, and try not to see everything in a negative light. We can all learn to laugh once in awhile.
"A Love Letter to the Uncensored," by Aaron Field
Artist's Statement:
This film is a love letter to those who stand uncensored. Comedy is an art and art should never be censored. As a filmmaker who constantly wants to share others' stories and my own, this topic really hits home for me. I wanted my film not only to state facts but to carry a story in order to really connect with my audience. I chose to keep it as simple as possible to let my words carry the weight of the film. I hope this film will open some eyes and help people think a little differently about the media they consume.
"bleep," by Matthew Moniuszko
Artist's Statement:
As our society becomes more and more sensitive, we become less progressive. Many people today ridicule, or even hate upon comedy that includes uncomfortable or raw material. However, I believe this gritty comedy can push our society forward, "challenge stigmas, and open dialogue about issues when nothing else will."
By making this film, I hope to expose the ridiculous claim that comedy should not offend people. After deciding that a brotherly disagreement regarding good comedy would be best to carry my message, I began working. With the help of my brother and parents (as acting talents), my film "bleep" was created.
This film allowed me to challenge myself to carry a narrative and message using careful screenwriting, cinematography, acting, directing, and sound design.
Please enjoy "bleep," and thank you.
—————————————-
Every gift supporting Youth Free Expression and Kids' Right to Read made before November 1, 2016, will be matched dollar for dollar! Don't miss this opportunity to double your impact on First Amendment advocacy. Help NCAC make Youth Voices heard today with a contribution of $10, $20, $40, or more.