After a busy week working to fight back against book bans and challenges, we were thrilled to see some good news. A Tulsa school district recently heard a parent's challenge to the book Carter Finally Gets It by Brent Crawford.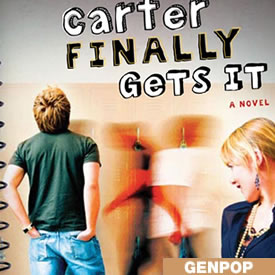 The parent who challenged the book called the book "vulgar, vulgar, vulgar," objecting to its references to masturbation, pornography and an instance of bullying a kid with special needs.
Others spoke on behalf of keeping the book and ultimately the members of the Board of Education voted 3-0 (two were absent) to keep the book in school libraries.
The school superintendent sagely noted that if any parent doesn't want their child reading the book, "they don't have to check the book out. It is a parental choice if they want to or not."
It is totally appropriate for residents to submit a complaint if they wish their voice to be heard. And its harder for school board members, administrators, librarians and teachers to do the right thing and see a challenge through. It would be easy to say, "Ok, fine," and acquiesce to the complaints of a loud objector (see: Sumner County, TN) and make the problem go away. The latter choice, however, treads on the rights of others to make up their own minds about what they read and how they parent.