UPDATE 9/5/2019: NCAC has written to the Richmond Arts and Culture Commission to urge them to develop and implement guidelines that would prevent a reoccurrence of this type of artistic censorship. Since RACC is a publicly-administered government agency, preventing Chan from displaying her work as she intended solely because the viewpoints expressed could prove politically controversial raises serious First Amendment concerns and represents a profound lapse in judgment on the part of city officials. The full letter to the Commission is below.
Artist Christy Chan created a public art piece to give voice to residents of Richmond, California. Shortly before her installation, Inside Out, was to open, Richmond city officials disallowed the inclusion of statements critical of the current president of the United States. Chan found a way turn censorship of her project into a powerful artistic statement.
Chan explains:
I collected thoughts and statements from residents of the city, on any topic of their choice. 1,100 submissions were submitted in just one month — everything from concerns about the environment and immigration to personal messages to family members ('Dad, I forgive you for keeping secrets.') and general beliefs ('We are all humans capable of love'). I selected a representative section of about one hundred of these statements for public projection on the wall of the Richmond Civic Center, who had invested in the project as part of their Neighborhood Public Art Grant program.

Just before the launch, the City requested that any statements critical of the current president of the US and mentioning him by name be removed.  I have done so but it's important that you know those voices existed, even if they are not projected in the work.

I did my best within the confines placed on my work: The final display contains three minutes of disclaimer, reflecting the fact that over 40 submissions mentioned Trump or his policies.
Chan's final project had only intended to include one statement critical of President Trump as a representation of that group.
Richmond's Arts and Culture Commission requested the removal of such statements out of an abundance of caution over policies on political statements displayed on city buildings and a desire to protect Richmond's status as a sanctuary city by not drawing the ire of regulators who control state and federal funding.
The Commission did, however, grant Chan permission to mention the absent statements in the final project. Chan added a disclaimer within the 75-minute projection, beginning with "The city of Richmond has banned us from projecting phrases you submitted that criticize the President of the United States by name. Of the 1,100 phrases submitted many have shown viewpoints on the president in both English and Spanish." Following that text, six statements appear blocked out by red bars.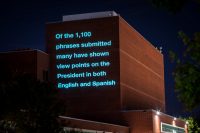 Chan feels that, ultimately, the project was a positive experience and has urged other artists to take on the challenges of navigating public art projects. The Arts Commission's decision reflects an environment of fear–of losing funding, of harming immigrant residents, of facing public backlash. NCAC commends Chan for finding a creative solution that allowed her project to go forward and amplified the message of her work.
Chan's full statement on the project can be read here and she is sharing the censored statements here. Coverage of the project is available here.
NCAC's letter to the Richmond Arts and Culture Commission is below. Click here for a full screen view: