Catalogue of Artworks

NCAC's Celebration of Free Speech & Its Defenders, November 1 2016
ARTIST: Mark Ryden
LOT: Tree of Mystery, 2009. Gicleé print with hand-carved wood frame. Edition: 29/40. Print Size: 21¼ x 28¼ inches.
FAIR MARKET VALUE: $4,000. Bidding starts at $1,000.
DESCRIPTION: Tree of Mystery is a limited edition giclée print with letterpressed title and embossed chop on archival cotton rag paper. The print is framed in a beautiful hand-carved wood frame and is numbered 29/40 and signed by the artist; a certificate of authenticity is included. Dubbed the "godfather of pop surrealism," Mark Ryden is an American painter who blurs the traditional boundaries between high and low art with his singular style, seducing viewers with infinitely detailed renderings that juxtapose childhood innocence with darker psychic images lurking beneath the surface. NCAC supported his work this year when the Catholic League and others called for its removal from the Virginia MOCA. Represented by Paul Kasmin Gallery in New York and Kohn Gallery in LA, Mark's work has been exhibited in museums and galleries worldwide. More artist information can be found at markryden.com.
ARTIST: Robert Sherer
LOT: Nuptial Not, 2002. HIV-negative blood on paper. 33×25 inches framed. With the book: Blood Works: The Sanguineous Art of Robert Sherer. KSU Press, 2012.
FAIR MARKET VALUE: $2,500. Bidding starts at $800.
DESCRIPTION: Robert Sherer is known for his provocative artworks. Nuptual Not, which depicts two intertwined, love-lorn flowers, is part of "Blood Works" (1997-present), a series of drawings that incorporates HIV-positive and HIV-negative blood into botanical illustrations that express the complexities of romantic life and sexual attraction in the age of AIDS. This past spring, NCAC defended one of his "Blood Works" drawings in the exhibition, Art AIDS America, on view at the Zuckerman Museum of Art at Kennesaw State University, where it drew the ire of Georgia lawmakers who threatened to de-fund the museum. In 2001 and 2007, Robert represented the United States in the Florence Biennale, where he was awarded a Lorenzo de Medici medal for his American Pyrography series. More artist information can be found at robertsherer.com.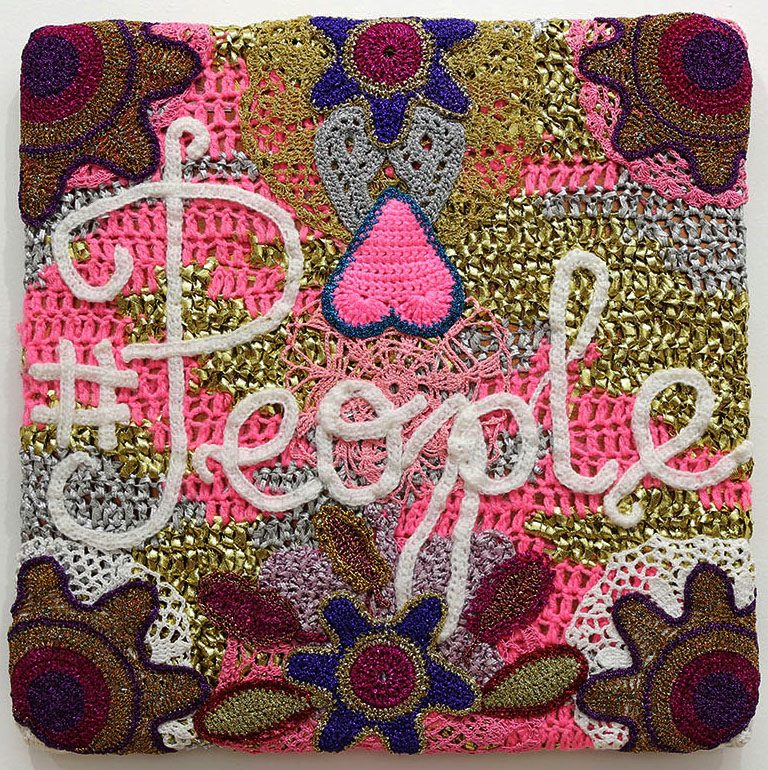 ARTIST: Olek
LOT: #people, 2013-16. Crocheted m/m, 20.5 x 20.5 x 1.75 inches.
FAIR MARKET VALUE: $4,600. Bidding starts at $1,000.
DESCRIPTION: Olek consistently pushes the boundaries between fashion, art, craft and public art, fluidly combining the sculptural and the fanciful. #people literally expresses what Olek cares most about. Through the old-fashioned technique of crochet, she uses the ephemeral medium of yarn to express everyday occurrences, often with the collaboration of members of local communities where she installs her projects and public commissions. She strives to create a metaphor for the complexity and interconnectedness of our bodily and psychological processes. Olek's work has been featured in public spaces, galleries and museums worldwide and in numerous publications including the New York Times, Vogue Italia, Wall Street Journal, New York Magazine, Daily Beast, Village Voice, and most broadcast networks. Over the summer, NCAC urged the Virginia MOCA to reconsider its censorship of one of her installations. More artist information can be found at oleknyc.com.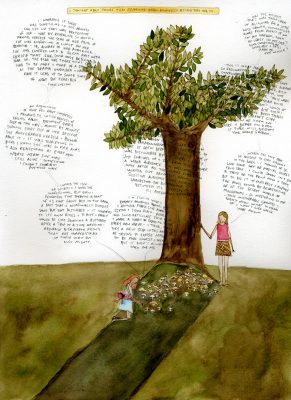 ARTIST: Amy Wilson
LOT: I thought about the things that remained hidden from view, 2008. Watercolor and walnut ink on paper, 12×9 inches.
FAIR MARKET VALUE: $2,500. Bidding starts at $800.
DESCRIPTION: Amy Wilson's drawing is from her 2008 solo exhibition at BravinLee Programs in NYC. In it, two young girls – who stand as surrogates for the artist – discover a patch of mushrooms growing in the shade of a tree, and speak of secrets, confessions, and the parts of themselves (and ourselves) that grow in the dark. Amy's small-scale drawings incorporate tiny, hand-written texts that feature an ever-changing cast of talkative girls who give voice to her thoughts, and they have been featured in exhibitions at the Pera Museum in Istanbul, MOMA-PS1 in Long Island City, The Drawing Center, Josee Bienvenue Gallery, and the Grolier Club. As one critic observed: "Wilson's subjects have ranged from international politics to modern art to personal history, but each time placing the artist and viewer in a larger community. The words may derive from others or from her, but either way they let one imagine or puzzle over her personal history—and one's own." More artist information can be found at amy-wilson.com.

ARTIST: Arnold Mesches
LOT: Mask (27), 2014. Acrylic; ink on paper, cut-out and mounted on canvas, 12×9 inches.
FAIR MARKET VALUE: $2,500. Bidding starts at $800.
DESCRIPTION: Arnold Mesches keeps probing our Zeitgeist. His works on paper come straight out of the tradition of Goya, Daumier and Kollwitz—political, masterful and borne out of a fierce desire to express outrage and change injustice. Mask (27) is part of the artist's recent series that combines pen-and-ink drawing with paint on small canvases that depict opulently masked figures of friends and colleagues. In these portraits, the identities and emotions of his friends, drawn in black and white with pen and ink, are obscured by colorful paint, gold and glitter. The subjects of these portraits become mysterious, like guests attending a masked ball; while they confront the viewer from behind their ostentatious masks, their expressions—like their true intentions, thoughts and feelings—remain hidden. Mr. Mesches work has been featured in more than 140 solo exhibitions and is in the permanent collections of the Metropolitan Museum of Art, Whitney Museum of American Art, The National Gallery, Albright-Knox Art Gallery, Los Angeles County Museum of Art, and Brooklyn Museum. More artist information can be found at arnoldmesches.com.

ARTIST: Yevgeniy Fiks
LOT: Tour of MoMA with Congressman Dondero, 2010, set of 10 unlimited edition black-and-white offset prints (11×17 inches each)
FAIR MARKET VALUE: $400. Bidding starts at $200.
DESCRIPTION: The project by Russian-born artist Yevgeniy Fiks revisits the political-cultural climate of Cold War USA during the McCarthy Era, when Modern Art was swept up in the anti-communist witch-hunt; the set of 10 unlimited edition black-and white offset prints use excerpts from statements made by former Michigan Congressman George Anthony Dondero, known for his widely publicized claims that Modern Art was a communist plot to bring down the US. This edition is part of the artist's larger project that explores historical ties between Modernism and 20th-century communist movements. "A virtuoso in the art of recovering cultural memory," according to a review in the New York Times, Yevgeniy's work has been shown at Mass MoCA, Philadelphia Museum of Art, Museum of Modern Art and Marat Guelman Gallery in Moscow, Sala de Arte Público Siqueiros in Mexico City, and Museu Colecção Berardo in Lisbon. More artist information can be found at yevgeniyfiks.com.

ARTIST: Susan Hamburger
LOT: Invasive/Native/Nuisance, 2016, silkscreen, 19×22 inches (unframed), edition 20/28.
FAIR MARKET VALUE: $500. Bidding starts at $250.
DESCRIPTION: Susan Hamburger's limited edition silkscreen print depicts four species of bird—Starling, Pigeon, Red Headed Woodpecker and Eastern Bluebird—each of which has a symbolic as well as a concrete connection to New York City and State: The Starling is an interloper and invasive species that ousts the native Woodpecker and other burrowing birds from their homes; the Bluebird, the official New York State bird, is eclipsed, at least for city dwellers, by the ever-present Pigeon. The artist brings them all together here to serve as metaphoric placeholders in our current political season. Susan has been awarded residencies at the Ucross Foundation, Saltonstall Foundation, Jentel Foundation, and the Millay Colony for the Arts, and an Edwin Austin Abbey Mural Fellowship from the National Academy Museum. More artist information can be found at susanhamburger.net.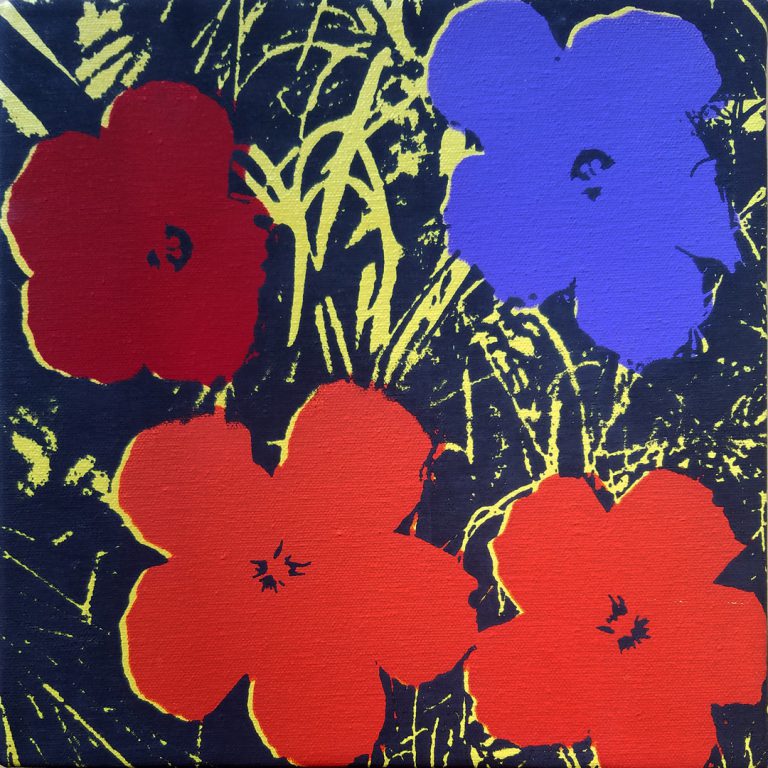 ARTIST: Eric Doeringer
LOT: Andy Warhol (Bootleg series), 2008, acrylic and silkscreen on canvas, 10×10 inches. Open edition.
FAIR MARKET VALUE: $800. Bidding starts at $400.
DESCRIPTION: Eric Doeringer's work deals with the relationship between the copy and the original. His "Bootlegs" are unauthorized copies of artworks by more than 100 different contemporary artists, and includes paintings, sculpture, photographs, drawings, collage, and video. Andy Warhol is based on Andy Warhol's iconic Flowers series (ca. 1964) that were the focus of his first solo show with legendary art dealer Leo Castelli. Eric began his Bootleg series by setting up a small stand in New York's Chelsea gallery district, mimicking sidewalk vendors of counterfeit handbags (and he was subsequently kicked off the sidewalk by the Bloomberg administration). Eric has gone on to exhibit his Bootlegs at major art venues such as the Scope Art Fair, ArtLA, GEISAI Miami, Flash Art Fair (Italy), the Whitney Museum, Art Basel (both Miami and Switzerland), Frieze, and The Armory Show. More artist information can be found at ericdoeringer.com.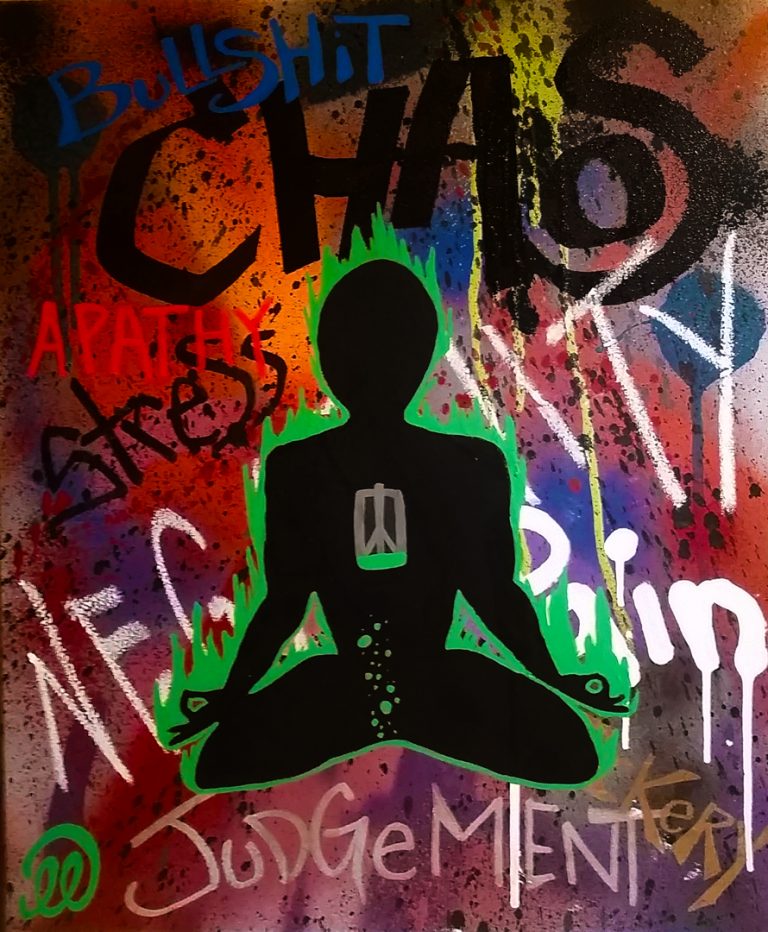 ARTIST: Gary Wynans, aka Mr. AbiLLity
LOT: Recharge, 2016. Spray paint, acrylic, markers on canvas, 20×16 inches.
FAIR MARKET VALUE: $500. Bidding starts at $250.
DESCRIPTION: Gary Wynans, aka Mr. AbiLLity, is a self-taught muralist and graffiti artist living in Jersey City, who created Recharge exclusively for NCAC's auction. He was recently commissioned to create a 33-foot floor mural on the busy pedestrian plaza at Newark Avenue, a creative riff on the traditional Monopoly board game. Gary's mural used city street names and local icons, harnessing the game's focus on money and real estate to bring attention to income disparities and gentrification in real-life Jersey City. Several parts of the mural drew complaints, especially the "Jail" square containing the artist's self-portrait behind bars, which some interpreted as a negative stereotype about people of color. To quell the controversy, the city painted over Gary's mural. NCAC wrote to the mayor concerned that the artist's constitutional rights were being violated and the public's right to access art was being denied. About his work, the artist writes: "Life is filled with everyday struggles that drain us. We're quicker to charge our phones than ourselves. Always recharge yourself. Feed the soul, starve the ego." More artist information can be found at mrabillity.com.

ARTIST: Mira Schor
LOT: Sketchbook Trace: Terror, 2016, ink and gesso on tracing paper, 14×18 inches.
FAIR MARKET VALUE: $1,000. Bidding starts at $500.
DESCRIPTION: New York artist Mira Schor's drawn and painted apparitions of female figures reveal contradictory truths, such as the irresolvable tussle between roles that are socially imposed and those that emerge from within. Sketchbook Trace: Terror is a drawing traced from a sketchbook that reenacts Munch's scream in the Trump era, in particular his quote on Howard Stern that "vagina is expensive." Here, the thread of blood points to the horror experienced by those who cling to patriarchal domination even though they know they are all "of woman born." In ARTFORUM, Andy Campbell writes: Mira's "skeletal power figures…do battle with internal and external invalidations… Painted on tracing paper as thin as onion skin, they are works of uncompromising strength and clarity." Mira's work has been included in exhibitions at the Santa Monica Museum, the Armand Hammer Museum, P.S.1, the Neuberger Museum, and the Aldrich Museum; she is represented by CB1 Gallery in Los Angeles. More artist information can be found at miraschor.com.

ARTIST: fierce pussy
LOT: fierce pussy. Printed Matter, New York: 2008. Dimensions 43.5×28 cm, 17 p. Edition size: 1000 (ISBN: 9780894390029)
FAIR MARKET VALUE: $180. Bidding starts at $100.
DESCRIPTION: Published on the occasion of the collective's 2008 exhibition at Printed Matter, this poster book reproduces 16 classic posters from fierce pussy in an over-sized format with spiral binding, such that the reader can tear out a poster and install it anywhere. fierce pussy is a collective of queer women artists formed in New York City in 1991 through their immersion in AIDS activism. fierce pussy projects included wheat pasting posters on the street, renaming New York City streets after prominent lesbian heroines, re-designing the restroom at the LGBT community center, printing and distributing stickers and t-shirts, a greeting card campaign, a video PSA and more recently, various installations and exhibitions in galleries and museums. Emerging during a decade steeped in the AIDS crisis, activism, and queer identity politics, fierce pussy brought lesbian identity directly out into the streets in a manner characterized by the urgency of those years. More artist information can be found at fiercepussy.org.

ARTIST: Nicole Touchet
LOT: Burnt Figure Study, 2013. Acrylic and pastel on paper, 13.5×17 inches.
FAIR MARKET VALUE: $75. Bidding starts at $40.
DESCRIPTION: Nicole Touchet's Burnt Figure Study relates to her series of large-scale painted self-portraits, Burnt (Figure), 2013-ongoing. The artist writes: "This series of female figures explores states of consciousness addressing self-awareness, self-image, and identity. My work develops through a process of discovery and intuitive impulse. The idea of tension is prevalent – refining and distorting, simplicity and complexity. Distortions of the figures represent the struggles inherent in refining oneself." In 2015, the artist launched Galerie Touchet in downtown Lafayette, Louisiana, to showcase the work of local emerging artists. NCAC supported Nicole in 2016 when her solo exhibition of large-scale nude self-portraits was censored, and she has since become a vocal advocate for artists and freedom of expression. More artist information can be found at galerietouchet.com.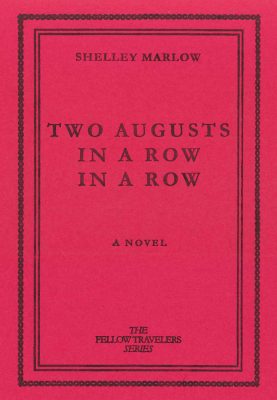 ARTIST: Shelley Marlow
LOT: Two Augusts In A Row In A Row, Publication Studio/Jank Editions; Portland: 2015. Softcover; 351 pages
FAIR MARKET VALUE: $50. Bidding starts at $25.
DESCRIPTION: Shelley Marlow is an artist and writer living in Brooklyn. Her debut novel, Two Augusts In A Row In A Row, is a love letter between generations of queer women. Set in New York City in 2001, we follow Phillip – a gender subversive drag king in search of grace and magic – through rich, sad, humorous language that is singularly Shelley Marlow's. This is the seventh book in Publication Studio's distinctively designed 'Fellow Travelers' series, the red covers of which mimic the deep green wrappers of the famous Olympia Press Traveller's Companion series of the late '50s and '60s. At Olympia Press, French provocateur publisher Maurice Girodias released novels of literary merit that were too hot for any contemporary press to handle. This is how Lolita, Naked Lunch, Our Lady of the Flowers, The Story of O, and many other controversial works came into the world. Portland hasn't risen to the heights of Paris yet, but a steady stream of interesting fiction and memoir has continued the marriage of avant-garde writing with radical sex and politics. Listen to Shelley read from her novel at the Vermont Studio Center, where she was recently a writer-in-residence.