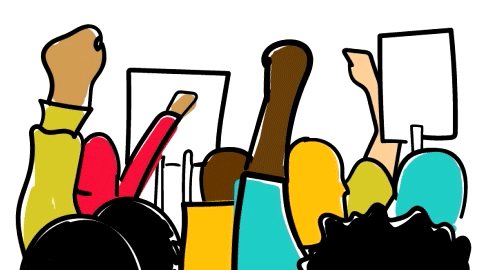 This year's Youth Free Expression Program Film Contest asked filmmakers under 19 to create films that think broadly about protest, demonstration and change.
After receiving hundreds of entries, we are delighted to share our 8 semi-finalist films!
WINNER: SADIE PRICE-ELLIOTT
I Can't Be Silent, by Sadie Price-Elliott
In this film, footage of the 2017 Women's March is set to the tune of an original poem by the filmmaker read aloud. The poem explores themes of youth protest, change and speaking out.
2ND PLACE: JESSICA STOSSEL
An Open Letter to Mimi Walters, by Jessica Stossel
A self-described "somewhat experimental" film that contributes to the ongoing debate concerning firearm restriction in the United States, taking aim primarily at the political maneuverings of California Congressional Republican Mimi Walters.
3RD PLACE: MAGGIE BUDZYNA
We Are the Mass Shooting Generation, by Maggie Budzyna
This film combines student interviews with footage of a live student protest to explore issues surrounding the Parkland school shooting, the feelings among students it elicited and the marches and walkouts it inspired.
Value Your Voice, by Nathaniel De La Torre
This film, featuring interviews with both a student and a high-school teacher, delves into the topic of why organized protest among young people must accrue to principles of nonviolence.
After the Walkout, by Katy Spencer
In this film, a handful of teachers and students remark on the success and prospects of the school walkouts and marches they witnessed following the Parkland school shooting.
The Walk, by LyLena Estabine
This film depicts a school's internal discussion among students following the Parkland school shooting, as well as a walkout that the filmmaker values as a unifying force.
Marching for a Better Future, by Katherine McCabe
This film depicts some snippets of the 2018 Women's March and explores some of the motivations of those who marched in it and, specifically, those who created protest signs for the occasion.
Claremont High Walkout, by Clara Siliezar, Charlotte Ullrich and Tevita Manu'atu's
Combining snippets of news audio with impassioned dialogue from student organizers and teachers, this film centers on a student walkout at Claremont High School.