Whether you need a trip down memory lane or you're ready to discover a new favorite, consider these rebellious reads that have been and continue to be challenged by parents, bureaucrats, and audiences alike. 
40. Snakehead 
by Anthony Horowitz
One
mother's trash is another uncle's treasure
A mother in Spring Hill, Florida requested Snakehead be removed from her son's elementary school library, stating that the book is inappropriate for children in that age group. But doesn't the definition of what's inappropriate differ from reader to reader? An approachable thriller, Snakehead is the seventh novel in the series by Horowitz. The plotline follows the main character, Alex Rider as he infiltrates a ruthless gang operating across Southeast Asia. Known as snakeheads, the gangs smuggle drugs, weapons, and people. Even in the reviews of the book on Amazon, one man was excited to share the book with his nephew and felt the book is perfect for the 10 to 14-year-old range.
39. The Story of O by Anne Desclos (as Pauline Reage)
So controversial, the author did not reveal her identity until 40 years after publication
The Story of O is an erotic novel published in 1954 by French author Anne Desclos under the pen name Pauline Réage. The novel describes a woman, O, who is trained to be sexually submissive. By domination and love, she is emotionally, mentally, and physically taught to be sexually desired and available to men.
The book's graphic content sparked so much controversy that the French government authorities brought obscenity charges against the publisher and the mysterious author that were thrown out of court in 1959. However, a publicity ban and a restriction on the book's sale to minors was imposed until 1967.
38. Little Brother 
by Cory Doctorow
Sounds more like Big Brother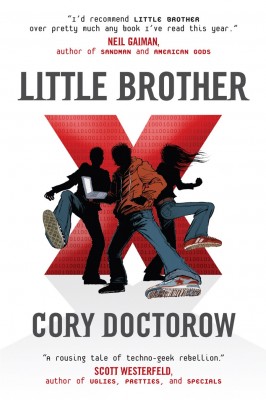 This month, Cory Doctorow's novel Little Brother was cancelled as the assigned text for Booker T. Washington High's school-wide summer reading program based on reviews that emphasized the book's positive view of questioning authority, lauding 'hacker culture,' and discussing sex and sexuality in passing.
In his response to the cancellation, Doctorow sent 200 copies to the high school and summed up the reasons to fight against censorship on his Boing Boing blog: "I'm sure the principal—like all career educators of my experience—is a man of goodwill who wants to do what's best for the kids in his care. Doing this does not make him a bully or a bad person—but it does make him wrong. Because the right way to address controversial topics in society and literature is discourse— there is an educational opportunity here, for the taking. I'm glad to have the chance to make the most of that opportunity, even if the school administration won't support its faculty's choice and give all the kids in the school the chance to read and discuss my book."
37. Bastard Out of Carolina 
by Dorothy Allison
The world is filled with kittens and rainbows and only happy endings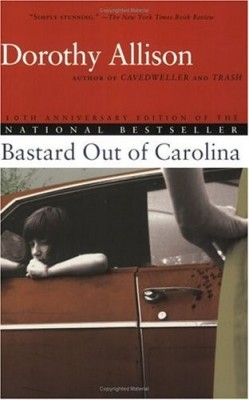 Nominated for the National Book Award, Bastard Out of Carolina explores the life of a girl in South Carolina and her conflict with her mother's husband. Exploring topics ranging from child abuse to class, race, and mother-child relationships, the book took 10 years for Dorothy Allison to craft. Amid concerns of violence and difficult subject matter, this semi-autobiographical title has faced many challenges since its publication in 1992 – even having been banned for its lack of a happy ending.
36. Cujo 
by Stephen King
What's scarier: rabies or censorship?
The truth is, parents just don't like Stephen King – especially King's horror novel about a rabid dog. Citing rough language, explicit sex scenes, profanity, and violence, among the reasons to ban the book, parents from New York to Mississippi have demanded its removal from libraries and schools. What's scarier than a rabid parent?
35. The Master and Margarita by Mikhail Bulgakov
Stalin to Satan – not a huge stretch of the imaginatio
n
Mikhail Bulgakov's devastating satire of Soviet life was written during the darkest period of Stalin's regime. The book is a hilarious depiction of biblical characters reinterpreted in a Faustian setup between a writer, his mistress, and Satan. Though the book was completed in 1940, it wasn't published in Moscow until 1966, when a censored version of the text appeared in the magazine Moskva.  Illegal pamphlet copies of the book that contained the uncensored text were distributed by hand and eventually used in 1967 by a publisher in Frankfurt to complete the first full published version of the text.  The first complete version to appear in Russia wasn't until 1973. In 1989, a final version based on all available texts and manuscripts was published.
Bugakov's own way of life and his witty criticism of the ugly realities of life in the Soviet Union caused him much trouble. In response to his politically-charged work, he was interrogated, his works and personal diary were confiscated, he was not allowed to emigrate, and his plays and other work were banned, terminating his income and resulting in a poverty-stricken existence.
34. Waterland 
by Graham Swift
Can we learn from the past to make progress in the present?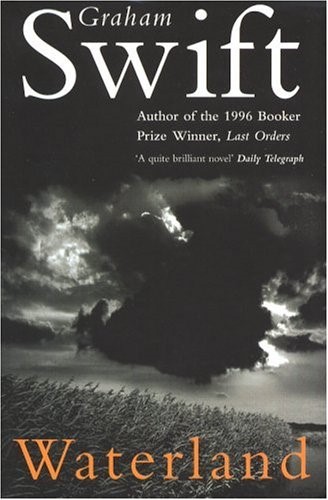 A finalist for the Booker Prize, this haunting tale explores the relationship of our past with our present, through the story of a history teacher, Tom Crick, whose wife kidnaps a baby. Although it has been described as poetic and lyrical, the book has been challenged as possibly "upsetting" to school children and parents alike.
33. Luna by Julie Ann Peters
If you don't talk about it, it will go away, right?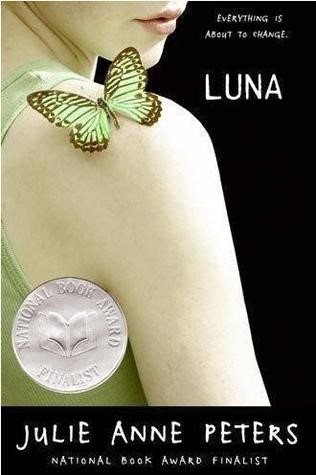 Luna is the first young adult novel to feature a transgender character. Although there is not much published about its censorship, the novel is part of the list of restricted/banned books of Texas due to the topics of gender identity and homosexuality, as well as rough language. Despite winning multiple awards, the book revolves around gender identity, which is often left out of the school curriculum.
32. Ender's Game by Orson Scott Card
Is a work of genius by a bigot still a work of genius?
Last year's big-screen adaptation of this 1985 novel re-ignited the debate about whether you should separate the art from an artist and condemn or applaud a work based on the beliefs of its creator. Ender's Game is a thought-provoking accessible military sci-fi novel that has won many awards. However, Card has been an outspoken opponent to homosexuality, threatening to destroy the government should same-sex marriage be legalized. Do you dismiss the work of a bigoted author or let it spark the conversation?
31. Eat Me by Linda Jaivin
The titillating folk of Marion County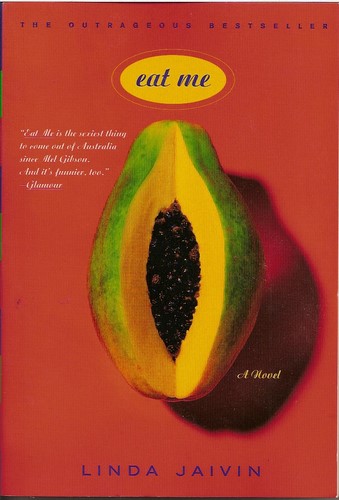 In this best-selling first novel, four bright, successful friends meet in Sydney's designer cafés and restaurants to gossip about their romantic exploits. The bitter, and at times comic, censorship battle surrounding Eat Me that overtook Marion County, Florida is almost as juicy as the book itself. When an 83-year-old grandmother, intrigued by the title and cover art, perused the first few sections of the book, she was so flummoxed, she immediately alerted library staff that the book needed to be removed because it was "too obscene for general reading." After a battle that involved a two-star retired U.S. Marine general, a self-titled fundamentalist preacher, a former chair of the Library Advisory Board, and many other too-true-to-be-fiction characters, the book was put back into recirculation and was immediately checked out by the first of a long waiting list of anxious readers.
30. Frankenstein by Mary Shelley
Too close to the truth?
Frankenstein was banned in 1955 in South African Apartheid for being "objectionable and obscene." The South Africa ban came 6 years after the Prohibition of Mixed Marriages Act and 5 years after the Immorality Act was amended to prohibit unmarried sexual relations between 'Europeans' and 'non-Europeans'. For a government founded on separation, Dr. Frankenstein's monster represented a horrifying 'amalgamation' of people.
29. Invisible Man 

by Ralph Ellison


Fighting for the hard-won right to choose what you want to read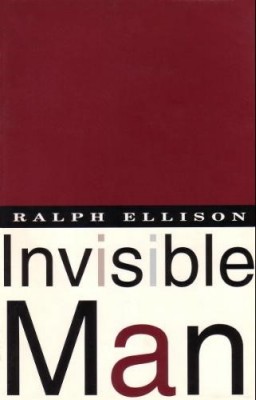 Invisible Man was banned from Randolph County Public School libraries and classrooms after being challenged by a parent who did not approve of the book on the 11th grade suggested summer reading list. Students were to choose one of three books for a summer book report. The book was reviewed by school-level and district-level committees, who recommended retaining the book and reinforced its literary quality and value. However, in September 2013, the school board banned the book, voting 5-2 in opposition to the recommendation committees. Ten days after the original ban, the Board held a special meeting to reconsider their action and voted 6-1 to return the book. Many of the board members discussed their changes of heart at the meeting, including one who had originally voted no and commented that he had reflected on his son's military service: "He was fighting for these rights. I'm casting a vote to take them away. Is it right of me? No."
28. Drop City by TC Boyle
When is it time to turn the other cheek?
A funny and unsentimental take on California counterculture in the early '70s, T.C. Boyle's 2003 novel was removed from the NY Times Bestseller display because it had butts on the cover. The image was in no way sexual; it was just nudity. However, the censors argued that children would see the offending image, and therefore it should be covered up. But shouldn't parents decide for their children alone what is appropriate? Is it dangerous to associate negativity with nudity? These are instances of institutional challenging, only these cases don't get any notice. Should they?
27.  The Claiming of Sleeping Beauty by Anne Rice
Librarians deem this trilogy "not so pretty"
Based on themes found in the Sleeping Beauty fairy tale, but written for an adult audience, these books were removed in 1996 from the Columbus, Ohio Metropolitan Library shelves based on the complaint of one patron who deemed the books pornographic. The three works were also deemed offensive in 1992 in Gwinnett County, Georgia's Lake Lanier Regional Library system and removed from the shelves.
26. Contact by Susan Grant
Walmart hijacks a romance novel?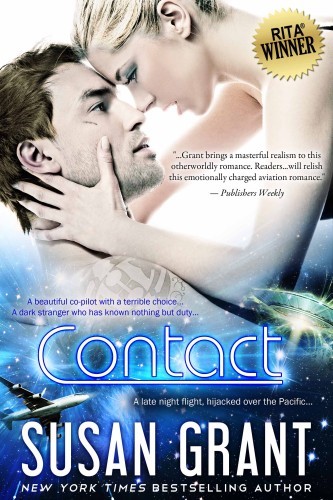 A beautiful co-pilot with a terrible choice… A dark stranger who has known nothing but duty… From the winner of the Daphne Du Maurier award for romantic suspense comes a tale of intrigue and passion where an airline pilot on a trans-Pacific flight finds her 747 hijacked by a UFO and an enigmatic member of their crew is the only one she can trust.
Looking for a lusty literary escape? Just don't look on the aisles of Walmart, which reportedly did not carry this romantic thriller a year after 9/11 because of its hijacking theme. "In my mind, it's one thing to refuse to sell something that the community would consider obscene, but it's a form of censorship to refuse to sell something based on its content and the fear that some in the community might be offended," a blogger for the All About Romance Web site aptly summed up.
25. Operation Dark Heart by Anthony Shaffer
Yes, you can publish it, but only if the DoD can rewrite it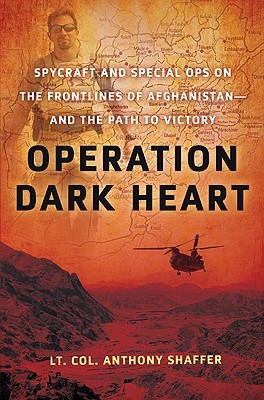 This 2010 memoir details 5 months in the life of U.S. Army intelligence officer Lt. Col Anthony Shaffer in Afghanistan. Shaffer received approval from the U.S. Army in 2003 to proceed with printing, and just under 100 advanced copies went out for distribution. Shortly thereafter, the U.S. Department of Defense insisted on censoring passages they deemed "sensitive," like the location of the CIA's training facility in Camp Perry, VA, a fact easily found on Wikipedia. The Pentagon purchased and destroyed the first, uncensored printing of almost 10,000 copies. However, the original advanced were still in circulation, so the government's attempts to contain the book's information made the content that much more interesting. Had the advanced copies not gone out, the DoD would have successfully censored content that had already been approved for widespread circulation.
24. Neonomicon by Alan Moore
It doesn't have to be comical; it just has to be available to read
Neonomicon is a comic book following FBI Agents Lamper and Brears as they visit one of their former agents at a psychiatric hospital. The patient and ex-agent Aldo Sax speaks an unintelligible language, and is investigated for two murders. The comic follows the two agents on their investigation. Plot twists present themselves in the form of death, drugs, and sex, making this comic book subject to censorship. In Greenville, South Carolina a parent of a teenage girl objected to the adult themes after the girl returned from the public library with Neonomicon in hand.
23. The Color of Earth by Dong Hwa Kim
Let's talk about sex, but in only in whispers and behind closed doors
This graphic novel tells the story of a widowed mother and her daughter, Ehwa, who is ostracized as a result of her mother's single lifestyle in their quiet Korean village. Life is hard but as Ehwa grows up and sees her mother fall in love again, she begins to come around to the idea of love in her life. As the novel is about a girl's transformation into womanhood, it is most often challenged for its nudity and sexual content. The metamorphosis from girl to woman is awkward and often a confusing time in a teen's life. Teens have a lot of questions they want to ask, but they don't always know how to start the conversation, making this book an important novel because it dares to explore this dangerous territory.
22. July's People by Nadine Gordimer
What if Apartheid had ended in war?
Set during a fictional civil war in which black South Africans have violently overturned the system of Apartheid, the novel follows the Smales, a liberal White South African family who were forced to flee Johannesburg to the native village of their black servant, July. Gordimer, who was awarded the 1991 Nobel Prize in Literature, has long dealt with moral and racial issues in her writing, particularly Apartheid in South Africa, where the book was banned. She was active in the anti-Apartheid movement and has recently been active with HIV/AIDS causes.
21. In Cold Blood by Truman Capote
It's so much easier to see things in black and white
The gruesome recounting of the events that led up to and included the brutal murder of four members of the Clutter family in Holcomb, Kansas in 1959, makes readers uncomfortable for myriad reasons. Challenged many times over for its violent and disturbing content, the book is all the more haunting for its ability to capture the humanity of the murderers.
20. Choke by Chuck Palahniuk
Freedom of expression can be hard to swallow
Some have accused Palahniuk of writing just to shock and disgust, as with this novel about a man who pays for his mother's care by conning people into financially caring for him after they "save" him from choking. To add to his antihero characterization, he cruises sexual addiction support groups in an effort to get lucky. With the obviously controversial topic areas involved, the book is an easy target for censors, making the American Library Association's list of banned books in 2010 after a Nicolasville, Kentucky petition concluded the book constituted a public safety issue by encouraging sexual predators. But just because a book isn't your dish, should one person decide for the rest that it should be taken it off the menu?
19. Beach Music by Pat Conroy
Where would we be without brilliant English teachers?
When a student in Charleston, West Virginia wrote to Conroy informing him that parents were attempting to suppress Beach Music and Price of Tides, he responded in true Conroy form with a moving piece of prose full of truth and justice. As his books have been challenged and banned since their publication, he is no stranger to the fight for freedom of expression. In the letter, he beautifully lauds English teachers and warns of the dangers and consequences of censorship: "The school board of Charleston, West Virginia, has sullied that gift and shamed themselves and their community. You've now entered the ranks of censors, book-banners, and teacher-haters, and the word will spread. Good teachers will avoid you as though you had cholera. But here is my favorite thing: Because you banned my books, every kid in that county will read them, every single one of them. Because book banners are invariably idiots, they don't know how the world works— but writers and English teachers do."
18. Vox by Nicholson Baker
Hold the line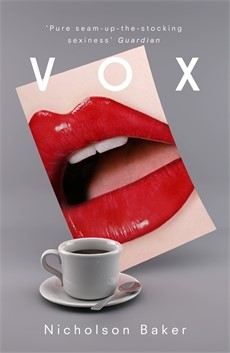 Two strangers talking about sex on a 900-number party line… Did we get your attention? This novel is written in the form of said phone conversation, and brilliantly re-frames sex as dangerous and comfortable, profane and lyrical. Despite accolades that name the "mad scientist of smut" as first-rank among America's major writers, the book's subject matter has been challenged as objectionable and even obscene. Sounds like the perfect gift for an intern to give a U.S. President.
17.  Yaqui Delgado Wants to Kick Your Ass by Meg Medina
And so does the NCAC!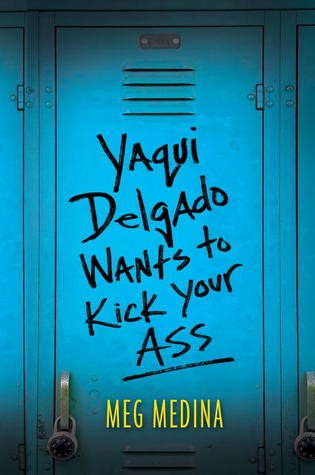 The Cumberland County school district cancelled a talk about bullying by author Meg Medina because of the title of her most recent book, Yaqui Delgado Wants to Kick Your Ass. They are the first words the main character hears her first day of school, kicking off bullying that will plague her throughout the year. NCAC wrote a letter to the district criticizing the decision to disinvite an author enlisted specifically because of her ability to engage students in a real, meaningful way on the subject of bullying. The talk was set to occur during Banned Books Week.
16. Down These Mean Streets by Piri Thomas
There is no machismo in censorship
Banned or challenged in Salinas, California, Teaneck, New Jersey, Darien, Connecticut, NYC, New York, and Long Island, New York, among others, this 1967 memoir follows the life of a Latino of Puerto Rican and Cuban descent growing up in Spanish Harlem. Exploring issues as complex as personal identity based on race and the consequences of crime in adolescence, the book speaks to the coming-of-age as well as the seasoned reader with depth and emotional honesty about the cultures bred by poverty and racism in America.
15. Black Boy by Richard Wright
Challenged by so many for so long, how can it be anything but a good read?
Wright's coming-of-age story follows his move to Chicago and involvement with the Communist Party. The book has been challenged many times over by claims that it contain profanity, sexually explicit content, and paints a grim picture of race relations and a lack of economic opportunity for minorities in America. In addition, it has been called anti-American, anti-Semitic, anti-Christian, and just plain filthy. Then again, coming of age is never an easy time.
14. Friday Night Lights: A Town, a Team, a Dream by H.G. Bissinger
Ending the discussion before it begins isn't really playing fair
The book and the resulting film and TV series have been lauded, and Bissinger is a Pulitzer-Prize winning author of this story that details the 1988 Permian High School Panthers football team as they headed to the state championship. But if you want to read it, don't waste your time at any school library in the Beaumont Independent School District of Texas, as it was removed from all school libraries. The Texas ACLU called the ban "the most egregious instance of censorship reported last year [2009]." The book was deemed inappropriate based on the frank portrayals of students' use of profanity, sexual situations and racism at the school and the wider community.
13. Persepolis by Marjane Satrapi
Iran vs. Chicago…?
Persepolis is the story of Marjane Satrapi's childhood and coming of age within a loving, educated family that lived in Tehran during the Islamic Revolution and Iran-Iraq War. In 2013, the award-winning graphic novel was censored in the Chicago public school system. Teachers and librarians were directed to take the book out of the classroom and stop teaching it. Noting the irony in the situation, Satrapi remarked that the only place her novel was previously censored was Iran.
12. Children of the Alley by Naguib Mahfouz
Censorship comes full circle
When Mahfouz received the Nobel Prize for literature in 1988, the Swedish academy expressly referred to the novel Children of the Alley. But this still did not permit Mahfouz to publish his novel in Egypt. Children of the Alley appeared in 1959 as a serial novel in the state newspaper Al Ahram. The novel offended religious scholars and political personalities at the time. In the book, Mahfouz addressed the same subjects as in his earlier works, from the life of the average little man in Cairo to the big questions of human existence. Ironically, while working for the Egyptian civil service, Mahfouz served, for a while, as Director of Censorship in the Bureau of Art.
11. Absolutely True Diary of a Part-Time Indian by Sherman Alexie
If you control the books, you control the conversation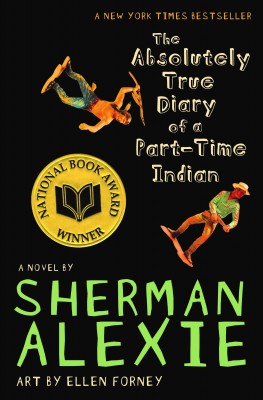 Challenged more than a handful of times since its 2007 publication, this young adult novel tells the story of Junior, who leaves his school on a Spokane Indian reservation to attend an all-white school. Accused of containing content that is inappropriate for kids, anti-Christian, and rife with alcohol, poverty, bullying, homosexuality, violence, and sexual references as well as for the tragic deaths of characters, the book was most recently challenged in Idaho by the Meridian School District, who removed it from the high-school reading list. Sherman's response: "Book banners want to control debate and limit the imagination. I encourage debate and celebrate imagination."
10. Neverwhere by Neil Gaiman
Where? Never in New Mexico
On Friday, October 11, 2013, news began to spread that Neil Gaiman's 1996 book Neverwhere had been banned in Alamogordo Public Schools in New Mexico. The book was under challenge for containing sexual and violent material, and its use was suspended halfway through the unit.
As Gaiman himself stated, "I'm obviously disappointed that the parent in question didn't talk to the teacher or accept the teacher's offer of an alternative book for her daughter, and has instead worked to stop anyone else's children reading a book that's been in the school system successfully for almost a decade. On the other hand I'm impressed that this parent has managed to find sex and violence in Neverwhere that everyone else had somehow missed — including the entire city of Chicago, when they made Neverwhere the book that was read by adults and children alike all through the city in Spring 2011′s ONE BOOK ONE CHICAGO program. But mostly I feel sorry for anyone excited enough by the banning to go to Neverwhere in search of "R-Rated" action. It's a fine adventure, I think, with some sensible social points, and perhaps some good jokes and characters — but it's very gentle stuff." Hear more from Neil Gaiman in person when NCAC honors him at our November 3rd Free Speech Matters 40th Anniversary Celebration.
9. Never Let Me Go by Kazuo Ishiguro
Can sadness be censored?
Never Let Me Go is a 2005 dystopian science fiction novel that was shortlisted for the 2005 Booker Prize, the 2006 Arthur C. Clarke Award, and the 2005 National Book Critics Circle Award. Despite its many awards, the book regularly faces challenges and appeared as number 5 on the ACLU of Texas' 2013 list of restricted books. Ironically, the book explores themes of conformity, willful ignorance, free will, and playing God.
8. Brave New World by Aldous Huxley
Really, still?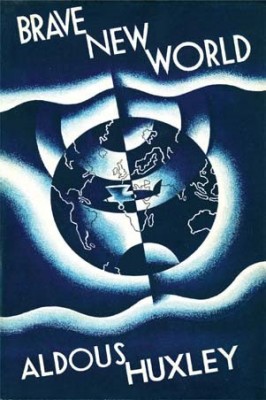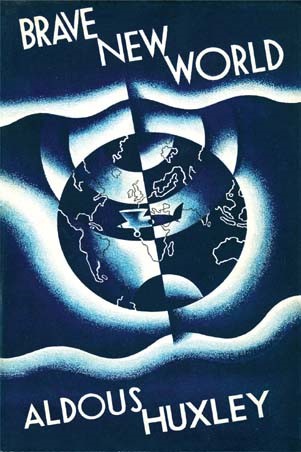 In April of this year, the NCAC's Kids' Right to Read Project sent a letter to the Cape Henlopen School District in Delaware to warn against labeling Aldous Huxley's 20th Century classic Brave New World as potentially "inappropriate" for AP English students, as has been proposed by school board members. Singling out a book with indisputable educational value raises constitutional issues, could invite challenges to the work and set a havoc-wreaking precedent.
If this book receives a warning, what book will be next, and who will decide which books need warnings? Those who object to this book are entitled to their view, but they may not impose it on others, even to the extent of demanding that the school adopt warnings about content they find objectionable. Labeling classroom texts based on the objections of a few threatens the principle that is essential to individual freedom, democracy, and a good education: the right to read, inquire, question, and think for ourselves.
7. Alice's Adventures in Wonderland by Lewis Carroll
Never trust a smoking caterpillar
An advice-doling philosophical caterpillar who offers mind- and size-altering mushroom bites are among the many characters in this fantasy that have begotten the wrath of book banners. Published in 1865, the book has been lambasted for promoting drug use (that pesky caterpillar) as well as sexual promiscuity and masturbation. In the 1930s, the novel's talking animals were considered an abomination and resulted in the book being banned in America and abroad. As the Governor of the Hunan Province in China argued "animals should not use human language, and that it was disastrous to put animals and human beings on the same level."
6. Day of the Oprichnik by Vladimir Sorokin
Political porn at its best!
A ban on swearing in films, plays and books came into force this past Tuesday, July 1st , in Russia, bringing the dystopia of Day of the Oprichnik one step closer to reality – and also putting the book on the endangered list. The grotesquely satirical (and foul-mouthed) novel describes Russia in 2028, a "Great Russian Wall" separating the country from its neighbors and a latter-day Ivan the Terrible in the Kremlin, who is protected by oprichniki, the secret police tasked with eliminating Ivan's enemies. The book follows one oprichnik through his workday of rape, arson and murder. Sorokin, enfant terrible of Russian literature, was banned in the USSR and remained the center of scandal in post 1989 Russia. In 2002, the Putinite youth movement Moving Together claimed his novel Blue Lard was pornographic (charges were eventually dropped) and staged a protest in central Moscow ceremonially throwing copies of the book into a giant styrofoam toilet.
5. Fanny Hill by John Cleland
Supreme Court-protected 18th-century porn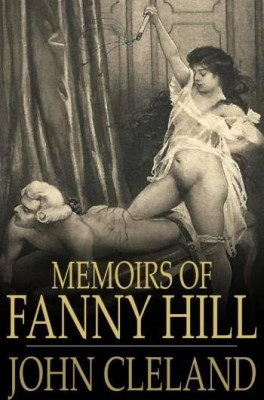 An orgy, sex between women, masturbation, masochism, cross-dressing, and a detailed sodomy scene – a few of the adventures encountered in perhaps the most notorious book on the list, Fanny Hill. Widely considered the first pornographic novel in English, the book caused a stir right from its publication in 1749. In America, the book was available only through contraband circulation, and had notable fans that included Benjamin Franklin. Far from gaining widespread readership, the novel was the subject of the country's first obscenity trial, in 1821, when two Massachusetts men were charged with printing an illustrated version. Finally published in America in June 1963, the book quickly faced challenges, culminating in Massachusetts' case against the book, which made it all the way to the U.S. Supreme Court. Thankfully, the court upheld the book's First Amendment protection.
4. Fun Home by Alison Bechdel
Cost cutting to prevent coming out
Fun Home, the graphic novel that author Alison Bechdel refers to as The Family Tragicomic, is a memoir depicting Bechdel's strained childhood relationship with her closeted gay father and her coming out as a lesbian. Writing and illustrating the book took Bechdel 7 years. This process included photographing herself in various poses before she sketched, so as to ensure her characters exuded human form and mimicked mannerisms.
The book underwent a unique form of censorship in 2014 when the South Carolina legislature cut funding to two of its public universities, the College of Charleston and the University of South Carolina Upstate. The budget cuts directly reflected the implementation of LGBT literature in the curriculum.
3. 1984 by George Orwell
Perhaps it's just a misunderstanding?
While the totalitarianism that provoked George Orwell into writing 'Nineteen Eighty-Four' seems to be passing into oblivion, his harrowing, cautionary tale of a man trapped in a political nightmare has had the opposite fate, and its relevance and power to disturb our complacency seem to grow decade by decade. This book was challenged in 1981 in the state of Florida in large part because it was viewed as "pro-Communist."
2. Don Quixote by Miguel de Cervantes
The Trojan Horse of Censorship
Don Quixote was deliberately written so as to confuse the Spanish Holy Inquisition's censors of the time. The author slipped in a series of critical statements, without the authorities blocking his novel. To trick the censors of his times, Cervantes hides a serious critical sting with a series of funny, light-hearted jokes so that the authorities would laugh at his book.
1. A People's History of the United States by Howard Zinn
Indiana's attempt to repeal American history
Certainly not the best book on the list, and it may be too big for the beach bag, but if you want to catch up on your history this July 4th without feeling like you're back in a classroom, A People's History could be the perfect anecdote to the dystopian misery and love stories littering the list above. The book has been praised for its lively, clear prose as well as its scholarly research, and it is the only volume to tell America's story from the point of view of, and in the words of, America's women, factory workers, African-Americans, Native Americans, working poor, and immigrant laborers. Though it has sold more than 2 million copies and is still being used in high schools and universities across the country, Indiana Governor Mitch Daniels sought to have the book removed from all classrooms in the state just 2 weeks after the death of Zinn in 2010.
Be sure to check out our Kids' Right to Read Project for great literature facing controversy in 2014, and remember, you can take action to help to ensure that these and hundreds of other challenged books remain on classroom and library shelves across the country.
This is the second in a series of Top 40s to commemorate NCAC's 40th anniversary year. What salacious reads are you picking up this summer? Tell us below!