There are reports of protests and challenges to educational materials about Islam coming in from around the country.
Here are some of the most notable incidents:
April 2017
-Two mothers in Chatham, New Jersey, announced that they have hired a Christian law firm as part of their crusade against lessons in Islam in seventh grade. The parents allege that they were "pilloried by their community" after appearing on Fox News and claiming that their children's schools taught Islam to the exclusion of other religions. It is unclear why they hired the law firm.
-ACT for America, an organization that frequently raises concerns about so-called "Islamic indoctrination", condemned a textbook in Brevard County, Florida, arguing that its depiction of Islamic history suffers from "political correctness." A member of the local chapter of the Council on American-Islamic Relations appeared before the school board and accused ACT for America of "pushing an anti-Islamic agenda." The school superintendent said there are no plans to review the book.
February 2017
-Parents in Summerville, South Carolina, complained about a sixth-grade worksheet on the Five Pillars of Islam. Some parents believed that the school should have sought parental permission before teaching about Islam.
October 2016
-A parent in Sullivan County, Tennessee, demanded that the school district remove a Pearson textbook that covers Islamic faith and history. She claimed that its unit on Islam violated her and her daughter's religious beliefs. Her daughter refused to complete assignments on Islam and was given a failing grade.
September 2016
-State officials in Tennessee proposed new educational standards that remove much of Islamic history from the seventh-grade curriculum. If enacted, the standards will go into effect in 2019, and children will no longer learn about the life of Muhammad, the origins and spread of Islam, and the teachings of the Koran. Defenders of the standards observed that educational policies change frequently and that teachers may need more time for other lessons. Critics condemned the policy and pointed out that Tennessee has a recent history of Islamophobia, especially with regard to public schools. A decision on the standards will be made in 2017.
May 2016
-In response to a Department of Education blog post urging teachers to monitor the bullying of Muslim students, Christian Action Network launched a petition to ban "Islamic indoctrination" from American schools. The petition complained that some schools require students to learn the five pillars of Islam. It also condemned a calligraphy lesson where students wrote an Islamic prayer in Arabic.
February 2016
–A Tea Party group in Roane County has targeted a Social Studies textbook that they claim is offering a whitewashed version of Islam. As one member put it, "There is an agenda of elevation and eradication." But as local news station WATE reported, the book the group is targeting is not even being used in the district's schools.
January 2016
-A review committee in Cumberland County, Tennessee decided that a social studies textbook that was challenged over its 'positive' depiction of Islam would stay in the curriculum. The parent who filed the complaint said the book, Discovering Our Past: A History of the World, Modern Times, "does not present an accurate, balanced picture of Islam." He is considering an appeal to the board of education.
-A school board in Sebring, Florida, was hearing complaints about Islam in a middle school textbook, World History Ancient Civilizations. The board advised concerned parents that they would have to follow district protocol and file a formal challenge to the book. One of the parents complaining about the book was quoted as saying  "Don't give the pretty stuff and try to dress it up. They are talking about the enemy and dressing it up real good and making the enemy look attractive." He denies making the comment.
-Tennessee lawmakers introduce a new bill "to officially stop Islamic religious indoctrination in Tennessee schools." Lawmaker Micah Van Huss stated, "I did not fight radical Islam in Iraq just to come home and find our children being indoctrinated,"
–The Wall Street Journal provides an overview of the situation:
Language about Islamic history in school textbooks is spurring battles across the nation, with some parents' groups and lawmakers objecting to what they see as an overly benign portrayal of the religion's spread and its teachings.
Kristen Amundson of the National Association of State Boards of Education predicts it will be a major issue this year: "We will see a raft of it… It is going to be coming before local boards, state boards and legislatures."
-An elementary school lesson about world religions angered some parents in Fife Lake, Michigan. The school's principal explained that the school "received a few calls just because when they brought up the term Islam…It's early world civilization unit in or first grade classroom. So we had studied briefly Judaism, Christianity and Islam." Nonetheless, some parents are apparently talking about taking their children out of the school system in response.
December 2015
-Parents in Minnesota were upset that a holiday concert at Blaine High School would include a performance of Eid un Sa'Eid, a song about the end of the Muslim holiday Ramadan. The concert was also featuring Christian and Jewish songs. One Facebook comment reportedly read, "No child should be forced to sing a song about the Muslims and the religion of hatred." The district released a statement explaining that the "songs are not performed in a worship setting or to promote religion but rather in [an] educational setting." As the local CBS affiliate explained:
While the Ramadan song mentions brotherhood and peace, the district says that any student who doesn't feel comfortable singing it doesn't have to.
-Complaints erupted over a calligraphy assignment in a world geography class at Riverheads High School in Staunton, Virginia. The Arabic text the students copied (which was not translated) was the shahada ("There is no god but Allah, and Muhammad is the messenger of Allah."). At a December 15 town hall meeting, parent Kimberly Herndon declared, "If my truth can not be spoken in schools, I don't want false doctrine spoken in schools." She added that the teacher "gave up the Lord's time… and gave it to Mohammed." The school responded to the complaints by explaining that the course studies Christianity, Judaism, Hinduism and Buddhism. In response to what they called "voluminous phone calls and electronic mail locally and from outside the area," the Augusta County Public Schools cancelled all classes in the district on December 18.
-Parents in Eau Claire, Michigan are reportedly upset by an elementary school assigning Nasreen's Secret School, a book about educating young girls in Afghanistan. And some are claiming that students are being forced to recite an Islamic prayer. The superintendent insists these rumors are unfounded.
November 2015
-Parents in Roxbury Township, New Jersey petition the school board to remove a middle school textbook (History Alive! Medieval World and Beyond) that they say whitewashes Islam's violent history. The district announced that it would keep the book.
–Several parents in Collier County, Florida claimed that a guest speaker discussing US-Turkey relations with a group of honors students was preaching Islam.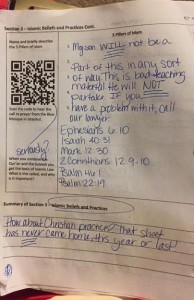 October 2015
-A California parent protested the teaching of Islam in her son's 7th grade history class. On a worksheet asking students to list the Five Pillars of Islam, she wrote, "My son will not be a part of this in any sort of way. This is bad teaching material. He will NOT partake. If you have a problem with it, call our lawyer."
-In response to parental and community outcry, Republican state lawmaker Sheila Butt introduces a bill in Tennessee to prohibit instruction about "religious doctrine" until high school.
-At a school board meeting in Cheatham County, Tennessee, parents spoke out against the teaching of Islam, which one said was "almost like an indoctrination."
-Holding a sign that read "Parents against Islam in our Schools," the mother of a student at Central High in Marlow, Oklahoma was protesting the study of Islam in a humanities class that focuses on world culture. She said the project was "indoctrinating my child to something that's not good for them."
September 2015
–Parents in Walton County, Georgia, began speaking out against the teaching of Islam in middle school history courses.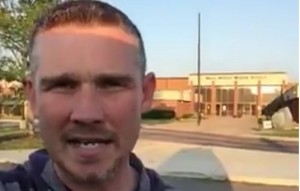 As one parent put it, "It seemed like half the truth to me, they didn't talk about the extreme Islamics." In response, the state  Department of Education removed a program guide called "Respecting Beliefs" that was part of its statewide middle school requirements.
-A local pastor in Mt. Juliet, Georgia, filmed a video in front of West Wilson Middle School, protesting what he called the "Islamic invasion and indoctrination of our kids."
August 2015
–A group of adults stood outside a kindergarten class in Houston, Texas, protesting a new Arabic immersion program at the school. One person held up a sign reading, "Everything I needed to know about Islam I learned from Muslims on 9-11-2001."
July 2015
–Parents and community members in Duval County, Florida, demanded that the school board remove two books from the third grade reading list, claiming that they "promote Islam."
April 2015
–An assignment at Union Grove High School in Wisconsin drew national controversy. Tenth grade students were r
equired to write an essay written in the voice of an American Muslim—including giving "examples of what you do daily for your religion and any struggles you face."
March 2015
-A group in Charlotte County, Florida challenged the use of two history textbooks that they claimed promoted Islam and devalued other faiths. Despite the protests, the district decided to continue using the books.
February 2015
–News reports surface about a parent in Seminole County, Florida who protested the use of a book in a 10th grade world history class, claiming his son was learning too much about the Islamic religion in a public classroom. His concerns prompted a district investigation, which found that the teacher never tried to indoctrinate or convert students.
October 2014
–Maryland parent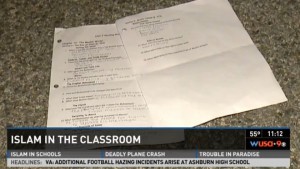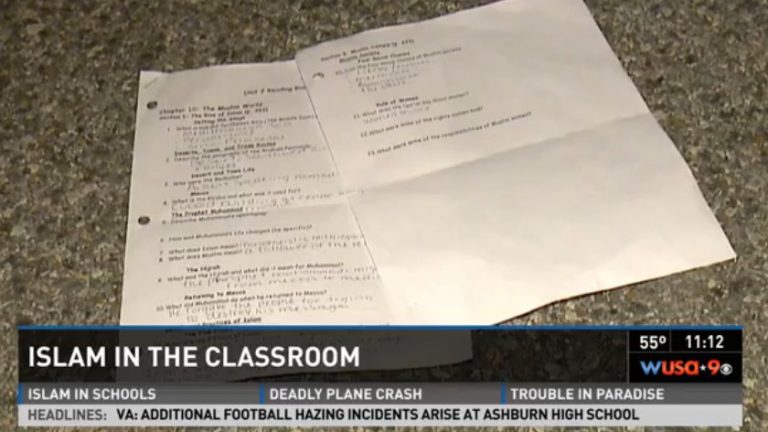 s object to the teaching of Islam in a La Plata High School world history class. One parent believed the lessons amounted to "Islamic indoctrination" and threatened to sue the school.
-A parent in Manhattan Beach, California, says he removed his son from a local middle school over lessons about Islam. He claimed that it is "illegal" for a public school to teach religion.
December 2013
-Parents in Southold, Islip, West Islip, and East Islip, New York, asked school boards to ban Jeanette Winter's Nasreen's Secret School and The Librarian of Basra because they claimed the books promote Islam. One school board member feared the titles were used to promote "the social justice agenda and pro-Muslim agenda."