This year saw a variety of attacks on free thought and free expression, from school administrators curtailing access to books that were deemed controversial to the US government censoring the words of a Guantanamo prisoner.
But, as is always the case, there were citizens eager to stand up and defend the freedom to write, create and read.
After we celebrated free speech defenders at NCAC's gala on November 3, we saw it fitting to pay tribute to some of the people whose work inspired us this year.
#JeSuisCharlie

The world was shocked by the horrific attacks on the French newspaper Charlie Hebdo in January, in response to cartoons that were considered anti-Islam. Many politicians and media outlets declared their solidarity with a simple phrase: Je Suis Charlie. But that only went so far; most publications and broadcasters refused to reprint or post any of the cartoons, even though their content was obviously essential to understanding the violent attacks and political debates they sought to engage.
But several major outlets bucked the trend: Gawker, Buzzfeed, Daily Beast, Vox and the Huffington Post were the most prominent online news outlets that decided readers should be able decide for themselves, and that discussing the political context of the works was impossible if you could not see them. The Washington Post was one of the few major US newspapers to make a similar decision; it printed one of the most famous cartoons on its op-ed page. As one Post editor put it, "I think seeing the cover will help readers understand what this is all about."
Protecting LGBT Library Books: Courtney Kincaid

The Hood County Library in Texas received dozens of complaint forms asking for the removal of LGBT-themed titles My Princess Boy and This Day in June. Some of the forms denounced the books for promoting "perversion" and the "gay lifestyle," and others even called for the books to be burned.
Thankfully, Library Director Courtney Kincaid wasn't about to buckle to the pressure. She stood firmly on principle:
American libraries are the cornerstones of our democracy. Libraries bring information and opportunity to all people, no matter their race, religion, gender, creed, or politics. For children, decisions about what books to read should be made by the people who know them best – their parents.
The matter eventually made it to the Library Advisory Board, which "found nothing in the text of the books that was inappropriate for children."
Don't Take It Down: Students at Oxon Hill High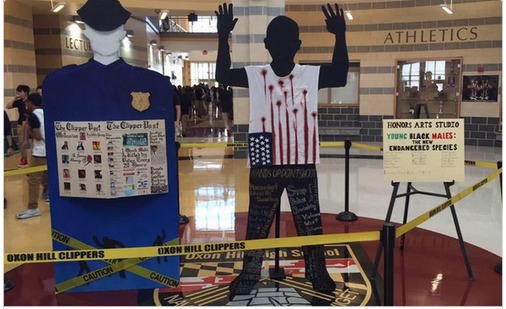 An honors student art installation on police brutality was placed in the main rotunda at Oxon Hill High School in Maryland in June. But it was taken down early, possibly due to complaints from a local Fraternal Order of Police. But students banded together to protest the decision, and presented a petition calling on the local school board to issue a statement supporting student artists and to develop a process for students to appeal acts of censorship.
Free Speech for All: Seth Meyers

The Charlie Hebdo killings in January prompted serious debate over the state of free speech in France and elsewhere. While for years the newspaper's cartoonists were free to draw as they wish, other forms of expression drew law enforcement attention. After the attacks, dozens of people were arrested for 'hate speech,' including popular comedian Dieudonné M'bala M'bala, who was arrested over a Facebook post. He had been targeted for years, mostly for comments many considered anti-Semitic.
Should those who supported Charlie Hebdo's freedom of speech extend the same to a comedian they might find hateful? NBC talk show host Seth Meyers said yes. "I am guessing I wouldn't dig his comedy act," Meyers told viewers on January 15, but he stressed that Dieudonné "should be able to perform it without being arrested…. If we really believe in freedom of expression, it should cover him as well."
The Show Goes on: Cherokee Trail Theater Students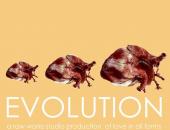 On April 15, advanced theater students at Cherokee Trail High School in Aurora, Colorado were told that their student-written production, Evolution, would not go on as planned because of "uncomfortable" material related to its LGBT content. An administrator reportedly did not believe the community was ready for such topics. After the April 24th premiere was canceled, students spoke out in protest: They created a Facebook page, contacted local media, and reached out to NCAC and others for guidance. After proposing a delayed opening, the school administration agreed to allow the premiere to go on, uncut and uncensored, as scheduled.
'Some Girls' for All: Kelly Jensen and Andria Amaral

In Charleston, South Carolina, a West Ashley High School parent complained in July that Courtney Summers' Some Girls Are was "smut" that didn't belong on the summer reading list. The school eventually removed it completely. But if the point was to keep the book out of the hands of young people, it backfired.
Blogger Kelly Jensen heard about the brouhaha and decided to encourage readers to buy copies and have them delivered to Charleston County librarian Andria Amaral, who agreed to give them away. The campaign went viral, and by mid-September, the library had more than 1,000 copies of Some Girls for anyone who wanted one.
Standing Up for Free Speech: Students at Plum High School

In April, Plum Senior High School administrators held three separate assemblies where local police warned students that commenting on social media about the high-profile arrests of two teachers could result in criminal charges. Plum Borough Chief of Police Jeff Armstrong reportedly told the students, "When you use those devices to make derogatory or irresponsible or immature or detrimental remarks about the victims or witnesses involved in these investigations, you've committed a crime, and it will be treated as such."
But the "watch what you tweet" assemblies inspired some students to protest outside the school, some with duct tape over their mouths. The ACLU of Pennsylvania got involved too. That pressure forced Plum Borough School District to issue a clarification letter explaining that the district "will not take actions that infringe upon the First Amendment rights of its students or staff with respect to their use of social media." Sometimes the first step in combating censorship is speaking out for your right to speak out.
Fighting a Curious Case of Censorship: Jaclyn Weinell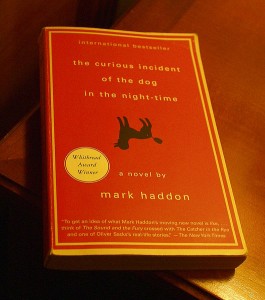 What would you do if summer reading assignment was removed less than two weeks before the start of the school year? And if the removal happened without any review because a few parents complained about some curse words and religious references? You take action. That's what high school senior Jaclyn Weinell did when her principal removed Mark Haddon's The Curious Incident of the Dog in the Night-Time. She put flyers up around the school urging her peers to read the book, and she published an eloquent op-ed in the Tallahassee Democrat:
Telling students to avoid books containing 'wayward beliefs' implies we are incapable of thinking for ourselves. The removal did not give parents the freedom to parent, but instead attacked freedom of thought.
Exhibiting Is Not Endorsing: The Tubman Museum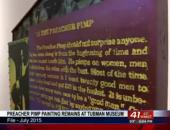 Controversial works of art attract controversy, of course—which is why it makes a big difference when curators stand up for free expression.
In August, Alfred Conteh's mixed-media collage "Preacher Pimp" outraged some local pastors. That's not surprising, since it is a critique of corrupt religious leaders. But instead of bowing to the pressure, museum officials released a statement holding firm to artistic freedom:
To exhibit a work of art is not to endorse the work or the vision, ideas and opinions of the artist. It is to uphold the right of all to experience diverse visions and points of view.
The Show Must Go On… Outside: Tomas Roldan and Matthew Ferro

In March, two students from Florida's New World School of the Arts High School were excited to perform a scene from Stephen Adly Guirgis's The Last Days of Judas Iscariot at the Florida State Thespian Festival.
The festival has a policy of "asterisking" controversial scenes that might not be 'family-friendly.' But Tomas Roldan and Matthew Ferro were told they would need to remove some profanity in order to perform in one of the larger venues.
They chose not to alter the scene and released this statement:
We feel as young artists that this language is an integral part of the author's intention in the scene. Rather than censor our scene, we have chosen to perform our piece outside. In 15 minutes we will be outside by the steps to perform. Please join us to support Art.
Bringing Voice to the Voiceless in Guantanamo: Larry Siems

In January the world could finally read The Guantanamo Diary, an intense account of Mohamedou Ould Slahi's excruciating experiences as a prisoner of the U.S. war on terror. He has never been charged with any crimes, and remains in custody.
The diary was edited by writer and human rights activist Larry Siems. But, as he puts it, he was actually the diary's second editor; the first was the U.S. government, which, after years of barring its release, "added more than 2,500 black-bar redactions censoring Mohamedou's text." The government censored, among other things, a poem Slahi wrote.
Siems' extensive research into the history of post-9/11 detention and torture helped to transform Slahi's diary into a compelling, fascinating work—one that the U.S. government did not want you to read.
Campus Free Speech: University of Chicago Committee on Freedom of Expression

Campus free speech watchdogs see a profound threat to academic freedom in the proliferation of "trigger warnings," which are students demanding notice of "offensive" material. Some free speech pushback is in order. It arrived in January in the form of a statement from the Committee on Freedom of Expression at the University of Chicago, which declared that
the University's fundamental commitment is to the principle that debate or deliberation may not be suppressed because the ideas put forth are thought by some or even by most members of the University community to be offensive, unwise, immoral, or wrong-headed.
The statement has served as the inspiration for similar statements at universities like Purdue, Princeton, and Winston-Salem State University.
The Muslims Are Coming: Dean Obeidallah and Negin Farsad

As the saying goes, you respond to speech you don't like with more speech. Dean Obeidallah and Negin Farsad wanted to do just that in response to what they saw as anti-Muslim ads on New York buses and subways from Pamela Geller's American Freedom Defense Initiative. Their approach? Humor. But there was just one small problem: After months of negotiations, the Metropolitan Transit Authority (MTA) decided they would ban all 'political' advertising, which to them would also include humorous messages.
So the pair sued the MTA, and in October a U.S. District Court judge agreed that the ads could not be barred under the MTA's ill-considered policy on political messages. It didn't restore free speech on New York subways, but it's a start.
Teaching Tolerance: Omar Currie

When third grade teacher Omar Currie noticed anti-gay bullying going on his class, he decided to teach a lesson with literature: He read his students King and King, a fairy tale about a king who falls in love and marries another man. But that didn't sit well with some parents and community members in Efland, NC—one of whom said reading the book was "bringing homosexuality into a school where it does not belong." A school meeting about the book saw an outpouring of support for Currie's decision, and a review committee upheld the book's inclusion.
But this story doesn't have a fairy tale ending: Currie and an administrator resigned in protest, in part due to a new policy that would require teachers to inform parents of every book that would be read in class.
#FreeTheNipple

The internet has the capacity to expand free speech rights everywhere. But some of the most powerful web companies enforce their own codes and policies undermine those goals. And that's when people speak up. This year has seen a tremendous "Free The Nipple" pushback against internet giants like Facebook and Instagram over their nudity policies—which amount to giving male users more freedom than females. The equality movement has targeted this double standard off-line for several years, but the efforts to take the battle to social media—started by a man, ironically enough—has spread the word far and wide.