Art Now Home | About Art Now | Artists Respond to the Political Present | Approaching the Aftermath & Commemorating Sept. 11 | Related Sites & Resources | Contact Art Now


Artists Respond to the Political Present

Events | Dance | Film, Video, TV | Internet & Electronica | Music | Theater, Performance Art & Protest | Visual Art | Words
Happy Buy Nothing Day: On Buy Nothing Day, the day after Thanksgiving, Reverend Billy & The Church of Stop Shopping will join Greene Dragon to launch a Reformation in Times Square against Corporate Tyranny. Reverend Billy lookalikes will simultaneously exorcise cash registers throughout the neighborhood, and at 1pm the Church and Greene Dragon will post 9 Theses Against Corporate Rule on the threshold of the Times Square McDonalds, a neon cathedral of perpetual consumption. Friday, November 26 at 1pm, 46th St and 7th Ave median across from Virgin Megastore, New York City.
The Republic in Ruins: Tuesday Aug. 31 – Thursday Sept. 2 at 7pm, Washington Square Church, 135 W 4th St, New York NY, 212-777-2528, price: $15. Art collective Mouths Wide Open formed in 2002 to promote civic discourse, so it's no surprise they couldn't resist leaving a few bite marks on convention week. Over a dozen participants, including The Nation's peace and disarmament correspondent Jonathan Schell, hip-hop poet Mike Ladd, and Indian keyboardist Vijay Iyer (from DJ Spooky's recent Transmetropolitan production), present a political potpourri of music, song, and spoken word. With a mise en scène that incorporates a backdrop of urban dystopia and decay, apocalyptic horsemen on hobbyhorses, a Shaker tune/Rumi poem mash-up, and rowdy audience feedback (which is highly encouraged), this rubble-rousing performance should make the usual picketing and sloganeering seem downright conservative.
The First Amendment Jamboree will be rocking August 29th at the Acme Underground at 8:00 for the Pre-RNC jam for the First Amendment. Bands, artists, writers, and enlightened minds will be gathering at Acme Underground (9 Great Jones Street—corner of East 3rd and Lafayette, Acme Underground) for a night of political satire shenanigans and tomfoolery. It will be a celebration of our citizen's right to free speech and in support of the National Coalition Against Censorship (NCAC). All profits from the $10 cover will be donated to the NCAC. The performers include folk sensations George Mann and Julian Margolin, the righteous sounds of The Cavemen Go and Freight Train, and readings by various poets, punks, and bloggers.
WHOSE COUNTRY IS IT, ANYWAY?: Subtitled "Nine Nights of Creative Disobedience," this is being billed as a Free Speech Festival of Theatre, Music, Rap, Dance, Comedy, Cabaret and Poetry. Presented by Ensemble Studio Theatre, it includes a variety of performances at Ensemble Studio Theatre and Bull McCabe's Pub, 714 11th Ave. Participating artists include Godlight Theatre's production of A Clockwork Orange, plus new works by Michael Maiello, James Brunt, Craig Pospisil, Richard Willett, David Stott, Molly Fine, and many others. Call 212-247-4982 for reservations; complete schedule info is online at the Ensemble Studio Theatre, August 24 – September 1.
EXPERIMENTAL PARTY DISINFORMATION CENTER OPENS IN NEW YORK CITY : The Experimental Party DisInformation Center, presented by the US Department of Art & Technology, an immersive media installation subverting Republican propaganda,
opens in New York City on Saturday, August 21st at LUXE Gallery, 24 West 57th St. An opening reception, the Propaganda Hospitality Suite, will take place from 6 – 8 PM. The DisInformation Center runs through Saturday, September 4th, when it will close with the Post-Mortem Lounge from 6 – 8 PM. Regular hours for the installation are Tuesday through Saturday, 11 AM – 6 PM.
New York's first annual Imagine Festival, of Arts, Issues and Ideas coincides with the 2004 Republican National Convention in New York City. The Imagine Festival is
hosting over 125 events that mix artistic and educational activities through a series of concerts, performances, screenings, forums, town meetings and other extraordinary cultural happenings. From August 28 to September 2, 2004 we will come together to share our intelligence, creativity and passion at numerous venues throughout the city. The Imagine Festival, of Arts, Issues and Ideas takes place in many locations throughout the city's five boroughs. Each of the six days is dedicated to addressing an issue through arts events and panel discussions. These issues are: Freedom, Community, Democracy, Justice, Prosperity & Our Future. The Imagine Festival is a free speech zone. All are welcome here.
ROOFTOP RANTS: Four of the East Village's biggest talkers–Reno (8/18), Penny Arcade (8/19), Scotty The Blue Bunny (8/20) and Speed Levitch (8/21)–tell it from the
rooftops in this intimate, once-in-a-political-lifetime performance. SEATING IS EXTREMELY LIMITED. Meet at the Pioneer Theatre (155 E 3rd St at Ave A) no later than 8:15pm or your tickets will be released. All performances begin promptly at 8:30pm. For reservations please call 646-602-9723. For more information on the performance artists vist:Citizen Reno, Penny Arcade, and Scotty the Bunny.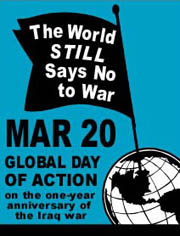 March Against War and Occupation; March 20, 2004 activists, artists, and dissenting voices of America and abroad will gather to mark the one year anniversary of the the United States' bombing campaign that initiated the second Gulf War. People on every continent will take to the streets to say "YES!" to peace and "NO" to pre-emptive war and occupation. Join the masses, millions strong, in calling to an end to Bush's militaristic and oppressive policies at home and across the globe. In New York meet at Madison Ave at 34th Street to join the march, for other locations or more information go to United for Peace.
Bluestockings is a radical bookstore, fair-trade cafe, and activist center in the Lower East Side of Manhattan. Check out their website for weekly readings and film screenings on the latest works in dissent. February features a free reading by Larry Everest of his book Oil, Power & Empire: Iraq and the U.S. Global Agenda and a screening of "Breaking the Silence: Truth and Lies in the War on Terror" A Film by John Pilger. Check out Bluestockings for the latest events. Their address is 172 Allen Street between Stanton and Rivington (1 block South of Houston and 1st Ave).
Moveon.org launched "Bush in 30 Seconds," a political TV ad contest, to find the most creative, clear and memorable ideas for ads that tell the truth about George Bush's policies.Their goal is to run ads that are of the people, for the people, and by the people. Joining in this effort is a great panel of celebrity judges, including Jack Black, Michael Moore, Donna Brazile, Gus Van Sant, Michael Stipe, Margaret Cho, and Moby. From thousands of submissions, fifteen ads made it to the contest's final round. The winning ad will be chosen to air on national television. Additional categories of "Funniest Ad," "Best Youth Ad," and "Best Animation" may now be voted on by the people (us). The winners of these awards will be shown at a gala event at the Hammerstein Ballroom in NYC on January 12th. To vote, or find out information about how to attend this event go to MoveOn These videos are all creative, some humorous and often powerful.
DOWNTOWN FOR DEMOCRACY is "a political action committee mobilizing the creative community and transforming its cultural influence into political power: money, visibility, and votes. Downtown strategically "spends" these assets to empower citizens and support viable candidates who will fight for individual liberty, social justice and participatory democracy." On Thursday March 25th, 2004 Downtown For Democracy presents Where's My Democracy (WMD), a fundraising reading introduced by Jonathan Safran Foer with new fiction readings by Paul Auster, Michael Cunningham, Jennifer Egan, Dave Eggers, Jonathan Franzen among others.
Hear Nancy Chang, attorney and author of "SILENCING POLITICAL DISSENT, How Post-September 11 ANTI-TERRORISM MEASURES THREATEN OUR CIVIL LIBERTIES," speak out against The Patriot Act II: "The Fall of Liberty" Ms. Chang holds that the USA PATRIOT Act sacrifices liberty for security and abridges the Constitution for some vague notion of a terrorist-free salvation. Issues discussed will include, the stripping of rights and indefinite detention of American citizens labled by the Bush Administration as "enemy combatants," and the monitoring of American's records, transactions, conversations by simple executive order without oversight of judicial review. Is this trade-off of rights for "safety" something we can live with? Are these acts inviolate of America's foundation and constitution? Go hear the discussion at the Center for Constitutional Rights and decide for yourself. December 5, 2003, at 7:00 pm. Location: Center for Constitutional Rights, 666 Broadway (South of 8th St.) New York City NY.
"The Making of a Police State" hosted by Refuse and Resist. Go listen to the first hand accounts from the FTAA protests in Miami, and a discussion on the need for, and the ways to continue to build movements of resistance in the face of increasing police state type repression. The FTAA was a training and testing ground for the lastest high tech tacital police response to protesters and demonstrations. How can the protest, in turn, evolve to combat these new draconian measures aimed at impeding protestors' right to assembly? Join them and hear how the Miami police department, Federal Government, and the State police department used intimidation, threats, Homeland Security Files, physical violence, and an shocking array of weapons to try to stop the FTAA protesters from having a voice. Refuse & Resist is a national membership organization, founded in 1987 by artists, activists, lawyers and others. December 6, 2003 at 2:00 pm, New World Resource Center, Chicago IL New World Resource Center 1300 N. Western Ave. (1 block north of Division St.)
"Defending the Rights of the People in the Age of Ashcroft." A discussion featuring Clark Kissinger will examine the massive attack on civil liberties and the right to dissent fueled by the U.S. grab for global power. Learn about what has changed in America, why it changed and how it matters whether or not we build a movement, community and culture of resistance. The courageous non compliance of librarians and hundreds of city councils resolutions against the Patriot Act has begun the charge to restore the balance of libety and security in this country. Others must join their fight if we are to secure America's basic tenets of liberty. Now weigh in on these issues and join the discussion hosted by Kissinger, a radical activist, writer and speaker for over 40 years and author of the Not in Our Name statement of conscience. The discussion will be held December 6, 2003, 7:00 pm at the First Congregational Church of Oakland 2501 Harrison Street, Oakland Phone: 510-704-5293.
Artists Against The War invited artists and art lovers in New York to gather from 9:30 AM until 9 PM on Saturday, May 17, 2003, at the Metropolitan Museum of Art's new exhibition, "Art of the First Cities: The Third Millenium BC from the Mediterranean to the Indus." Works from Iraq and other countries currently living under the threat of US military aggression are displayed in this show. On the same day of the exhibits openning, artists in other cities around the world were called upon to join Artists Against the War in congregating in museums exhibiting ancient Near Eastern art. The gathering of artists quietly drew the objects in the exhibit, and before leaving the museum, they erased their drawings to symbolically reflect the erasure of Iraqi culture and the silencing of dissent here at home. Artists Against the War is dedicated to changing the hearts and minds through of the world through art to abandon war. They meet weekly Sundays 2:30pm at THE FOUNDRY, 84-86 Great Eastern Street, London, England.
Vigil for Peaceful Tomorrows In honor of Martin Luther King's notion of pursuing "peaceful ends through peaceful means," families of September 11 victims founded Peaceful Tomorrows, which seeks nonviolent responses to terrorism. The group's nightlong event, included Michael Ratner from the Center for Constitutional Rights, Debbie Almontaser from the Muslim American Society, and Democracy Now! host Amy Goodman. An overnight candlelight vigil followed. Washington Square Park, Fifth Ave at Waverly Pl (Peaceful Tommorrows)
Not in Our Name spurred to action by the war waged against Afghanistan, and the governmental detention of over 1,000 Muslims living in America, the group of activists have been a mainstay in protest rallies, acts of civil disobeidence, and protecting contienious objectors to the wars of recent times. NION meets weekly to hold peace vigils at the World Trade Center. View their website at Not in Our Name.