Art Now Home | About Art Now | Artists Respond to the Political Present | Approaching the Aftermath & Commemorating Sept. 11 | Related Sites & Resources | Contact Art Now


Artists Respond to the Political Present

Events | Dance | Film, Video, TV | Internet & Electronica | Music | Theater, Performance Art & Protest | Visual Art | Words
Norm Magnusson created a 30 second video that ran, along with one other, 96 times on television leading up to the November elections.

Danny Schechter's new film: WMD (Weapons of Mass Deception)
indicting media coverage of the Iraq war
opening in New York:
the Village East Theater, (12th and Second Avenue)
Friday evening February 4th for a week
or more depending on the turnout.
"Winning a theatrical run for a hard-hitting low budget film on the role of our media is not easy. Working with Cinema Libre (the same company that distributed OutFoxed) the film has been showing in cinemas, festivals and screenings worldwide. The response has been fabulous, and coming just a few days after the US imposed "elections" in Iraq, WMD can't be more timely. Despite a few mea-culpas for pre-war reporting, much of the TV coverage continues to ignore civilian casualties and war crimes."
The Chicago Reader calls WMD "a comprehensive and devastating critique of the TV news networks' complacency and complicity in the war on Iraq… brilliantly argued and scrupulously documented… a must see"
Doug Ireland writes: "In this film – which is much more meticulously documented and more accurate than Michael Moore's Fahrenheit 9/11, and therefore infinitely more devastating – Schechter shows with precision how U.S. mass media have been recruited as part and parcel of the Pentagon's war-propaganda machine."
Vanity Fair's Michael Wolff calls WMD "something of a comic masterpiece."
You can read more reviews online at www.WMDtheFilm.com and see the trailer narrated by Academy Award winner Tim Robins. WMD will soon be touring campuses and other communities. The DVD will be on sale March 8th to mark the anniversary of the war. There is a Teachers Guide for classroom use as well.
''Shocking and awful' is the way many people view the current situation in Iraq and the United States. This series is produced by independent video activists who are speaking out and organizing to counter the waves of propaganda and deceipt."
Deep Dish Tv Presents: "Shocking and Awful", a 13-Part TV Series
Free Speech TV (Channel 9415 on Dish Network)
Mondays: 8pm, 11pm (ET)
Thursdays: 3:30pm (ET)
Sundays: 11am (ET)
Pioneer Theater (155 E 3rd St, NYC)
Jan 19, 7pm: The Real Face of Occupation, Standing w/the Women of Iraq, National Insecurities
Jan 20, 7pm: The Art of Resistance, Baghdad, Erasing Memory
Jan 21, 7pm: Dance of Death, Empire & Oil, Globalization at Gunpoint
Jan 22, 7pm: Channels of War, World Says NO to War, Resistance at Home
Museum of Modern Art
Documentary Fortnight Art & Politics: Indie Media Makers Respond
Feb 12, 5:15 pm
Deep Dish Television, is the nation?s first grassroots satellite network linking producers and programmers, independent video makers, and activists. A grassroots response to war and occupation. Deep Dish TV's new 13-part series will air on Free Speech TV (Dish Satellites channel 9415) in December 2004. It's also available on local public access TV stations across the nation.
For ticket info please contact: [email protected], (212) 473-8933
To order copies of the series or make a donation visit www.deepdishtv.org
Rooftop Films Summer Series 2004 This summer's movies come from such far reaches as South Africa, Palestine, and New Jersey. Friday, August 27, 2004: MISUNDERESTIMATED: Short films for the new democracy in the Lower East Side. In the courtyard of the Clemente Soto Velez Cultural Center 107 Suffolk Street, between Rivington and Stanton, on Manhattan's Lower East Side. For full Rooftop Films schedule and venues, go to http://www.rooftopfilms.com/2004_schedule.html
About MISUNDERESTIMATED: Maybe one film festival can't change the world, but on the last Friday before the Republican National Convention, Rooftop Films is going to try, showing new short films by filmmakers who don't want four more years of disgraceful leadership and can't stand to be represented by an administration that only dissembles and destroys. These filmmakers don't just wear their partisan hearts on their sleeves—they throw those very hearts at the screen.
THE FILMS:

The Real Face of Occupation (Deep Dish Television, 30:00)
Everyone in the world gets to see what America does in Iraq, except for Americans. Deep Dish Television and their collaborators don't believe that this should be so, so they went out and shot videos in the heart of the occupation, following the troops on housing raids, visiting the tattered offices of independent newspapers, and listening to the concerns of citizens that have to walk through sewage overflow every day just to get down the street.
No Escape, Prison Rape (Gabriel London, 7:00)
A terrifying and tragic documentary about a shy, lonely teenager who was sent to prison in George Bush's Texas on the misdemeanor charge of burning a garbage can. He was brutalized by other inmates, but when he goes to the warden for help he is told that he "needs to grow up." If George Bush wants to take credit for his record as a governor he might want to apologize to the boy's aggrieved parents as well.
FTAA: Info War (New York Independent Media Center, 12:00)
You would think that if there were lots of footage of the Miami police department attacking protestors at the 2003 meeting of the Free Trade Area of the Americas that the mainstream media would think it was at least worth looking at. And you would expect that the press would be intrigued if homeless men testified on video that Miami police had told encouraged them to attack activists and steal their cameras. But you'd be wrong.
Dance of Death (Mark Reed, 24:00)
George W. doesn't like to be in the same place with relatives of soldiers stationed or killed in Iraq, effectively keeping their opinions from creeping into the national debate. Mark Reed decided he didn't have a problem being seen with them.
G.I. Joe PSAs (Eric Fensler)
Eric Fensler re-edits and overdubs some all too American 80s cartoons, twisting and flipping the advice handed out by the boys and girls in uniform.
The things they allow on tv these days (Neil Ira Needlemn, 4:00)
A quick flip through a night of television that is not quite completely dominated by the words of old Dubya.
30 Seconds of Hate (Bryan Boyce, 0:30)
Henry Kissinger finally loosens up and lets us know what he really thinks of us.
Suckers (Bryan Boyce, 0:30)
Many on the political left feel that Dubya does nothing but dissemble, but Bryan Boyce has caught him telling the truth at least once.
Disappeared: A Patriot Story (Naeem Mohaiemen, 14:00)
INS Case X is a Pakistani dentist living in New York. In the post 9/11 crackdown, the Attorney General's office and the Department of Homeland Security arrested 5,000 Muslim men in a nationwide crackdown. To date, only one man has been successfully charged with criminal action. Case X was one of the many who were arrested and sent to a maximum-security prison, cut off from family and legal support <ETH> a "ghost prisoner" lost to the outside world.
Getting Through to the President (Sarah and Emily Kunstler, 9:00)
For three days, at one Greenwich Village payphone, hundreds of New Yorkers tried to get through to the President. From May 5th trough the 8th The Documentary Campaign commandeered a payphone in Washington Square Park to record telephone calls made to the White House. With both humor and sincerity, New Yorkers fed quarters into a payphone and braved busy signals and excessive hold times to get their voices heard on topics such as the environment, healthcare, gay marriage, the war in Iraq, and much more.
Republican Thugs (Matt Lenski, 1:00)
Shit's Perfect. Mission accomplished.
Bush's Brain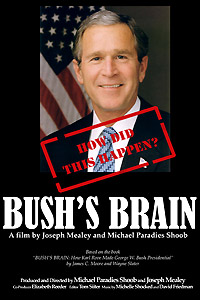 W's chief political strategist Karl Rove gets the documentary film treatment from directors Michael Paradies Shoob and Joseph Mealey, who based their work on James Moore and Wayne Slater's 2003 bestseller of the same name. Characterized as smarter-than-your-average-puppetmaster, Rove is shown leaving his fingerprints on every White House decree and organizing the media spin to help Americans swallow them to boot. Brush up on your Bush, or at least the political machinations of his homunculus, on this first day of the convention. Walter Reade Theater, Monday August 30. More information.
The Cells in an Onion: MACCARONE, INC. 45 Canal Street May 09?July 31. This is Felix Gmelin's first exhibition in New York. Using the mediums of painting and video, Gmelin looks at contemporary
political activism and how it compares with the activism of times past. For more information please call: 212-431-4977.
SUBMIT TO BLACKED-OUT MEDIA: A project of the New York City Indymedia Video Collective, Blacked-Out Media is a 28 minute weekly television series that provides alternative news media and experimental video works that reject the homogenous narratives of mainstream media and popular culture as a whole. Formatted like a newsmagazine, the show includes projects that cover a range of themes, subjects and formal styles …That being said, all submissions should adhere to the following standards: They should be no more than 10 minutes in length, and should intend to be socially and/or politically relevant. Each program is organized by show producers or working groups who take responsibility for editing all works to fit into a larger show theme. Blacked-Out Media appears weekly on the Manhattan Neighborhood Network at 9:30 PM every Saturday and plays nationally on FreeSpeech TV every Monday at 6 PM Eastern. Free Speech is available in over 11 million U.S. homes — airing 24 hours a day on DISH Network Channel 9415 and part-time on 88 community access cable stations in 23 states. If you are interested in submitting a segment for Blacked-Out Media or volunteering with the NYC Indymedia Video Collective, e-mail [email protected] or call 212-684-8112. Send Segments to: NYC Indymedia Video, 34 E. 29th St. 2nd Floor New York, NY 10016.
THE 2004 HUMAN RIGHTS WATCH INTERNATIONAL FILM FESTIVAL June 11 – 24, 2004 at the Walter Reade Theater in New York. Since its inception in 1978, Human Rights Watch has become a real force in the human rights movement. And since its start in 1988 the Human Rights Watch International Film Festival has become a leading venue for powerful fiction and documentary films that focus on human rights themes. The American justice system comes under the microscope in a number of films this year – from juveniles in prison to innocent men on death row to Muslim immigrants held by the U.S. for "national security" reasons, filmmakers explore the travesties going on here at home. Organized by Bruni Burres, John Anderson, and Andrea Holley of Human Rights Watch and Marian Masone of the Film Society. Special thanks to Jane Olson, Chair, and Kenneth Roth, Executive Director, Human Rights Watch; and Richard Peña, Program Director, Film Society. Thanks to the African Film Festival, Cinema Tropical, Latinbeat, Rafael Jimenez, Marina Pinto Kaufman, Margaret Mead Film & Video Festival, Keefe Murren, NewFest, Susan Norget, Magali Rochat and Time Out New York. For more information on the festival schedule and the Walter Reade Theater, please visit: www.filmlinc.com.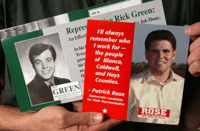 Last Man Standing: Politcs, Texas Style, the New York premiere: Tuesday, June 15, 2004; 6:00 to 7:30 p.m. Award-winning, Austin-based documentarian Paul Stekler (George Wallace: Settin' the Woods on Fire) takes a behind-the-scenes look at a pair of tightly fought elections in President Bush's home state of Texas: one for state representative in the district that spawned Lyndon Johnson, and the other a gubernatorial race that pits Bush's ascendant Republican Party against a multicultural Democratic ticket. Interviews with Lone Star State politicos include Bush strategist Karl Rove, former Governor Ann Richards, Clintonites Henry Cisneros and Paul Begala, and columnist Molly Ivins. Director Paul Stekler will introduce the screening and take audience questions afterward.
Academy Award-winning filmmaker Michael Moore's new movie, Fahrenheit 9/11, criticizes President Bush's response to the Sept. 11 terrorist attacks, portrays the Iraq war as a conflict that has unnecessarily endangered the American military, and connects the Bush family to Osama bin Laden's family.The film will open in theaters across the country on Friday, June 25th. The trailer can currently be viewed online at michaelmoore.com.
Craig Baldwin, the quintessential "independent filmmaker" has been honing his craft for over a decade. Drawing from public domain works ranging from commercials, corporate training videos, 50's science show for kids, to anything imaginable, his films can take on a mind-numbing flash frame resonance that can only be likened to a paranoid channel surfer gone schizoid. That being said, his loosely narrative form never fails to reflect upon political and contentious issues of our times. His latest work created in 2000, Spectres of the Spectrum, comments upon the continuous co-opting of new forms of communication throughout time by governments and big business to forward their marketing agendas and control of the populace. His thoughful work on public and privatized censorship work is being shown at Anthology Film Archives at 32 2nd Ave, during the end of March 2004.
"We Interrupt This Empire…" is a collaborative work by many of the Bay Area's independent video activists which documents the direct actions that shut down the financial district of San Francisco in the weeks following the United States' invasion of Iraq. With the audio backdrop including the live broadcasts of SF Indymedia's Enemy Combatant Radio and the SFPD's tactical communications that were picked up by police scanners, the documentary takes a look at the diverse show of resistance from the streets of San Francisco as well as providing a critique of the coporate media coverage of the war and exploring such issues as the Military Industrial Complex, attacks on civil liberties, and the United States' current imperialist drive. Check out this website for screenings near you:http://www.videoactivism.org/empire.html.
The Video Activist Network, (VAN) is an informal association of activists and politically conscious artists using video to support social, economic and environmental justice campaigns. VAN promotes the use of video to curb police violence, document local and world protest movements, and use the footage in the propagation of art and social critique. VAN uses video activism to make their own media, by-passing the established, corporate-owned press, and create their own stories that disseminate their own unique vision for a better world. You can see their work at screenings held in the San Francisco Bay area. Go to their website to learn more about the power of video activism.
Free Speech TV has tapped the power of television to expand social consciousness. FSTV fuels the movement for progressive social, economic, and political transformation. By exposing the public to perspectives excluded from the corporate-owned media, FSTV empowers citizens to fight injustices, to revitalize democracy, and to build a more compassionate world. Free Speech TV is a publicly-supported, independent, non-profit TV channel that is a project of Public Communicators, Inc. It is available nationally, 24/7, on DISH Satellite Network. Selected programs are available on 78 community access cable stations in 23 states but ubiquitously present online. Check out the progressive network endorsed by Michael Moore as "a channel that?s not afraid to confront abuses of power that rob [the American people} of jobs, health care, a meaningful education, a clean environment, civil rights for all, and a government by, for and of the people."
The Internet Archive, in the summer of 2000, held a contest for new short films demonstrating why access to history matters. The event was designed to promote the use of public-domain materials and support the growing need for digital access to these materials and the role of Libraries in providing their access. The theme of the contest was "the World at War." Submissions were judged based on creative use of materials (particularly use of public-domain materials), artistic direction and articulate content. 10 engaginmg films were selected and can be viewed on their website.

"Paper Tiger Television (PTTV) is an open, non-profit, volunteer video collective. Through the production and distribution of our public access series, media literacy/video production workshops, community screenings and grassroots advocacy PTTV works to challenge and expose the corporate control of mainstream media." PTTV is dedicated to a more equitable distribution of the market place of ideas away from the rich and back to the people. Check out their home spun media reports at http://papertiger.org/.
Re:Generation:TV: is a worker owned media collective dedicated to providing informative, challenging, and entertaining programming for a diverse audience. We seek to provide real alternatives to the stale, superficial fare offered by most media outlets. We combine groundbreaking musical trends and performers, relevant and insightful news, and an open forum for guest speakers and documentary film makers to deliver a one-of-a-kind viewing experience.
RRoom is a multimedia collective that employs graphic design, photography and film to "take back media space currently ruled by corporate interests." R-room respins the media it receives and rebroadcasts it in more interesting forms. R-room reconfigures corporate messages into more positive, or humorous forms. From billboards to broadcast news, nothing is out of bounds from R-room's rescrambling. Video pieces resort prime time footage and address issues such as warped body perceptions fostered by Hollywood, the addictive, unhealthy qualities of soft drinks, and "the unhappy meal."

The Empowerment Project provides facilities, training and other support for independent producers, artists, activists and organizations working in video and other electronic media. Its purpose is to work towards democratizing access to the media, and to provide the resources necessary to put the power of media in the hands of individuals and organizations working to further important social and artistic purposes. After the events of 9/11, EP initiated a rapid response form of activism within the organization to reflect the quickly growing resistance movement and the issues of war and peace not justly covered by the mainstream media. The Empowerment Project can be hired for speaking tours, and provides low-cost access to media training workshops, video production equipment, editing facilities, and other resources.
Whispered Media: "One result of the global consolidation of corporate media is their production of this increasingly thin gruel called "The News." But we can all recognize that despite the awesome mind-share of Disney or General Electric or FOX , people are left to go hungry. We are looking for information that hasn't been carefully refined of the rich perspectives which we might use to challenge their paradigm – this overwhelming, multi-crisis nightmare they call Progress. Whispered Media was founded as a collective that promotes the use of video and other media tools in strengthening progressive grassroots movements and creating artist expression.
Independent Perspectives on 9.11: After September 11th MediaRights.org received many requests for suggestions of documentaries relating to Afghanistan, the Middle East, international affairs, history, racial stereotyping and immigration. In response, it created Independent Perspectives on 9.11 to help showcase films and new media that will comfort, inspire and provoke and which will help educators, nonprofits, activists, and media makers encourage action and inspire dialogue on contemporary social issues.
War Photographer: For more than two decades James Nachtwey has traveled to places in the world devastated by war, famine and poverty and documented the cruelty and suffering he has found with an devastating, eloquent clarity. It begins in the eerie silence of Kosovo in 1999 with Mr. Natchtwey turning his camera on burning farmhouses, grieving families and grave sites and follows him into the poorest sections of Jakarta, where homeless families live beside railroad tracks, and to the West Bank city of Ramallah in the early months of the current intifada.
Promises follows the journey of filmmaker B.Z. Goldberg, an American who grew up in Jerusalem and was a journalist during the intifada, (Palestinian uprising). Over the course of 4 years, B.Z. and Justine Shapiro, the filmmakers, were welcomed into the daily lives of seven Israeli and Palestinian children between the ages of 9-13. Each child offers a dramatic, emotional and sometimes hilarious insight into what it?s like to grow up in the charged and complex city of Jerusalem.
ARTISTS EMERGENCY RESPONSE (AER) launches VIDEO PETITION PROJECT to voice opposition to the Israeli Occupation & to speak for a just solution to the Palestinian Refugee Crisis & an equitable and lasting peace in the Middle East. A student group at the School of The Art Institute of Chicago working with faculty and staff, AER consists of Jewish, Non-Jewish, and Arab American members working to respond to the current Middle East Crisis as artists and activists. AER has written 11 petition statements to be read on camera by people in the U.S. and Canada. The video will serve as the visual testimony of North Americans asserting their multi-faceted views against the Israeli Occupation. Beginning in the summer of 2002, AER will work with organizations and individuals throughout the US and Canada to sign thousands of individuals onto the Video Petition. The completed tapes will screen in a variety of venues, from colleges, universities, & high school campuses, to community organizations, art venues, public access television, radio, & internet sites. The Video Petitions will also be sent to public officials and leaders. For more information or to endorse or participate in The Video Petition Project, please contact AER: [email protected]
Jacqueline Salloum explores the ever-broadening depiction and demonization of Arabs in her video piece entitled "Planet of the Arabs." Other works of Salloum seek to debunk the stereotypical image of Arabs and Muslims through manipulating and juxtaposing classic and modern images using contemporary technology. Salloum has an MFA from NYU and exhibits her work frequently.
The 13th annual Human Rights Watch International Film Festival: included "Afghanistan Year 1380," a video documentary (filmed by the Italian team of Fabrizio Lazzaretti and Alberto Vendemmiati), portrayting the devastating human toll of Afghanistan's long civil war and the building of a hospital in Kabul to care for the wounded of both sides; Alex Gibney and Eugene Jarecki's documentary "The Trials of Henry Kissinger," examines Kissinger's role in the secret bombing of Cambodia in 1969, the overthrow of the democratically elected Chilean President Salvador Allende in the early 1970's, and the sale to the Indonesian President Suharto of American weapons, which were used in the East Timor massacre in 1975; Jean Khalil Chamoun's film "In the Shadows of the City" tells the story of Rami, a 12-year-old forced to leave his war-ravaged village in South Lebanon in the 1970's.
Palestine, Palestine: A documentary by Dominique Dubosc (2001): Sometimes a people can be caught in the dream of another people. Zionism is such a dream. Here, the dreamer is Israel. The prisoner of the dream is the Palestinian people. As we follow a puppet show through the schools of the West Bank during the second Intifada — and stop for a while in a refugee camp — we understand what it's like to be caught in the dream of the oppressor. April 18, 2002, at the Anthology Film Archives.
Media That Matters (Online) Film Festival: Our festival jury chose the best short films and new media that inspire people to speak out and take action for social change. Includes "The Oil Is Not Enough" by Elizabeth Solomon, an examination of how the current conflict in Afghanistan has paved the way for America's new rush for oil into Central Asia. (added June 21, 2002)
On June 13th, 2002, at 7:30pm, Indymedia presented a benefit to support the ongoing Palestine Indymedia Projects. They showed exclusive video footage, including FIRST HAND (inside Jenin refugee camp while it was still under military occupation) + UP CLOSE & PERSONAL (with the Palestinian Authority & Arafat inside the Mukata) + DRAMATIC ACTIONS (around Bethlehem with the International Solidarity Movement!). All proceeds to benefit the Palestine IndyMedia Collective's projects. 56 Walker St-Manhattan.
Reports from the Global Village: A monthly series (that began in February 2002) of documentary and fiction films presenting cultural perspectives from around the world that explore the diversity and complexity of the "global village." The series comprises works that probe the impacts of the processes of globalization and the consequences of U.S. and Western foreign policy in the context of history and in light of the events of September 11th, 2001. Presented by Ocularis at Galapagos Art Space in Brooklyn, NY. Also on June 5, 2002, at Anthology Film Archives.
War and Media: Presented by Third World Newsreel/Camera News at the Anthology Film Archives. A series of short films including Yun Jong Suh's "We Too Sing American," about Muslim children in America post-September-11; Ann Brandman & Paul Nishijima's "December 7/September 11," which compares the events & aftereffects of Pearl Harbor to September 11; and Cynthia Lockhart's "Terrorism: An American Reality" which explores how American foreign policy has fueled resentment around the world. June 7, 2002.
Haters, in response to the reporter 542 incidents of abuse against Arab Americans and other ethnicities after September 11th, aims ot contextualize historically the act of "demonizations" that occurs throughout the usage of images and language in media of certain people within the U.S. June 11, 2002. 7pm sharp. The IndoCenter of Art & Culture, 530 W.25th, 2nd Fl. (btwn 10th & 11th aves). RSVP to Third Wave Foundation at 212-388-1898 or [email protected].
Wide Angle: Thirteen/WNET New York will produce a new weekly series of 1-hour documentaries focusing on global consciousness. "After September 11, there is nothing more urgent than helping Americans appreciate the complexities and dangers posed by events around the world," said James P. Rubin, former Asst. Secretary of State & co-host of the program. After airing each documentary, the evening's host will present a discussion with a high-profile guest to address the issues presented in the film.
Listen Up!: View online up to 60 youth-produced videos that express the desire for all people to respect each other's culture, race, sexual orientation and religion. Listen Up! is currently putting together an hour-long video compilation of these short videos that will act as a collective youth response to September 11.
9.11 Moments: ITVS presents 34 short videos online that present diverse reflections on war, peace, and identity. Clips include an Arab-American scoutmaster and his scouts in Michigan, to an 11-year-old Navajo girl in New Mexico to a political columnist in Texas.
2002 Television Documentary Festival at The Museum of Television and Radio in NYC, May 1-16, 2002. Opening Seminar: "To Testify or to Sanitize: Portraying 9/11" — a panel of filmmakers, documentary executives & historians discuss the moral responsibility / implications of using possibly exploitative footage of people in pain and dying as a result of the attacks. The festival includes old and new documentaries on Afghanistan, Muslims, the Middle East, and a panel discussion with Frontline producers.
The Blame Show / Dissent = Freedom: May 1-11, 2002 at The White Box Gallery (525 West 26th St, NYC). If dissent = freedom then political satire = artistic freedom, curated by the Blame Committee, Eleanor Heartney & Larry Litt. Co-sponsored by American Civil Liberties Union (ACLU) & National Coalition Against Censorship (NCAC). May 8th Public Forum: "Art Now: Polite, Politic or Political?" Sarah Glover, artist; Eleanor Heartney, art critic; Larry Litt, videographer; Svetlana Mintcheva, NCAC Arts Advocacy Coordinator; Tim Rollins, artist-educator; Dread Scott, artist-activist.
9/11 & BEYOND: INDEPENDENT VOICES SPEAK: This 6-month anniversary festival of films and videos made in response to 9/11 was presented by konscious.com on March 10, 2002 at the Culture Project in NYC. Included a special sneak preview of the documentary, "Afghanistan: From Ground Zero to Ground Zero," and various shorts produced by Third World Newsreel, Guerilla News Network, DCTV, and others. konscious.com was also the presenter of "Reality Will Not Be Televised" — films and panel discussions at the Anthology Film Archives in NYC in December, 2001, covering issues related to 9/11, Afghanistan, mass media, the Middle East, veiling and flag-waving.
"Remote stills/Under Attack," an interactive video by Ennio Bertrand (first exhibited at the Arengario in Milano, Italy) was removed from the Armory Show (Feb. 21-25, 2002) at NYC's Pier 88 after staff complained that the continuously-looped images of UA Flight 175 exploding into the WTC were inappropriate in light of the fact that the pier had been used for months as the staging area for attack-related operations. "Remote stills/Under Attack," in which the observer can move the airplanes like he/she might in a videogame, questions the role of the observer; the illusion of distance and security that television and video screens usually evoke; and the relationship between game or fiction and reality.
Great Balls of Fire: A short documentary by Leon Grodski & Pearl Gluck. Walking aimlessly in the streets of NYC in the aftermath of the WTC collapse, a homeless man says the event is not a surprise, it is part of his understanding of life and history. He's not flying a flag, not crying out "United We Stand," and not selling American trinkets. He's sharing his words like he's been waiting for everyone to finally wake up. Screened at 2002 No Dance Film and Multimedia Festival (Utah); 2002 Arizona State University Art Museum Film & Video Festival; 2002 New York Video Festival; Anthology Film Archives; Oberhausen International Short Film Festival (Germany); Santa Monica Museum Of Art; European Media Art Festival (Germany); Jewish Museum (New York); Ocularis (Brooklyn); Bronx River Art Center. For more information, phone 646-345-5969 or e-mail [email protected].
WAR & PEACE: An ongoing collaborative documentary project about September 11 and its aftermath by the D-Word Community, an online community of international documentary professionals. WAR & PEACE premiered at Ocularis (Galapagos Art Space, Brooklyn, NY) on February 3, 2002, at 8:30pm. Segments are also being streamed individually on the web.
Framing September 11: Conversations Across Communities. The UNC–Duke Film and Speaker series aims to create a forum that situates September 11 by showing documentary films, providing panels of speakers, and opening up discussions with audiences, composed of students, staff, and faculty from the two campuses and Triangle community members. The themes of the events include: gender and militarism; the politics of resources; U.S foreign policy; and struggles for democracy. Feb. 1, March 1, April 5, April 26, 2002. For more information contact [email protected] or [email protected].
White Balance (to think is to forget differences): This 30-min. video by François Bucher (from Cali, Colombia) explores problems of power and privilege. Media and internet footage are intermixed with images shot in downtown Manhattan before and after the September 11th attacks. The video presents a question that needs to be visited over and over. Yvonne Rainer asked this question in her film Privilege: "…are 'permanent recovering racists' the most we can ever be?" Jan 10 – Mar 2, 2002 at Location 1, NYC.
Creative Time and Panasonic, in an effort to broaden public discussion of the impact of September 11, presented ahistory (1992) by Bruce and Norman Yonemoto. Launched on October 29 and running through November 30, 2001, ahistory was part of The 59th Minute: Video Art on the Times Square Astrovision. ahistory references national monuments from around the world to explore how iconography can inform notions of national identity, collective memory and history which today, when our nation?s psyche is heavy with questions about ourselves and our futures, strikes a resonant chord.
Fresh Kills: Artists Respond to the Closure of the Staten Island Landfill. While this exhibit at the Snug Harbor Cultural Center in Staten Island, NY, was conceived prior to September 11, artist Mierle Ukeles altered her video installation — Penetration and Transparency: Morphed — to reflect upon the new purpose of the previously-closed landfill: as the sorting ground for the debris of the World Trade Center Attacks. For 30 days, she ran a text crawl on four monitors, posing questions that amounted to:"Is any of this still relevant?" Then she began to phase in interviews with landscape architects, wetlands specialists, environmental engineers & experts on garbage decomposition. Oct. 14, 2001-May 27, 2002.
War Stories: Teenagers in Charlottesville, VA, ruminate on the current war and events since September 11 in a video installation at the Downtown Mall (107 Main St; Monday-Saturday, 11am to 9pm; Sunday, 12pm-7pm). Sponsored by Light House, a non-profit organization offering workshops in digital filmmaking to teens who want to tell their stories on screen.