Art Now Home | About Art Now | Artists Respond to the Political Present | Approaching the Aftermath & Commemorating Sept. 11 | Related Sites & Resources | Contact Art Now
**All material in this section is archived. It was compiled in late 2003.**
Artists Respond to the Political Present

Events | Dance | Film, Video, TV | Internet & Electronica | Music | Theater, Performance Art & Protest | Visual Art | Words
Visual Art

Comics & Political Cartoons | Flags & Quilts | Group Exhibitions | International Artwork of Protest | Magazines | Murals | Painting & Collages |Participation Art Work | Photography | Poster Art | Sculpture & Installations | Web Sites
"We're Building a New Iraq"
Political Cartoons by Marek Hapon
On exhibit in Chicago from October, 2004 to January, 2005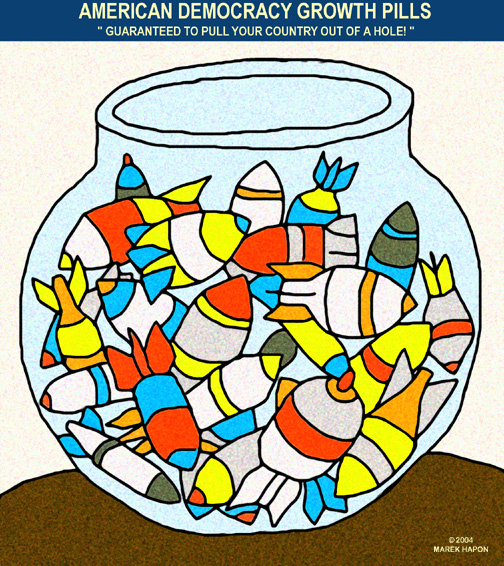 Today's Political Cartoons: This wonderful collection of mockery is updated daily.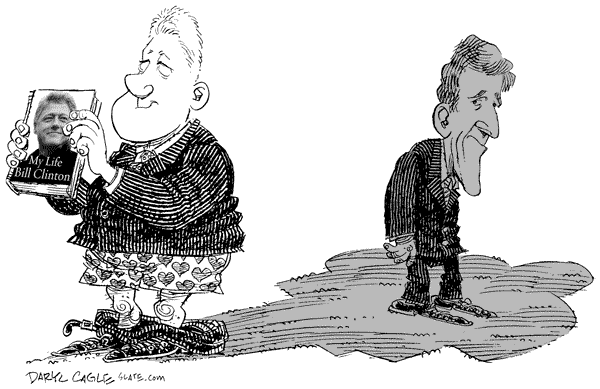 Aaron McGruder's "The Boondocks" reflects the racial diversity and complexity of our world. Combining childhood antics with contemporary political and social satire, the strip explores the terrain where dashikis and Brand Nubian CDs meet The Gap and Hanson.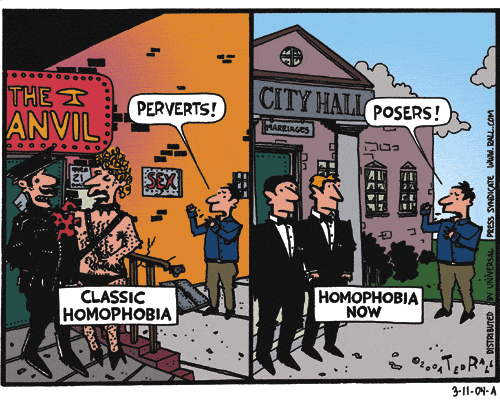 Ted Rall is a "neo-traditionalist who uses a unique drawing style to revive the approach of Thomas Nast, who viewed editorial cartoons as a vehicle for change. His focus is on issues important to ordinary working people, such as un- and underemployment, the environment and popular culture, but also comments on political and social trends." Some of his most popular recent works depict the exploits of "Generalisimo El Busho." His work is published in a wide variety of publications. He too hosts a talk radio show and writes opinion columns.
Daniel Kurtzman's web page collects political cartoons providing a humorous and irreverent look at current issues like the war on terror, homeland security and Osama bin Laden.
This Modern World, by Tom Tomorrow is one of the funniest and clever political cartoons around. After being ditched by U.S. News and World Report for being too edgy, it may not reach the kind of mass audience enjoyed by other strips.But "This Modern World" (which appeared in the Los Angeles Reader for years until the paper was bought out by New Times in 1996) has gained a reputation as one of the most clever and incisive political cartoons in the country. With a novel '50s-style artistic conceit and an intrepid penguin named Sparky, Perkins (AKA Tom Tomorrow) gleefully skewers the hypocrisies of late 20th century society, attacking everything from corporate duplicity to political deception to media doublespeak.
Mark Fiore skillfully comments on everything from the Democratic Nomination "horserace" to the recent partisan rulings of the the Supreme Court using the latest techniques in web animation.
"Get your War on" Page Six: With a lot of sarcasm, David Rees begins his six pages of comix on September 11 and its aftermath with these words, "Yes! Operation: Enduring Our Freedom To Bomb The Living Fuck Out Of You is in the house!!!"
Daryl Cagle's Professional Cartoonist's Index on Slate includes hysterically funny cartoons from around the country and around the world on terrorism, military tribunals, John Ashcroft, Afghanistan, airport security, John Walker Lindh, and more!
World War 3-Comics From Ground Zero Issue: World War 3 Illustrated has been providing a forum for artists' and writers' reflections/commentary on events that have shaped our world since the eve of Ronald Reagan's election. World War 3's 32nd issue compiles the work of 25 artists & writers who were living in New York City at the time of the World Trade Center attacks and provides firsthand accounts/insights into the disaster and its impact. On January 22nd, 2002, a release party was held at NYC's Theatre for the New City with multimedia performances by Sue Coe (Dead Meat), Tom Tomorrow (This Modern World), Peter Kuper (Speechless) Seth Tobocman (War In The Neighborhood), Ward Sutton (Shlock N' Roll) and Ron English (Popaganda).
"Terror Widows" by cartoonist Ted Rall, satirizes the money that relatives of Sept. 11 victims are to receive from the government & charities. One panel of the cartoon shows a widow lamenting her husband's death. "I keep waiting for Kevin to come home, but I know he never will," the character says. "Fortunately, the $3.2 million I collected from the Red Cross keeps me warm at night." The New York Times pulled the cartoon from its web site when the company received feedback from widows and New York 1, the TV channel that broke the story. A spokeswoman for the newspaper, Christine Mohan, said the "subject matter was inappropriate" and regrets that it ran. The cartoon was directly fed to the web site from Rall's distributor and syndication service, Universal Press Syndicate. In a statement, Rall and the syndicate acknowledged the cartoon's sensitive subject matter, but did not apologize. "Pushing the envelope of polite criticism is what editorial cartoonists do," the statement said. "Rall represents a point of view that will not be everyone's opinion."