Art Now Home | About Art Now | Artists Respond to the Political Present | Approaching the Aftermath & Commemorating Sept. 11 | Related Sites & Resources | Contact Art Now


Artists Respond to the Political Present

Events | Dance | Film, Video, TV | Internet & Electronica | Music | Theater, Performance Art & Protest | Visual Art | Words
Robert Ross, an award winning singer, guitarist and songwriter known primarily for blues and rock'n' roll, has a new political protest CD entitled, "What Are We Fighting For?" on Fountainbleu Records.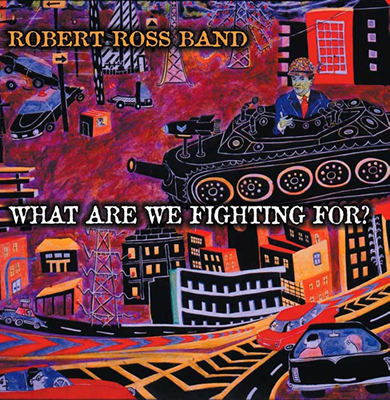 The tracks include:
One Man One Vote
"One Man One Vote" tackles recent election day practices and their implications for a democracy that is hanging in the balanc .
What Are We Fighting For?
"What Are We Fighting For?" is an original song that is a scathing indictment of American foreign policy in the Middle East. It is also laced with some dark humor so enjoy it.
Fee Fie Fo Fum
"Fee Fie Foe Fum" is an original rocker about an Orwellian global view of surveillance, conformity, nationalism and imperialism.
We Are One
"We Are One" is an original gospel song that calls for peace, brotherhood and understanding. That is still the dream of all those who inhabit this world. It is good to be as strong as we are but strength alone will not make us safe if we are not also fair and just.
To hear these and more go to www.RobertRossBand.com
NoFX goes no-holds-barred with their new album the "War On Errorism." Their single based on the life an times of George W. Bush called "Idiot Son of An Asshole," is already pervading the web, and fueling online discusssions causing lots of "lol." The song employs some of Dubya's patented "straight talk" to evince a few simple issues; Bush is a questionable representative of the people at best, he is currently waging a war that many believe is immoral, and unjustified, and do we really want a man who can't non-violently eat a pretzel as the chief executive of our armed forces.
The international coalition of Bands Against Bush seeks to tap into artists from "countless genres, backgrounds, and political persuasions already using their creative energies to protest the Bush regime and its policies." By bringing together these artists and the constituencies that they represent the goal is to "aggregate the power inherent in diversity… derive[d] from a conclusion that the Bush administration does not represent us, [with] its policies [that] are antithetical to the continued existence of freedom and democracy in the world." Through music and activism, Bands Against Bush seeks to ring home the message that Bush must go, and we must rock!
Protest Records exists for musicians, poets and artists to express LOVE + LIBERTY in the face of greed, sexism, racism, hate-crime and war. The site contains an archive of garage, mainstream, and fringe music of dissent, available for free download and listening. Individuals are also encouraged to send in their own music for web surfing perusal. Some of the artists featured on the site include Steven Taylor, The Beastie Boys, and Cat Power to name a few.
When Mattel sued Aqua and their producer's RCA for "slandering Barbie," America's femal icon, Judge Kozinski stated that people must be able to regain a measure of control over the words and symbols burned into our collective conscious by big business. Toby Slater has done just that with his song "Consumption." In a cacophony of commercial trademarks, Toby's song "Consumption" has but one refrain; "give me something I can use." Check out this song which attempts to wrest back those words and symbols that have been "burned into our collective conscious." Oh yeah and buy his CD too. (Does anyone get the sense that there is tension between anti-consumer messages and the ability to live as an artist??).
George Mann and Julius Margolin are singer-songwriters who have been touring the country for several years decrying the political results of the Bush Administration from the atrophied benefits for the poor and aged to corporate scandals that have impoverished many middle-class. Juluis Margolin has been a political activist and union man since the 1930s. Now in his 80s, Margolin accompanied by the proficient Mann, an activist himself, create soulful and uplifting melodies that bring home the woe of war and poverty. Their latest album, entitled Just a Few Bad Apples, focuses on issues of war and corruption featuring songs like "Hail to the Theif" and "Enron, Worldcom, Bush Corporate Thieves."
From their loving glances during press conferences, to their "behind closed doors" meetings after U.N. confereces, people have always suspected that there was something more to George W. Bush and Tony Blair's "special relationship." But alas, let the rumors fly no more: Blair and Bush set the record straight and let the world in on their secret love. See them serinade each other to Air Supply's "Endless Love" and learn first hand that there is cross continental love abrewing. Go to Sick Jokes for this touching tribute between men of power who have discovered the power of love. (realplayer, or windows media player required).
Steve Earle, a singer-songwriter, released "John Walker's Blues", a song from his forthcoming album Jerusalem. Earle's song–which features his growling voice over sparse, guitar-driven instrumentation–explores what Lindh was thinking. Earle speculates Lindh believed he would receive Jesus-like treatment if he sacrificed his life for jihad. The lyrics of the song start with "I'm just an American boy—raised on MTV/ And I've seen all those kids in the soda pop ads/ But none of 'em looked like me/ So I started lookin' around for a light out of the dim/ And the first thing I heard that made sense was the word/ Of Mohammed, peace be upon him A shadu la ilaha illa Allah/ There is no God but God." Earle says "I'm happy with the way the song came out, but I'm nervous, not for myself, but I have taken some serious liberties with Walker, speaking as him, in his voice. <…> Fundamentalism, as practiced by the Taliban, is the enemy of real thought, and religion too."
Stefany Anne Golberg in collaboration with Flux Factory, Inc. presents JEWISH MUSICIANS AGAINST ISRAELI OCCUPATION on June 8th, 2002, 9pm at Galapagos Art Space in Williamsburg, Brooklyn. Bands include Jewlia Eisenberg's Charming Hostess, The Galerkin Method, Krakatoa, and more. There will be a number of groups tabling in order to provide further information about this issue. From the organizer: "This evening is a response to what I see as a lack of willingness on the part of American Jews–particularly American Jewish artists–to come out publicly ag to t Israeli Occupation and the military berating of the Palestinian people. Because of their continued financial support, strong political voice, and obvious symbolism, American Jews hold a significant responsibility for the freedom of the Palestinian people and should therefore be the amongst the most vociferous supporters of their cause…Artists have a duty to represent and argue for political positions that may be unpopular, particularly in the face of opposition from those who claim to be supporters of their work." Contact Stefany Anne Golberg at [email protected].

Art Now Home | About Art Now | Approaching the Aftermath & Commemorating Sept. 11 | Discussion Forum | Calls for Submission | Related Sites & Resources | Contact Art Now