Art Now Home | About Art Now | Artists Respond to the Political Present | Approaching the Aftermath & Commemorating Sept. 11 | Related Sites & Resources | Contact Art Now


Artists Respond to the Political Present

Events | Dance | Film, Video, TV | Internet & Electronica | Music | Theater, Performance Art & Protest | Visual Art | Words
Essays:

Essays by Mary Margaret Nussbaum: MARY MARGARET NUSSBAUM grew up in southern Colorado and now lives in NYC. She graduated from the University of Notre Dame's Program of Liberal Studies in 2001. Losing Your One Swiftly Tilting Life, Marked (a reflection on Ash Wednesday), The Remains of a Day (on the anniversary of 9/11), and When Will We Take Off Our Clothes? (on consumerism).
Poetry:

Poets are the canaries in the coal mine of society. Chirping loudly when we are headed in the wrong direction, and suffocating from our blind tread toward cultural, political and military asphyxiation. Poets Against the War was formed in response to George W.'s challenge of "you are either with us or against us." Sam Hamill the founder, of Poets Against the War before that moment was, "a reclusive former Marine turned Zen Buddhist poet." Yet after Bush's proclimation, Hamill declined a White House invitation to a literary symposium, instead asked fellow poets to write protest poems and in the process "triggered a nationwide artistic uprising." Since then, the group has risen to prominence, been interviewed by countless media sources and serves as a beacon of hope to many Americans forced to venture down President Bush's black hole of war, and militarism. Currently, the group posts poignant pieces on their website and are working on a Poets Against the War Recommended Reading. Go to their website to read a poem, submit a poem, or just plain be inspired.
Poets for Peace 2: Proceeds go to: Women in Black, a powerful international peace movement. Against the Tide Poets Chris Brandt, Veronica Golos, Angelo Verga present an evening of poetry for peace. 8-9 PM: George Dickerson, Daniela Gioseffi, Jacqueline Johnson, Alicia Ostriker, Debora Paredez, Chuck Wachtel, and a message from Hettie Jones. 9-10 PM: Brian Breger, Elliot Katz, Quraysh Ali Lansana, D. N e, Dawad Philip, Jackie Sheeler, Mervyn Taylor.10-11pm: Brett Axel, Kevin Frey, Carolina Mancuso, Eve Packer, Clara Sala, Bruce Weber. Saturday, May 4th, 2002, 7:30-11pm at PS 41, 11th Street & 6th Avenue (NYC).
Poetry, Free Speech, War and Dissent: An Evening with Anne Waldman and Eileen Myles. The Open Center in NYC will host two of America's most passionate poets, who have throughout their careers challenged the hypocrisy of the status quo. Waldman and Myles join forces to take a hard dissenting look — through poetry, talk, discussion and interaction — at an America in the throes of war fever. Friday, February 15, 2002, 8pm. $15 Members / $17 Nonmembers.
The Seamless Monument Project: A Living Laboratory of Poetry, Art and nonviolence uses historical conflict as a springboard to explore the roots of violence, issues of identity and difference, and using poetry and art as the manner of expression and understanding. The Seamless Monument Project is a special project of Teachers & Writers Collaborative.
Suheir Hammad is a female Palestinian-American poet from Brooklyn, NY, whose poem, "First Writing Since," about the terror attacks, has been circulating on the web and was featured on HBO's Def Poetry Jam.
Playwriting / Songwriting:

Singer/songwriter Ani DiFranco has written a poem inspired by the tragic events of September 11. The poem takes aim at a hierarchy of tragedy and honors those who live in war-torn countries and those who risk their lives for others every day. "…and we hold these truths to be self evident: #1 george w. bush is not president #2 america is not a true democracy #3 the media is not fooling me cuz i am a poem heeding hyper-distillation i've got no room for a lie so verbose i'm looking out over my whole human family and i'm raising my glass in a toast…"
Publications / Books / Journals:

GRAPHIC AGITATION 2: SOCIAL & POLITICAL GRAPHICS IN THE DIGITAL AGE is Liz McQuiston's latest book on the subject of protest art. Published by Phaidon Press and comprehensively illustrated, the book presents dissident artworks from the traditional to the shocking, from high-tech to no-tech. Paintings, drawings, and posters are displayed side by side with street art, postcards and t-shirts. The book is scheduled to hit the shelves in late June.
Noam Chomsky was one of the first intellectual illuminaries to begin asking critical questions of our government and our lifestyle, after September 11th. His questioning has continued with his latest installment "Hegemony or Survival: America's Quest for World Domination." In Chomsky's exposition he demonstrates that Bush's famous "with us or against us" policy is in fact, one that America has adopted since our country's inception. Under the ruse of liberation and demoncratization, Chomsky argues, that virtually all of the United States' military endeavors are motivated by control of power and advancement of economic interests. The highly acclaimed historian's book is currently on sale.
Gabe Hudson is coming up in the world of serious literature. Published recently in The New Yorker's new fiction edition, Gabe has built upon that work in his latest creation "DEAR MR. PRESIDENT: Stories and a Novella." With an MFA from Brown and a stint with the U.S. Marines, Gabe approaches the subject of war with unique vision and wit. Somewhere between Vonegut, and Heller's satire and Cormac McCarthy's faithfulness to the gore and horror of war lies Hudson's collection of short stories. "DEAR MR. PRESIDENT: Stories and a Novella." is a poignant anti-war message and a highly acclaimed read. Gabe Hudson will be doing book signings in a town near you.
"We've always known what good PR and advertising could do for a new line of sneakers, cosmetics, or weight-loss products. In Weapons of Mass Deception, Rampton and Stauber show us a brave new shocking world where savvy marketers, "information warriors," and "perception managers" can sell an entire war to consumers. Indeed, Washington successfully brought together the world's top ad agencies and media empires to create "Operation: Iraqi Freedom" – a product no decent, patriotic citizen could possibly object to. With meticulous research and documentation, Rampton and Stauber deconstruct this and other "true lies" behind the war."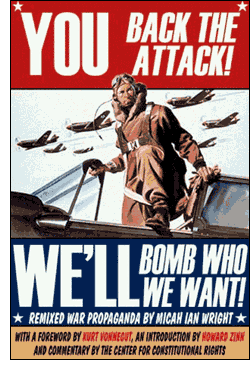 Micah Wright, a former army ranger, quit the military after participating in the invasion of Panama in the 1970s. Though forever loyal to his brethren at arms, that experience turned him against the military and forced him to question American politicians' motivations for their military engagements. Twenty years later Micah has published a poster series including 45 full color images, called the Back the Attack: Remixed War Propaganda. He draws upon old World War II images used by the government to promote war moral, as well as many other sources for his artful manipulation to create his new brand of propaganda: one that evokes his skepticism of military action, and his disdain for political rhetoric, and the government's use of fear tactics. The book contains a foreword by Kurt Vonnegut, an introduction by Howard Zinn, and political commentary by the Center for Constitutional Rights.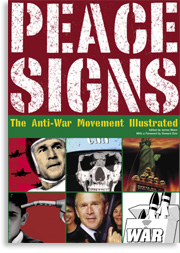 Peace Signs; The Anti-War Movement Illustrated is a collection of posters and graphics from the anti-war in Iraq movement, un-censored, political and thought-provoking. It gives testament to those brave enough to voice their opposition and provides a historical alternative for future generations. The book is printed in large format and contains over 200 original illustrations of anti-war protest posters and artwork by the original artists from over 20 countries who participated in the world-wide protests of the second Iraq war.
Soft Skull is publishing "Get Your War On" by David Rees, author of the hit self-published titles "my new fighting technique is unstoppable" and "my new filing technique is unstoppable". Now we are excited to announce that we will be sending David on a two month nation wide college and bookstore beginning in late October. Stay tuned to Soft Skull for dates and locations. If you'd like to have David appear at your university please get in touch! An online sensation with over 8 million hits in the first few months, David has gained national recognition through his comics. His comics have appeared in The Philadelphia City Paper, The Stranger, and The Village Voice. Working with a deceptively limited palette of color, graphics, and language, Rees succeeds in depicting a country of grieving, angry and confused citizens, feeling hatred for—and feeling the hatred of—the world beyond our shores. With "Get Your War On", Rees has illustrated better than any artist, politician, or pundit the true state of America's soul—its violence and its compassion.
Human Parts ("Halakim Enoshiyim"): Writer Orly Castel-Bloom has just (March 2002) produced the first Israeli novel to chronicle life amid the 20-month-old Palestinian uprising, the Al Aksa intifada. "Human Parts" is populated with a cast meant to convey the spectrum of Israeli Jewry, from a real estate heir of the Ashkenazi elite to a housing-project janitor from Kurdish background to an Ethiopian immigrant working as a model. The lives of these characters and others coincidentally graze against one another and are unified in a larger way by the overarching violence.
Books for Understanding: In the immediate aftermath of Sept. 11, 2001, The American Association of University Presses compiled the first Books for Understanding list. This bibliography directs teachers, scholars, journalists, librarians, booksellers and others to desperately needed research and information about the background of those events. The list has grown to comprise more than 650 books on topics ranging from the history of Afghanistan to U.S. foreign policy, and has expanded to cover the Enron Affair and the Israeli/Palestinian conflict.
Perpetual War for Perpetual Peace: An Answer to the Question: Why are We Hated So Much Around the World? by Gore Vidal. Gore Vidal's commentary on the events of September 11, 2001 was deemed not publishable in the United States because of its fierce criticism of American foreign policy. His Italian publisher issued this book a few months ago, and it became an instant #1 best seller there. German, French, Spanish, Portugese, and other editions are soon to be published. It is finally being published in the U.S. by Nation Books (April, 2002).
Granta 77: What We Think of America, ed. by Ian Jack Granta. 24 takes on the ways in which America has shaped the lives and imaginations of non-Americans. Writers from around the world offer nuanced views, often rooted in childhood memories, of the land that is part Gulliver, part object of desire and, finally, unknowable. These post-September 11th visions and versions of America, by the likes of Ariel Dorfman, Hans Magnus Enzenberger, Ivan Klima, Orhan Pamuk, Harold Pinter, and Ahdaf Soueif, are by turns bracing and poignant: necessary reading for anyone interested in how the rest of the world looks at us. April 2002.
After 9/11: Solutions for a Saner World: AlterNet has released After 9/11: Solutions for a Saner World, a collection of 42 articles that untangle the knot of our new post-9/11 landscape, tackling every subject from civil liberties to Islamic fundamentalism to economics to sex. Essays by Tamim Ansary, Barbara Ehrenreich, Laura Flanders, Nat Hentoff, Barbara Kingsolver, Naomi Klein, Bill Moyers, Arundhati Roy, Edward Said, and others. (January 2002)
A Just Response : The Nation on Terrorism, Democracy, and September 11th, 2001, edited by Katrina vanden Heuvel with an introduction by Jonathan Schell. Some of the most respected figures on the progressive left, in a series of provocative essays, begin to analyze the causes and consequences of this new American wound, to speak out against "Fascism with an Islamic face," jingoism, the undermining of civil rights, phony multilateralism, the confusion between dissent and treason, and to articulate a vision of a just response to terrorism.
Open Media Series: Open Media was founded in 1991 as a pamphlet publishing effort in opposition to the Gulf War. Under the direction of its original co-founder, Greg Ruggiero, the Series continues to publish a wide array of critically acclaimed scholars, activists, and artists committed to a common vision of "one world in which many worlds fit"— social justice, democracy, and human rights for all peoples. Current pamplets include Alice Walker's Sent by Earth: A Message from the Grandmother Spirit after the Attacks on the World Trade Center and Pentagon. Through political commentary, poetry, and personal wisdom, Pulitzer Prize winner Alice Walker shares her art and ideas on what it means to be a human being in violent times.
Another World Is Possible: a progressive anthology of writings on 9/11 by familiar voices like Angela Davis, Eduardo Galeano, and Barbara Kingsolver, as well as grad students, spoken word artists, and peace activists from around the world. Contributors tell stories that have gone underreported in the media: The families of dead and displaced undocumented workers who were denied relief; the thousand plus detained people; the 'Patriot Act'; and the diversion of relief funds to corporate bailouts. You can order the books online or invite contributors to speak at your school or venue.
It's About Time Writers: A journal on the writer's role in society since September 11. Related is Seattle's Dialogues Through Poetry web site, in conjunction with Dialogue Among Civilizations Through Poetry and Worldwide Poetry Week. On March 18, 2002, at the Seattle Public Library University Branch, It's About Time Writers Reading Series hosted a discussion on: Can poetry help bring about a culture of peace & non-violence in our world?
RE:CONSTRUCTIONS: The graduate students and faculty of the program in Comparative Media Studies at MIT have developed a website that provides a study guide and on-line resource for people who want to reflect on the role that the media is playing in shaping responses to the tragic events of September 11. Includes articles on the arts.