Art Now Home | About Art Now | Artists Respond to the Political Present | Approaching the Aftermath & Commemorating Sept. 11 | Related Sites & Resources | Contact Art Now
 Artists Respond to the Political Present
Events | Dance | Film, Video, TV | Internet & Electronica | Music | Theater, Performance Art & Protest | Visual Art | Words
Mike Daisey returns to the intimate setting of Joe's Pub to tackle a story at the very core of our world today. With his signature style commentary, at once biting and hilarious, Daisey investigates the secret history of the Department of Homeland Security through the untold story of the father of the neutron bomb and a personal pilgrimage to the Trinity blast site. If You See Something Say Something takes us on a journey in search of what it means to be secure and the price we are willing to pay for it. (October/November 2008).
Artistic Response to Republican National Convention: Many artists responded to both George W. Bush and the Republican Party when the Republicans decided to hold their 2004 National Convention in New York. Even before the convention came to New York, groups such as norncposters.org and counterconvention.org created posters that are across the city. Another pre-convention protest took place at the Pierogi 2000 gallery in Brooklyn where people can buy t shirts printed with pro Kerry messages. Included among the different artistic protests to the RNC are:
-"Piece Peace" an antiwar window installation near Madison Square Garden created by Adelle Lutz, Courtney Harmel and Sara Driver
-"The Experimental Party Disinformation Center" displayed at the 57th Street gallery is a digital work that includes original political candidates and cabinet members. Various artists and artists' collectives worked together to created this work.
-Film exhibition at the Whitney Musuem comparing the War in Iraq to the Vietnam War
–The Kitchen exhibited "Before You Don't Vote" created by Larry Litt depicting different people discussing democracy and "Line Up: Unofficial Portraits" created by Nora Ligorano and Marshall Reese depicting mug shots of the members of the Bush administration.
-The New School showed Paul Chan's film, "Baghdad in No Particular Order" during the Imagine '04 Festival of Arts, Issues and Ideas depicting Iraq before the war.
-Paul Chan and the collective Friends of William Blake created "The People's Guide to the Republican National Convention" a map of New York with protest locations, restaurants, restrooms, and advice if arrested.
– The art journal, Artforum, included in its September 2004 issue different political artworks by such artists as Richard Serra, Barbara Kruger and Jonathan Horowitz. One work included in the issue was Elizabeth Peyton's portrit of John Kerry which will be exhibited at Gavin Brown's Enterprise through Election Day.
– The Experimental Party created a virtual government in its "The Experimental Party Disinformation Center" exhibited at the Luxe Gallery. Randall M. Packer, Lynn Hershman, Paul Miller (DJ Spooky), Rev. Billy and Wetheblog.org all contributed to the "Experimental Party Disinformation Center."
-The Parlour Projects Gallery in Williamsburg hosted Martha Wilson who impersonated Barbara Bush stating that voting for George W. Bush is "the next best thing to voting for the Son of God." The gallery also includes different activist artworks from earlier periods of recent history. One such work is Rachel Mason's "Kissing President Bush" depicting the artist and the Presdient.
-"Freedom Salon" at Deitch Projects includes the work of more than forty artists. One artist, Wayne Gonzales, included his work "Yellow Poster" which depicts the convention as a production by a theater company. The artist collective Yes Men created pamphlets entitled "Let's Go Republican" where Americans can face more restrictions than those outlined by the Patriot Act. Another work is a drawing honoring the Native Americans by Devendra Banhart. Also on display is A.A. Bronson's self photograph where he is naked and hanging upside down. Atlanta artist, Benjamin Jones created a voodoo doll entitled, "War Devil." Emily Roysdon created an embroidery that is a painting, rug and bedspread called "Fighting for More Fun Not Less Pain." Other works included in the exhibit is "The People's Guide to the Republican National Convention createed by Mr. Chan and the Friends of William Blake. Other contributors include Leon Golub, Christoph Draeger, Mel Chin, Taryn Simon, Dread Scott, Mark Lombardi, Yoko Ono, Sharon Hayes, Martha Rosler, Siemon Allen, Jo Jackson, the Critical Art Ensemble, Clare Rojas, Julia Scher and Enrique Chagoya.
-Roebling Hall in Williamsburg is exhibiting the "Bush League" includes Dan Ford's "The Burning of the National Library, Baghdad; Troops Observing Looters," Laura Parnes's short television ads commissioned by Downtown for Democrats, Guy Richards Smit's watercolor of the New York Times front page, Joan Linder's caricatures of members of Bush's administration and Bjorn Melhus's "In Beautiful, Sunny Guantánamo Bay, Cuba" which transforms a news conference led by Rumsfeld into a rap song.
-Satellite, Roebling Hall's offsite location, is exhibiting Moises Saman's photographs of the War in Iraq.
-Trong Nguyen organized an exhibition at the Van Brunt Gallery entitled "AmBush!." Included in the exhibit is a protest sign created by David Humphrey depicting a portrait of George W. Bush. Norm Magnusson's work interprets Bush's 2004 State of the Union address. Jeremy Hutchins created a book, "Loving the Cheney Within: A Recovery Manual." Enrique Chagoya contributed works from his "Poor George" series that depicts the President as Pinocchio.
-Schroeder Romero in Williamsburg is hosting the group show, "Watch What We Say."
– A.I.R. in Chelsea has an exhibition of art from or inspired from Karen Ocker's "The George W. Bush Coloring Book."
-Downtown for Democracy is hosting the exhibition, " A More Perfect Union" at Max Fish on the Lower East Side.
-The Whitney is having an exhibition, "Memorials of War" which features works of art from the Vietnam War. The exhibition includes the work of six artists and shows the interconnection between war and violence. Among the works is Chris Burden's "America's Darker Moments," that includes Emmett Till's lynching to Kennedy's assassination. Also included are lithographs by Robert Morris depicting a chlorine gas filled trench in the shape of a cross and a grid constructed of transparent coffins which people could walk on. Edward Kienholz's "Non War Memorial" is also included in the exhibition.
– Whitney curator, Chrissie Iles and artist, Sam Durant organized the film collection, "War! Protest in America 1965-2004." The collection includes works by Stan Vanderbeek, Hollis Frampton, Paul Sharits, Carolee Schneemann, Richard and Pat Myer's documentary, "Confrontation at Kent State," Julie Talen's "Sixty Cameras Against the War "and Brigitte Cornand's "Not in Our Name."
-Nat Finkelstein's photographs,"Defend Freedom: Lost Life Magazine Photos From August 1965 Protest" exhibited at the offices of People for the American Way on Lower Fifth Avenue. The photographs show interactions between protestors and the police during a march in Washington.
-"Freedom of Expression National Monument" is exhibited at Foley Square in Lower Manhattan. Architect Laurie Hawkinson, peformer John Malpede and the artist Erika Rothenberg all designed the work. The work consists of a megaphone and a ramp connected to a six foot high platform that people can stand on and speak. Originally exhibited in "Art on the Beach" from 1978-1985, Creative Time and the Lower Manhattan Cultural Council sponsored the current installation of the work in Foley Square.
(reported in The New York Times' ART REVIEW: "Caution: Angry Artists at Work"
Projects by
Marina Potok and Wendy Tremayne
Artist Statement
Our work utilizes volunteer-based public performance as a means for articulating shared ideas within our community. What began with projects that engaged the passerby in interplay with absurd, random events, developed toward the discovery of collective socio-political ideas. Volunteerism and the synergy produced by an open forum for the creative expression of each person who participates in our projects has become the most important component of our work. We believe that presenting an idea through the collective art form, rather then traditional means of protest, allows for the delivery of authentic artistic and political messages to wider audiences.
Projects Submitted for Consideration
THE VOMITORIUM,
August 17, 2004, HOWL! Festival for East Village Arts, Avant-Garde(n)
Series kick-off event, curator: M.M.Serra, St. Marks Church in the Bowery, NYC.
The Vomitorium is a theatrical performance, modeled after the opulent parties of the Roman Empire, where guests engage in consuming astounding amounts of food and when stuffed to the limit, vomit so that they may gorge themselves again and again. A 62 person all-volunteer cast and crew came together to determine and then express to a live audience, their ideas about the likeness of our time to the days of the Roman Empire. In protest of American imperialist policies a 1.5 hour, loosely-scripted, public performance was performed just days before the Republican National Convention. The Roman vomitorium was chosen as a metaphor through which American over-consumption and waste culture could be exposed as a symptom of the decline of the American Republic. For one evening the performers and audience were transported to the long-gone days of Roman decadence in order to reflect on the fate that eventually befell the Roman Empire, and heed the warning signs of history repeating.
Materials Available
The presentation of the Vomitorium can be made through video or still photography. As a theatrical performance we think that it is best represented in video format. We have an 8-minute video cut which takes the viewer through the best moments of the performance from beginning to end.
We are also in the process of editing a longer documentary that includes interviews with the participants in addition to the performance footage. Although the final cut of the documentary will not be available by the date of the conference, a preliminary cut can be prepared for the presentation.
A combination of still photograph and video is also an option.
NO BUSH, February 7, 2003,
Bathesda Fountain, Central Park, NYC.
28 women were recruited to brave a blizzard and freezing temperatures to proclaim with their nude bodies their strong opposition to the impending war on Iraq. The image was captured and distributed through global media networks to a world-wide audience.
Selected Press: Associated Press, Reuters, BBC, New York Times, CNN, San Francisco Gate, LA Times, UK Guardian, NY Post, Daily News,Newsday.
Materials Available
The image created and captured in still photography is available as a digital c-print, 11×14. A 9-minute documentation video is also available.
A Hot Day In Texas performed for Warwhorz: Gender, War & Consumerism,
August 23, 2003, HOWL! Festival for East Village Arts
curator: Theresa Byrnes, Generation X Community Garden, NYC.
An all female lineup celebrating the power of women and exploring the possibility that discrimination against women, the slaughter of animals and consumerism is the fertilizer for war. Tremayne/Potok staged A Hot Day in Texas, a sight-specific performance reflecting on the blindly excessive oil consumption in the US. NO bUSH, video documentation of the February 7, 2003 protest-performance, was also screened at this event.
| | |
| --- | --- |
| | |
| | Out of Jail – Into Free Speech |
Happy Buy Nothing Day: On Buy Nothing Day, the day after Thanksgiving, Reverend Billy & The Church of Stop Shopping will join Greene Dragon to launch a Reformation in Times Square against Corporate Tyranny. Reverend Billy lookalikes will simultaneously exorcise cash registers throughout the neighborhood, and at 1pm the Church and Greene Dragon will post 9 Theses Against Corporate Rule on the threshold of the Times Square McDonalds, a neon cathedral of perpetual consumption. Friday, November 26 at 1pm, 46th St and 7th Ave median across from Virgin Megastore, New York City.
Hot ButTONS: A POLITICAL VAUDEVILLE an evening of political theatre and performance to fire you up for the 2004 election october 25-27, 2004 at the culture project@45bleecker
writers: Erin Courtney, Steve Earle, Kirsten Greenidge, Neil LaBute, Winter Miller, Aaron Mack Schloff, Sheri Wilner directors: Samuel Buggeln, Erica Gould, Bruce Kronenberg, KJ Sanchez, Elyse Singer, Jessica Stone, Tony Torn
Dear George: Letters to the President is compiled from a collection of over 1,500 open letters to President Bush in the summer of 2004. The non-partisan piece covers a wide range of opinions on issues ranging from Iraq, terrorism, 9/11, the economy, and gay marriage. Letters were submitted through the web and came from all 50 states, Puerto Rico, the U.S. Virgin Islands, and Americans overseas. Over 40 theatres across the country are independently producing Dear George this October.
Created by Marcus Woollen
Directed by Jonathan Znidarsic
October 31- November 1, 2004 at the Culture Project, 45 Bleeker St., New York, NY http://www.deargeorgeletters.com/
GEORGE & MARTHA
A broad two-character political satire that combines the real-life antics of George Dubya and Martha Stewart with Albee's Who's Afraid of Virginia Woolf? duo (and a touch of George and Martha Washington). This co-production between Collective: Unconscious and P.S. 122 stars Karen Finley as Martha and newcomer Neil Medlin (the self-described "Paris Hilton of Performance Art") or="eorge. George & Martha is set during a secret rendezvous in a hotel room in New York City during the Republican Convention. Here, they air their embittered legal and political woes into the intimacy of their private relationship. The tragedies and personal triumphs of these self-created icons become intertwined. Their internal struggles become a nightmarish battleground. Bin Laden hides in Bush's bowels. Martha creates invisible nose hair scissors. Bush relapses into a coke binge and Martha flies into a rage over having to drink from a plastic glass. Their pathos and suffering become connected in their symbiotic need to be loved. September 17, 2004 – October 30, 2004, Collective: Unconscious, 279 Church Street, New York, NY 10013.
DEATH OF NATIONS: THE TRAILER
is a sweeping overview of International WOW Company's upcoming epic cycle play DEATH OF NATIONS, a meditation on war, peace, civilization and global economics. The Trailer features an international cast from nine countries on four continents. Beginning as a lecture on global economicupsi by a panel of international economists that goes awry, the play leaps into the global sphere, erupting into an imaginistic world-spanning narrative.
Conceived and Directed by Josh Fox
October 16 at Teatro Heckscher of El Museo del Barrio
1230 Fifth Avenue at 104th Street, New York City

RIDING UNTIL WE GET THERE
Waging Peace in Manhattan
For eight days, during the Republican National Convention, Eric Wallach rode his bike with a big PEACE sign on the back wearing an upside-down American flag as a cape. From time to time he sang "Get Out of Egypt". The lyrics included: "Bush lied, we cried. The news said he was right. The Constitution has died. So get out and shout tonight." Sometimes he sang "Here Comes the Sun" with one word changed in the opening lyrics: "Little darling, it seems like years since PEACE has been here."  Click here for Eric's personal recollection of the action.
CAROLING THE CONVENTIONEERS
A DIRECT ACTION SUCCESS STORY
A New York-based choir named Harmonic Insurgence engaged Republican delegates at their hotels as they came back from the Convention after 11pm on September 1, 2004 singing songs of peace and protest.
The choir stood by the entrance to four hotels and sang songs including: "I Wish I Knew How It Would Feel To Be Free" by Billy Taylor, "We Hate to See Them Go" by Malvina Reynolds, "The Strangest Dream", "Down By The Riverside" and our nation's anthem "The Star-Spangled Anthem" with new lyrics consisting of three repeated words, "Stop the War".
At one point, the choir was met by Texas delegates in cowboys hats who organized themselves with song sheets. They sang three songs including their own anti-Kerry song to the tune of "Santa Claus is Coming to Town".  Click here for full account.
The State of the Union
Saturday, September 4 at 8pm, Town Hall 123 W 43rd St, New York NY, 212-840-2824. Price: $35-100
The rebels at Mother Jones predict we'll be in need of a good laugh following the GOP's retreat, and there should certainly be ample fodder in its wake to fuel this night of political humor. The State of the Union assembles some our favorite comedians to express their stance on "the issues" with some good old-fashioned buffoonery. Highlights of the lineup include: Air America's The Majority Report host, Janeane Garofalo; the droll and self-deprecating Todd Barry; and Invite Them Up! co-host and creator of the "amazing" singing baby, Eugene Mirman. Proceeds support the efforts of independent, nonprofit media outlets — now that's radical.
GUANTÁNAMO 'Honor Bound to Defend Freedom'
by Victoria Brittain and Gillian Slovo, from spoken evidence, is the real-life situation described by Jamal al-Harith, Bisher al-Rawi, Moazzam Begg and Ruhel Ahmed. Wahab al-Rawi (Ramsey Faragallah) describes his and his brother's arrest in Gambia, where they went to set up a business. Wahab was released, while his brother, Bisher (Waleed Zuatier), was eventually sent to Guantánamo. As played with a winning combination of sardonic warmth and cold rage by Mr. Faragallah, Wahab finds a grim, grotesque humor in the illogic of his captors and interrogators. The tone of Mr. Begg (Harsh Nayyar) — the father of Moazzam (Aasif Mandvi), a young man taken prisoner in Afghanistan, where he was setting up a water distribution system — is simply sad, aggrieved and uncomprehending.
Richard Termine for The New York Times
Letters home from Guantánamo are read in counterpoint to statements from politicians like Jack Straw (Joris Stuyck), the British foreign secretary, and Donald Rumsfeld (Robert Langdon Lloyd), the American Secretary of Defense, who is heard answering reporters with an obscuring, logic-twisting bravado worthy of the short-tempered Duchess in "Alice in Wonderland." Lawyers for the detainees (played by Kathleen Chalfant, Steven Crossley and Mr. Zuaiter) try to provide a sense of legal context for what is happening to their clients.
(based on Ben Brantley's New York Times review of the play)
Directed by Nicolas Kent and Sacha Wares. 45 Bleecker Street Theater, at Lafayette Street, East Village.
HOMELAND INSECURITY
A modern Benjamin Franklin reclaims his American heritage and dedicates it to all who have the courage to stay in New York during the Republican Convention.
August 2, 2004, New York, New York – Benjamin Franklin Carney III, a tenth-generation American with family traced from George Washington's surveying team, and from the Ozarks to SoHo, grapples with ambivalence about his country roots in his new solo performance, "HOMELAND INSECURITY." Carney, with wit and heart, unearths his personal history, revealing an America full of tall tales, scandals, murders, and lies.
Monday, August 30th through Sunday, September 5th at The American Place Theatre and plays every night at 8 o'clock. The American Place Theatre is located at 266 West 37th Street on the 22nd Floor (enter at 520 Eighth Avenue), accessible at the 42nd Street stop via the A, C, E, 1, 9, 2, and 3 Subway Lines. Tickets are $12, Seniors and Students $10. Reservations: (212) 802-4536.
International Fringe Festival presents:
JOHN WALKER: THE MUSICAL
August 15 at 9:30 pm, August 20 at 10:45 pm; August 24 at 8 pm; August 26 at 5:15 pm; August 29 at 3 pm
This rock-and-roll black comedy tracks John Walker, the "American Taliban," as he escapes the clutches of a pervy power-hungry government official named E.D. during a spectacular anti-terror event in Times Square. With the aid of a vain hack reporter named Bob, John Walker dashes across the U.S.in a desperate search for a crusading whistleblower named Jessie, a woman who has the secret documents that could exonerate him.
John Walker: The Musical gives insight into why a modern American suburban boy would want to pursue a life based upon fundamentalist Muslim values and fight in a foreign war. It also delves into the feelings of confusion, paranoia and fear that have been interwoven in the current American social climate and how far those feelings can be manipulated and cultivated for political power and control. With rocking songs like "Taliban Plan," "Well if this Ain't America (I Don't Know What Is)" and "Don't Want No Chemicals Dumped on Me," your political anxieties will melt away and you will feel asubversive glee.
Venue: The Michael Schimmel Center at Pace University, 3 Spruce Street (east of Park Row in lower Manhattan).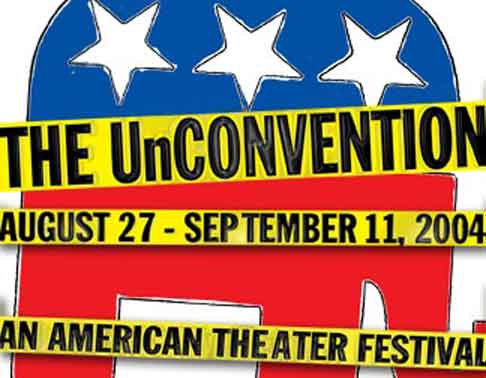 THE UnCONVENTION:
An American Theater Festival
is an amalgamation of workshops, panel discussions and performance pieces that address the interplay of politics and society. The festival will include heady productions by philospher/writers like Elie Wiesel, Wallace Shawn, and Sophocles along side more raw political lampooning from D.C. and N.Y.C. comics (e.g. Whips N' Cheneys: A Night of Shock and Ha). The festival aims at both inciting pathos, and provoking action "at a time when the world needs fewer people in the audience and a whole lot more on stage!" The UnConvention will take place at various locations throughout August 27 to September 11, 2004.
Sheryl Oring's
"I WISH TO SAY" PROJECT
is "an interactive art show in which [Sheryl] set[s] up a portable office — complete with a manual typewriter — and ask[s] visitors what they would like to say to the president." From the Bay Area to Foley Square in New York, Sheryl has been conducting this public service, allowing individual voices to be heard (whether the President will read the letters or not). A Champion of free speech, Oring, in August, also participated in a public-art advocates Freedom of Expression National Momument openning. There a massive elevated megaphone was directed at Centre Street. The mega-phone provided a forum for passers-by to express themselves in robust fashion at the pillars of our society such as the Mayor's office Wall Street, and our Courts of Justice. Sheryl's letter writing campaign will be memorialized in an exhibition and a book. Until then look for the scribe on a corner near you.
ONE THOUSAND COFFINS
is a movement that seeks to drive home the dire effects of the Second Gulf War, and pierce the prim-rosed hope of a "war without cost." This group is seeking volunteers to march with them in a 1000 coffins procession "to represent and honor each of our fallen soldiers and marines," who have lost their lives in this war, "and make a bold statement that the truth of their sacrifice cannot be censored."
VOTING FOR GODOT,
playing off of Beckett's absurdist theatre, is a satirical look at the state of politics in America today. "The new play pokes fun at a twisted electoral system that could reduce even the perfect candidate to utter irrelevance — IF he ever showed up!" This election-year play will occur throughout the Republican National Convention and beyond — from Aug. 28 to Sept. 6 at The 14th Street Y Theatre, 344 East 14th St. in Manhattan, New York City.
EMBEDDED,
a play written by Tim Robbins, has been described as "a ripped-from-the-headlines satire about the madness surrounding the brave women and men on the front lines in a Mideast conflict. [It] skewers cynical embedded journalists, scheming government officials, a show-tune singing colonel, and the media's insatiable desire for heroes." Robbins although vehemently criticized in mainstream media for his anti-war stance, that hasn't prevented him from recieving critical acclaim, both in cinema and on stage (he is the recepient of a 2004 academy award and has recieved high praise for Embedded). Tickets are $50 and are on sale now at The Public Theater box office, 425 Lafayette Street; on-line at www.publictheater.org and via Tele-charge, (212) 239-6200.
ART & REVOLUTION CONVERGENCE
radical street and theatre performance
began in the streets of Chicago during the Democratic Convention in August, 1996. A group of artists, performers, and organizers sponsored a week-long theatre workshop as part of "active resistance," a movement-building conference of 700 anarchist and radical activists. Several hundred people took masks, theatre, music and giant puppets into the streets to confront the "destructive corporate power that weilds influence in the Democratic Party." That impacting experience inspired them to continue their mission in the furtherance of global workers rights, environmental protection, and basic liberties for all peoples. See them to the left marching on May Day in San Fran. Get involved with their creative fusion of art and activist.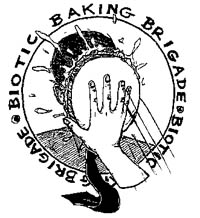 In the grand tradition of Benny Hill, the Marx Brothers, and Hee Haw, comes the fantastic, fanatical performance art troop of
THE BIOTIC BAKING BRIGADE!
As multinational corporations accelerate the plunder of our world, a militant resistance has formed in response. Diverse in philosophy and targets, diffuse in geography and structure, the movement comprises freedom-loving folks with a sense of aplomb and gastronomics. Fighting a guerrilla media and ground war with the titans of industry, these revolutionary bakers and pie-slingers have achieved in short order what can truly be called a Global Pastry Uprising (GPU). 
THEATERS AGAINST WAR
is an international network of theater artists responding to the United States' ongoing "War on Terror", aggressive and unilateral foreign policies, and escalating attacks on civil liberties in the US and throughout the world. On Saturday April 17, 2004 Theaters Against War (THAW) is proud to host: Resistance 101: A Pro-Peace & Justice Teach-In in addition to our monthly Freedom Follies! This FREE all-day event on Saturday, April 17th will include interactive panels and workshops with human rights and civil liberties experts and renowned theater artist-activists, capped off with THAW's monthly political theater performance cabaret, The Freedom Freedom Follies, held in the evening.
HURRIYYA! (FREEDOM!):
A benefit for justice in Palestine
Featuring speakers, performances, spoken word, video, and music. 7-9pm: Reports on injustice at home and abroad, and what you can do with Kate Rhee (Prison Moratorium Project), Subhash Kateel (DRUM), Suzanne Adely (Al-Awda, Palestinian right of return coalition, Pafny), Kristen Schurr (Democracy Now and Free Speech Radio News). 9-11pm: Performances, live music, spoken word, and video, with Indymedia Palestine, Mahina Movement (fierce women of color performance/music/spoken word), more performers to be announced. 11pm-late: Blackkat DJs Jason Bk, Pow Pow, and Chrome. Who we are: Direct Action for Justice in Palestine is a New York- based collective of activists and humanitarians working in coalition with Palestinian, Israeli, and international peace activists in the Israeli-Occupied West Bank and Gaza. We are individuals and do not represent a particular political ideology or government. June 7, 2002, at Flux Factory (38-38 43rd Street, Sunnyside, Queens).
ALIVE FROM PALESTINE:
Stories Under Occupation
The Al Kasaba Theatre, Ramallah, presents a stageplay that has been deemed "necessary theatre" (The Guardian, UK) for its intimate glimpse into ordinary lives lived under occupation– the anger, despair, love, loss and frustration. The US performance tour will begin through the sponsorship of Yale University in New Haven, CT, at The Long Wharf Theatre, June 25-29. For more information call 203.787.4282. In Los Angeles at The La Mirada Theatre, Friday, July 5. In San Francisco at The Palace of Fine Arts, Sunday, July 7. For more information on California performances email Nicole at mailto:[email protected] or call 323.464.6122.
The Tenement Museum and the Immigrants' Theater Project present
AMERICAN DREAMS:
Plays About New York City & the Immigrant Experience
8 weeks of performances and staged readings by The Immigrants Theatre Project. Includes Sajjil ("To Record"), a dramatic exploration of Arab American identity woven from interviews with New Yorkers of all backgrounds, and First Language, a Middle-Eastern woman and her Western son struggle with love, sexual longing, and ethnic belonging. Thursday evenings at 8pm from June 6-Aug. 1. Tenement Theater @ 97 Orchard Street.
AFTER THE RUINS OF KABUL
Lida Abdullah performed "After the Ruins of Kabul" on April 20, 2002, at Highways Performance Space in Santa Monica. Filmmaker/performance artist Abdullah describes her latest work as "handfuls of damaged words thrown against the sky that weave a momentary place of hiding." Abdullah's concern for the continuing dispossession and lack of media coverage of refugees worldwide is rooted in her personal experience fleeing her homeland of Afghanistan, moving to India, Germany and finally the U.S. She is at work on another series of short performative videos which engage with the theme of exile and the often unarticulated histories of refugees.
REBEL WITHOUT A PAUSE
Reno, the politically-minded comic, returns with her acclaimed solo show. Much of her originally planned material for this show has been jettisoned in favor of more timely observations in the wake of the World Trade Center disaster. She thinks the show might have more of a town meeting flavor, now, with the potential of audience members speaking out as well. The Zipper Theatre/Bar/Lounge, 336 West 37th Street, NYC. Opened April 18 – Ongoing.
FREEDUMB
is the new global world place…Here three women arrive: each completely different, yet all unpredictable, cunning and carrying razor sharp wits. With a mission to survive amidst a confusion of authority, media power and free asses, they discover the key to protection is holding a flag. Choreographed and directed by Nami Yamamoto. March 21 – March 24, 2002 at P.S.122 in NYC.
HEEL
Jeff McMahon presents a new solo work, HEEL, at the Institute for Studies in the Arts at Arizona State University that examines the cataclysm of the September 11 tragedy through shifting characters, images, and metaphors. Referring to fictional and nonfictional events, HEEL attempts to connect the solo thought with the group think, the bomb with the bomber and the bombed, the agony with analysis. Using excerpts from newspaper reports, films, and novels (Orwell's 1984), HEEL will let out the leash on a subject that has taken over our imaginations: the terrors of what we call freedom.