During a year of marked ideological divisions, the right to free expression has been challenged by everyone from the alt-right to the far left. For over 40 years, the National Coalition Against Censorship, an alliance of 56 national non-profits, has promoted freedom of thought, inquiry and expression through direct advocacy and education. This year, our core values have been attacked by activists across the political spectrum. In this tumultuous year, we commend the allies who refuse to be silenced and continue to defend the right to free speech and its value to our society.
We note that many of the worst offenders this year are associated with the Trump administration. One of its first actions in January 2017 was to issue a gag order to several government agencies, including Health and Human Services and the Environmental Protection Agency, prohibiting them from speaking to the public and posting on social media. This warning shot was followed by a series of attacks on free expression, including freedom of the press, the right to protest and artistic freedom.
NCAC joined dozens of cultural and civil liberties organizations in protesting the administration's travel ban and its threat to cultural exchange and human rights by preventing artists and cultural producers from participating in partnerships with US organizations or seeking safe harbor here.
All citizens must demand that our public officials and institutions support our right to free expression. Failure to respect constitutionally-protected speech undermines our democracy.
The List
OFFENDER: Violent Threateners
Alt-right provocateurs and antifa alike have attempted to silence their detractors with threats of physical violence, and it seems to be working. Straight out of the playbook of repressive regimes throughout history, the confronting of speech with physical violence has far-reaching consequences. Concern for the safety of staff, visitors and participating artists forced the Guggenheim Museum in New York to remove several works from its exhibition Art and China after 1989: Theater of the World. Fear of violence has prompted schools to cancel speakers; colleges have spent millions on security; and art exhibitions have been closed to the public. Every time threats of violence succeed in silencing expression, our public sphere becomes more polarized and impoverished.
DEFENDER: Colin Kaepernick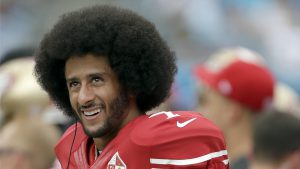 Colin Kaepernick turned a silent protest into a movement. By taking a knee to protest racial injustice during the national anthem at a football game, he inspired students  to claim their right to protest in their own communities. His free "Know Your Rights Camp" teach young people about their rights and how to raise their voices. Even in the face of insults from his country's highest officials and his sport's leaders, Kaepernick's example has strengthened every citizen's right to free expression and peaceful protest.
OFFENDER: Ajit Pai, Chairman, Federal Communications Commission
The Federal Communications Commission (FCC), led by its Chairman Ajit Pai, dismantled net neutrality regulations put in place in 2015, threatening our ability to freely communicate on the internet and potentially restricting what we read, see, watch and write online. Net neutrality regulations ensure that internet service providers (ISPs) treat all information equally, without regard to commercial or political content. But despite strong public opposition, the FCC has given ISPs the right to control online content and create a tiered internet in which they determine who is and is not heard. This is not the free and open internet that we have all come to rely on to facilitate communication, creativity and expression.
OFFENDER: The US Department of Health and Human Services
"Vulnerable," "diversity," "entitlement," "transgender," "fetus," "evidence-based" and "science-based:" the seven words the Centers for Disease Control and Prevention (CDC) were advised not to include in official budget documents. A division of the US Department of Health and Human Services (HHS), the CDC is home to the nation's top medical scientists. Curtailing their freedom to express their findings and suggestions precisely and accurately impedes the very work we ask them to do and creates ideological barriers to medical treatment, scientific development and human progress. Without these seven words, the county's public health will suffer.
DEFENDER: Congressman William Lacy Clay (D-MO)
Congressman William Clay has spent a year fighting for the free speech rights of David Pulphus, a high school student from his district who won the Congressional Art Competition. Pulphus's painting, an allegorical representation of a protest against police violence, was displayed along with other winning works in a pedestrian tunnel in the US Capitol. Six months after the exhibition opened, the painting attracted the attention of conservative bloggers who called its depiction of police derogatory. In response, Republican congressmen repeatedly took down the work, which Clay rehung each time. Ultimately, the Architect of the Capitol permanently removed the painting. Clay filed a lawsuit alleging that the Architect of the Capitol violated the First Amendment.
OFFENDER: United States Department of Defense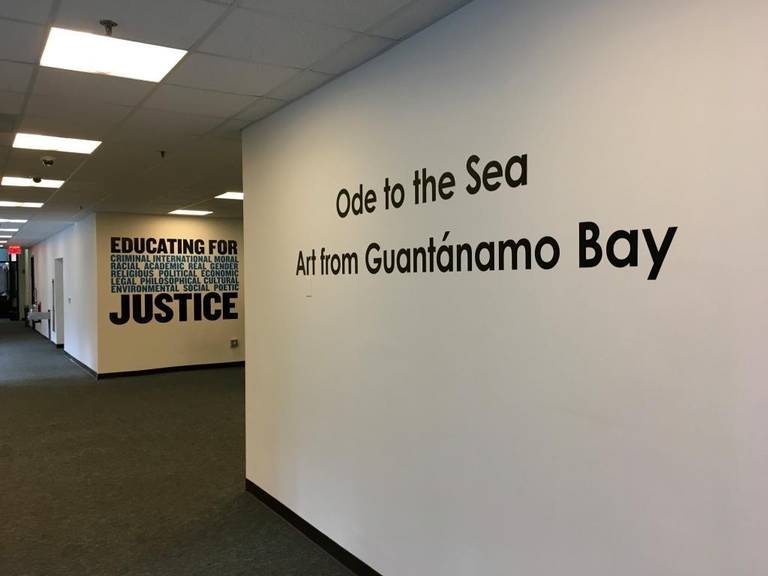 The Department of Defense (DOD) issued a directive declaring art produced by inmates of the military prison at Guantanamo Bay to be government property, blocking the possibility of public exhibition. The directive was apparently issued in response to a display of inmate art at a New York college. The art contains no security threats, so the order appears aimed at preventing the public from viewing the art and allowing it to inform public discussion of the government's Guantanamo policies.
DEFENDER: Oskar Eustis and the Public Theater, New York, NY
New York's Public Theater staged a production of Julius Caesar as part of its annual Shakespeare in the Park series. The title character was portrayed as a Donald Trump-like figure. Spoiler alert: Caesar is murdered. Despite the play being regarded as a cautionary tale against the use of political violence, the production was seen by some as having an anti-Trump message. After controversy erupted, two of the theater's largest corporate donors withdrew their funding. Oskar Eustis, artistic director of the Public Theater and director of the production, defended the production and encouraged audiences to participate in precisely the civically-engaged discourse such art ought to inspire.
OFFENDER: Mike Dunn, President of Conejo Valley Unified School District, CA
Led by Mike Dunn, the Conejo Valley Unified School District (CVUSD) board in California attempted to ban the teaching of Sherman Alexie's National Book Award-winning novel, The Absolutely True Diary of a Part-Time Indian.  The attempt failed, but the board subsequently instituted a policy that requires school officials to warn parents when classroom teaching lists contain "mature" material. The board has taken additional steps to limit the influence of educators in making curricular decisions. By weighting the views of a few community members over the opinions of trained educators, Mike Dunn's board has threatened the quality of education for all students in the district.
DEFENDER: Whitney Museum of American Art, New York, NY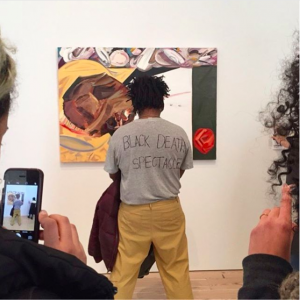 Protests over Open Casket, a painting by Dana Schutz included in this year's Whitney Biennial, began the day after its opening reception. Protestors visited the exhibition daily. An online petition called for the work's removal and destruction. The painting, based on an iconic photograph that galvanized the Civil Rights movement, depicts young Emmett Till's disfigured body lying in his casket. The fact that Schutz, a white woman, freely adapted this image of Till—who was tortured and lynched for having allegedly insulted a white woman—raised the issue of who has the right to depict the historical trauma of others. The Whitney Museum refused to remove the work, but also respected the rights of protesters to demonstrate in front of it. They also partnered with Claudia Rankine's Racial Imaginary Institute for a public forum to move this important conversation forward and allow multiple voices to be heard.
OFFENDER: Chris Funk, Superintendent, East Side Union High School District, San Jose, CA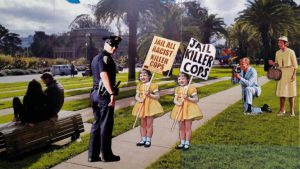 In honor of Black History Month, the East Side Union High School District's African American Student Advocates (AASA) invited artist Mark Harris to exhibit his work in the lobby of a San Jose School District building. The exhibition included eleven paintings depicting the history of racial injustice in America from slavery to current incidents of police brutality. In response to complaints that the work was offensive, Superintendent Chris Funk ordered the exhibition removed just hours after it opened, saying: "[W]e're not here to advocate one position or another as a public institution." In removing the display, the District lost an opportunity to encourage a dialogue about race relations and sent the troubling message that the history of racism is off limits during Black History Month.
DEFENDER: Governor Terry McAuliffe, Virginia
For the second time in two years, Virginia Governor Terry McAuliffe vetoed a bill that would have required schools to notify parents when students are assigned materials that contain sexual content. Known as the "Beloved bill" because it originated with an attempt to ban Toni Morrison's classic novel in Fairfax County, the bill would have discouraged educators from choosing important texts because they might cause controversy. We applaud Governor McAuliffe for standing up for Virginia's teachers and students.
OFFENDER: York College of Pennsylvania, York, PA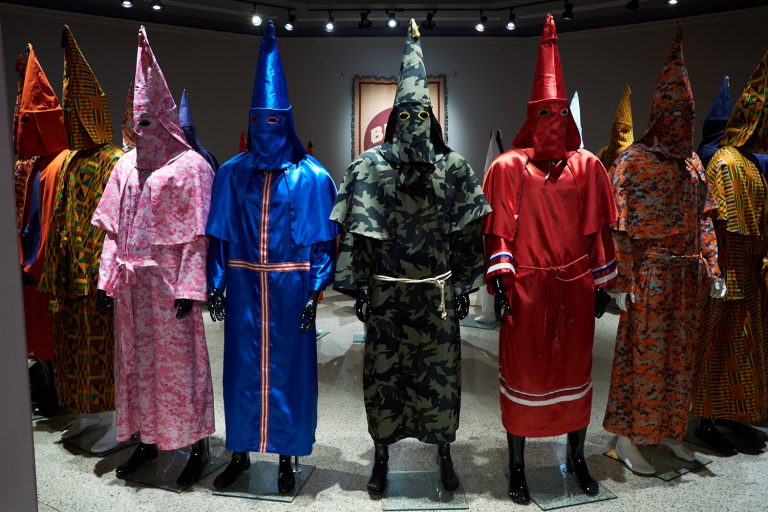 Artist and musician Paul Rucker's REWIND, a multimedia exhibition, visually embodies America's history of racism and alludes to current injustices. The show opened at York College of Pennsylvania two weeks after the "Unite the Right" rally in Charlottesville, Virginia, which erupted in acts of violence. Apparently worried about creating controversy and unrest, York College officials closed REWIND to the public, limiting entry to college students, faculty, staff and their guests. All traces of the show were scrubbed from the college website and an armed guard was posted in the galleries. Rucker has exhibited REWIND in several locations and participates in community programming to facilitate engagement with the exhibition. Rather than use REWIND to promote discourse, York College chose to hide it from the public.
DEFENDER: Governor John Bel Edwards, Louisiana
Governor John Bel Edwards vetoed a bill that would have imposed penalties on students at public colleges and universities who disrupt visiting speakers. While claiming to protect free speech, the bill, which is similar to legislation in other states, could have infringed on students' right to peaceful protest. Vetoing the bill, Governor Edwards concluded that it "would only frustrate the goals it purports to achieve." Bravo.
OFFENDER:  Walker Art Center, Minneapolis, MN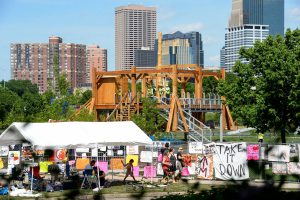 The Walker Art Center in Minneapolis became the center of controversy over Scaffold, a life-sized public sculpture by Sam Durant intended to create awareness about the history of capital punishment and its disproportionate effect on people of color. Scaffold was based on the designs for gallows used in seven government-sanctioned executions, including the 1862 hanging of 38 Dakota men in Minnesota. Members of the Dakota tribe were offended by the sculpture and demanded its destruction. After a meeting with tribal elders, Durant and the Walker agreed to dismantle the sculpture; Durant pledged to never re-create the work, and to transfer his intellectual property rights to the work to the Dakota Nation. The destruction of Scaffold sets an ominous precedent and sends a chill over artists'—and other cultural institutions'—commitment to political, socially relevant work.
DEFENDER: Piay Mayalorca
Piay Mayalorca's film, censored., the winner of NCAC's Youth Free Expression Film Contest, asks how we can expect young people to express themselves when there are rules for what can be said on social media. She believes that "social media should be a place where people are free to speak and express themselves." Piay is a talented filmmaker and a committed advocate for free expression who is unafraid to speak her mind on any platform.
OFFENDER: American Jewish Historical Society
The American Jewish Historical Society (AJHS) canceled two events—the reading of a play and a panel discussion—following opposition by activists who accused the AJHS of "anti-Israel" programming. The cancellations strengthened those who are trying to silence any criticism of Israeli policies.
DEFENDER: John Sims, Artist
In late October, artist John Sims hung a Confederate flag from a noose before a crowd of several hundred people at Ohio University. The performance was a symbolic act of protest against the history of white supremacy in America as well as recent cases of racial violence. The performance, with music, speeches and readings, was also the culmination of a over a decade of Sims's commitment to this work. Since its first introduction, the performance/installation has been sequestered and minimized, never presented in Sims's intended form. Sims's dedication has inspired precisely the kind of rich and nuanced discourse we need about such painful subjects.