Art Now Home | About Art Now | Artists Respond to the Political Present | Approaching the Aftermath & Commemorating Sept. 11 | Related Sites & Resources | Contact Art Now
Artists Respond to the Political Present

Events | Dance | Film, Video, TV | Internet & Electronica | Music | Theater, Performance Art & Protest | Visual Art | Words
Visual Art

Comics & Political Cartoons | Flags & Quilts | Group Exhibitions | International Artwork of Protest | Magazines | Murals | Painting & Collages | Participation Art Work | Photography | Poster Art | Sculpture & Installations | Web Sites
"A new board game that brings the thrill of trampling the Constitution right into your home… just where John Ashcroft wants to be!"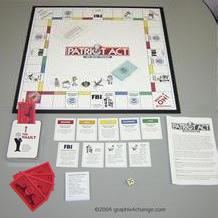 PATRIOT ACT: The Home Version, is a game inspired by the historic abuse of governmental powers of the same name. Many of the hypothetical situations in the game are based on real-life events. Either as a game to be played or as a statement to be read, Patriot Act: The Home Version educates the user to the current erosion of our civil rights by the government while claiming to be protecting our freedoms."
To download a printable Acrobat PDF version of PATRIOT ACT: The Home Version, click here.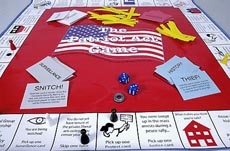 The Patriot Act Game, designed by Pittsburghers Lisa Freeland, a public defender, and Steffi Domike, an artist, aims to inspire conversation about and resistance to the Patriot Act in the United States. According to the game's web site, "While learning about the USA Patriot Act and organizing resistence, we might as well get together and have fun doing it. Playing this game will get you talking to your friends, neighbors and families and you will want to learn more."
The brightly colored game is a takeoff on Monopoly — but instead of "No Visitors Allowed" on the Jail square, it's "No Lawyers or Visitors Allowed." Instead of play money, there are "freedom fries." Players who have game tokens that are colored red, white and blue are at a greater advantage than those with tokens colored black, brown or yellow. "Community Chest" and "Chance" cards have been replaced by cards named "Justice," "Surveillance," "Protest" and "History."
The object of the game? Get every player to Freedom Corner before the homeland security threat level reaches "severe" and the player holding the "snitch" card turns everyone in to Attorney General John Ashcroft.
The four stacks of playing cards — "Justice," "Surveillance," "Pro-test" and "History" — contain factoids about famous dissenters, from Desmond Tutu to Mother Jones.
One Blood is a 6X13 ft canvas covered with human blood as a call for the recognition of human unity & a plea that the bloodshed of Sept. 11 not be seen as justification for inflicting more bloodshed on innocent people in other nations. 22 persons in northern CA gave & spread their own blood. Claire Lemmel, the artist, and David Jones, her husband, asked that participants not contribute to the piece with any thought of anger, hate or violence. One Blood was first shown in November 2001 in Point Arena, CA. On New Years Eve, 2001, it was the centerpiece of a special service at the First Unitarian Universalist church in Houston, TX, where it remained on exhibit for four days. The response to the showing was very strong and twenty-six Houstonians then replicated the piece. The second piece is of the same dimensions and is called One Blood Houston. The One Blood project is to replicate the piece in more U.S. cities: San Francisco Bay Area, Washington, D.C. and NYC. One Blood San Francisco Bay Area is currently in progress. All 5 pieces will be shown in NYC on Sept. 11th, 2002.
SKINTalks: SKINTalks is a conceptual art piece inspired by events surrounding Sept 11th. It was created to address issues of sensitivity around a wound or trauma. The messages of SKINTalks, printed on sheer bandage strips, challenge people to think about how their actions affect others. SKINTalks, the vision of artists Anita Walsh, Megan Maher, and Katie Morris, will be complete when the public has applied the bandage strips to their skin.
Donna Sheehan, artist, environmental and radio activist, has created an interactive community forum by hanging her prints on the side of an empty building in the northern California town of Point Reyes Station. Below the display she put a bucket with paper, pens and pushpins and a sign urging everyone to pin up their points of view and reactions.
The Word Room: An interactive installation that was first mounted at Janalyn Hanson White Gallery in Cedar Rapids, Iowa, from November 12 to December 12, 2001. The room was filled with a soundscape comprised of four layers: selective words from webster.com, a young voice reading from a mid-19th century American Reading Primer, a series of news bites about the American war in Afghanistan recorded from Farsi-language radios, and a live feed from the microphone in the gallery.
Mend Piece for the World: In the wake of September 11 and in response to the rising tide of violence, Yoko Ono has created "Mend Piece for the World." This participation art work was introduced at Judson Memorial Church in NYC on October 30, 2001, and remained at Judson until December 2001.