Art Now Home | About Art Now | Artists Respond to the Political Present | Approaching the Aftermath & Commemorating Sept. 11 | Related Sites & Resources | Contact Art Now
**All material in this section is archived. It was compiled in late 2003.**
Artists Respond to the Political Present

Events | Dance | Film, Video, TV | Internet & Electronica | Music | Theater, Performance Art & Protest | Visual Art | Words
Visual Art

Comics & Political Cartoons | Flags & Quilts | Group Exhibitions | International Artwork of Protest | Magazines | Murals | Painting & Collages |Participation Art Work | Photography | Poster Art | Sculpture & Installations | Web Sites
Project Billboard, a group of San Francisco Bay area citizens, aims to promote dialogue and debate about pressing world issues through media outlets. Their goal is to utilize media outlets, such as outdoor billboard spaces, around the country to raise issues which concern the nation,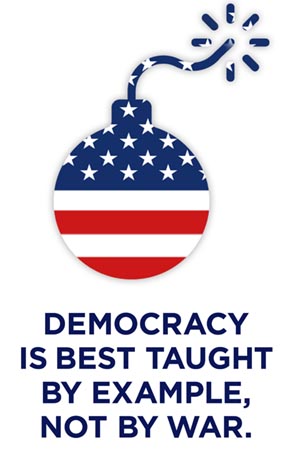 and to help engage our citizenry, the media and politicians in real discussion of critical issues — the economy, environment, education, health care, national security, and uses of American military power in the world — on which the future of this country will turn. It is their belief that such issues have not been discussed in a forthright, honest and open manner. Recently, Project Billboard has brought a lawsuit against Clear Channel for not allowing their billboard to be displayed in Times Square.
Garage Doors Against the War seeks to give people an opportunity to protest, in a creative and empowering way, against the unrepresentative actions of our governments. This Australian based group wants "dissenting people to turn their garage doors into loud, colourful canvases where they can make their disapproval known. Protest the war on terror, protest the war on Iraq, protest globalization, protest media complicity, protest Bush! Make it funny, make it angry, make it artistic, make it simple, make it clear, make it true. Whatever you make it, just make it!"
The Billboard Liberation Front (BLF) is a movement that has been bubbling for 25 years and currently is boiling over. Their goal is to disrupt and subvert billboard advertizing that innundates our city streets with visual pollution. The BLF "offer a broad range of black-bag operations and cultural jam services…" Their "philosophy and track record has resulted in roster of long-term, satisfied clients in a diverse range of industries, from Fortune 1000 companies to local entrepreneurs." If you have an advertizing problem, and you can find them then you've got to call the BLF.
Jewish Youth for Community Action, based in Berkeley, CA, held a mural release party on March 21, 2002. The mural — conceived, designed and painted by JYCA youth participants — portrays JYCA's view of "tikkun olam," or "repairing the world." As Elizabeth Milne-Kahn, one JYCA participant, put it, "In order to counter-balance the media's messages, we decided to make a mural to express our belief in peaceful change."
MeccaDonalds, Hollyburton, and Berluskhiser collages from a deranged mind. For some of the most outrageous Baroque collages that psychadelically comment on the state of world leadership, capitalism and consumption vist the website.