Art Now Home | About Art Now | Artists Respond to the Political Present | Approaching the Aftermath & Commemorating Sept. 11 | Related Sites & Resources | Contact Art Now
Artists Respond to the Political Present

Events | Dance | Film, Video, TV | Internet & Electronica | Music | Theater, Performance Art & Protest | Visual Art | Words
Visual Art

Comics & Political Cartoons | Flags & Quilts | Group Exhibitions | International Artwork of Protest | Magazines | Murals | Painting & Collages | Participation Art Work | Photography | Poster Art| Sculpture & Installations | Web Sites
Doug Minkler creates posters for planetary preservation because he believes that corporations want artists to glorify their wars, their products and their philosophies. Minkler's prints are inspired not by rugged individualism, but by the collective humor, defiance, and lust for life exhibited by those on the margins
| | |
| --- | --- |
| Doug Minkler, Terrorists Wear Suits | Doug Minkler, Stop U.S. Aid to Israel |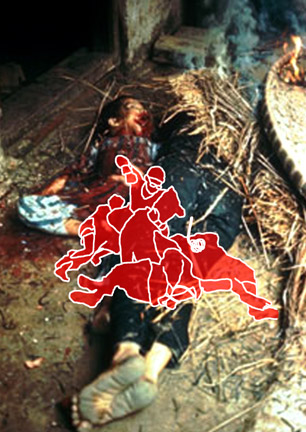 John Leanos – The Face of Occupation (above).
Yard Sign Project
Red, white and blue signs, approximately 1.5' x 2', are to be placed in front yards and other public locations. They are designed to resemble the ubiquitous yard signs printed commercially and posted in front of homes and businesses throughout the southern USA.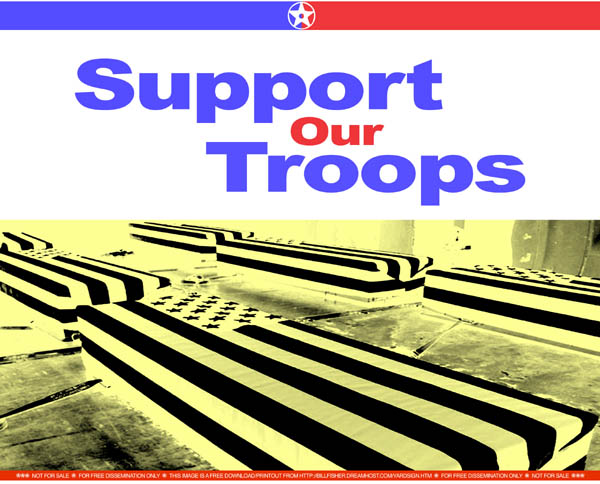 "Support Our Troops" includes officially suppressed imagery of the remains of US servicemen and servicewomen.
The "Ten Commandments" yard sign includes text from the Geneva Convention as it relates specifically to treatment of prisoners. "Re-Elect" makes explicit the merging of secular and religious iconography implied by the rhetoric of our political leaders. "Home For Sale" includes an image of the American flag, violently out of focus.
"As our cause in Iraq is seen by many as morally superior to the cause of those Iraqis opposed to our presence there, the Judeo-Christian influence on our leadership and wartime policies can not be overlooked. The purpose of referencing the Ten Commandments in the Yard Sign Project is not to denigrate this ethical document which includes admonitions against killing, but rather to comment on the hypocrisy of displaying such a document or publicly espousing its content while supporting behavior which it specifically prohibits. The substituted text from the Geneva Convention is used to remind ourselves of both our claim to be civilized even in the event of war and our responsibility to the world community and to humanity, and to educate those unfamiliar with these universally accepted proscriptions on the maltreatment of prisoners.
The No RNC Poster Project started when a small group of friends with experience in graphic design and independent media came together with the goal of collecting and distributing posters against this summer's Republican National Convention in New York City. The posters displayed here are by artists, Gael Abary, Wayne Acree, John Emerson, and Gabriel Willow.
Peace Signs: The Anti-War Movement Illustrated, edited by James Mann is a collection of 200 posters and graphics from artists from over 20 countries voicing their dissatisfaction with the war in Iraq. Bitter Pill by the artist THINK AGAIN is an example of the sort of work found in this book collection.
Be the Revolution is a new poster series designed by Robbie Conal, Shepard Fairey and Mear One through the art collective Post Gen. Post Gen strives to create a vehicle to mobilize and apply creative and progressive thinking to enhance our post-modern world. Influential artists will facilitate open forums that support the quest for knowledge and action to empower the individual. Post Gen artists provide collaborative artistic interpretations of current social and political issues in art mediums that are complementary to conventional forms of communication (i.e. tv news, news paper, e-news). The Post Gen is our time defined on our terms, now.
Yo! What Happened to Peace? An exhibition of peace and anti-war posters will open at the Stay Gold Gallery on Friday, August 6, 7-10 pm. The collection will be exhibited through September 5, 2004. The gallery is located at 451 Grand St., Brooklyn, NY 11211. Curated by graphic artist John Carr,the show was originally sponsered by and exhibited at Tokyo's renowned CWC Gallery. The exhibit arrives in New York after just having been shown at Zeitgeist Gallery in Cambridge, MA during the Democratice National Convention.
Time to Consider: Creative Time, Poets & Writers, the Van Alen Institute and Worldstudio Foundation solicited responses from international artists to the September 11th tragedy and launched a public poster/media art campaign in New York on February 11, 2002. The four selected posters can be downloaded from the internet or picked up in various public locations around New York. On March 13, 2002, the WhY Women Poetry Series will host a reading of selected poetry submissions at NY's 14th Street Y.
Tower of Babble: Robbie Conal's latest poster, featuring W, Ashcroft and Cheney.
The Art For A Change website is dedicated to the arts and their role in transforming society, from creator Mark Vallen's own socially conscious paintings and drawings to the works of other like- minded artists who possess a critical vision. Buy an "I Am Not The Enemy" poster, featuring Mark's portrait of a Muslim woman.
Another Poster for Peace is a group of designers who are commited to the peaceful and just resolution of the current crises in the Middle East. Their goal is to help create a grassroots campaign for patriotic dissent as a counter to the onslaught of fear and warmongering currently in the media. Their images are "copyright free" designed to be printed out and used at protest or posted in visible areas to aid in the movement to end war as a viable solution for peace.
ANTI-WAR.US is a website dedicated to the free distribution of anti-war graphic material. Creative individuals trained in methods of mass communication have compiled their art work dissenting against war in an effort to"make a real difference by providing clear anti-war messages." All materials on the site are created voluntarily and distributed free to activists around the world.
Waketheworld.com: Let it never be said you didn't know where to get a really righteous anti-war poster. Waketheworld.com is another site dedicated to distributing copyright-free art capable of quick download designed to let all the free minds dash off to the next rally and proudly dangle their dynamic drapery of dissent!
War.miniaturegigantic.com is a project that began in early March 2003 on a public design forum, in the midst of spirited debate over the then impending war in Iraq. One member of the design forum suggested that the other members offset their war anxieties by focusing their energies in a more positive way. He encouraged everyone to create posters that expressed their views of the war. The site seek contributions from all sides of the war debate, and from designers at all levels of ability. The site has received submissions from students to well-known industry veterans. The project has become a living exhibition, with new posters being added on an on-going basis. Some posters are available for download – it is an interesting site which contains expression from multiple viewpoints.
Insta-Protest is another peace poster site with 192 posters. The website is user friendly enabling quick and easy printing of public domain art to be hoisted at a peace rally near you.